DJ Eric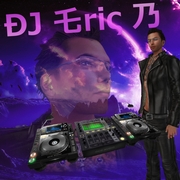 'Manic Monday' and 'TGIF' Friday at the Docks
"DJ and still working on expanding my playlist. I am not limitted to one style and I play everything. Currently DJ at Roissy Val d'Oise," is what Sir Eric tells us about himself in his profile. However, those of us at Roissy Val d'Oise know that DJ Eric spins an incredible eclectic blend of music from a library packed with everything from classical to orchestrational rock!
He loves to take requests from the audience and believes that his music is a compilation of everyone, and THAT is one of the reasons why DJ Eric just happens to be the BEST DJ on the SL grid.
We are lucky to have him twice a week:
Mondays from 12pm-2pm for MONDAY MANIAC
and
Fridays from 2pm-4pm for THANK GOD IT'S FRIDAY!!!
Both shows are held outside, on the Docks.
Dresscode: casual to semi-formal.
Come enjoy with us and start and end the work week the right way!!!!
Listen to a live INTERVIEW given by Juliette Surrealdreaming.
You can find out more about DJ Eric on FACEBOOK