DJ Wick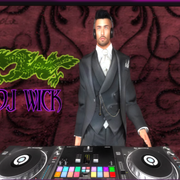 Wednesdays in the Chateau Gardens
DJ Wick has loved music since he was a child and believes music can sway your mood. It touches your heart and your soul. It can bring back memories or help create new ones.
"Music gives a soul to the universe, wings to the mind, flight to the imagination, and life to everything" ---Plato
He got his start DJing music at Roissy, DJing a couple events then filling in for cancellations. He now has his own time slot every Wednesday at the Roissy Gardens.
Come dance, sing, laugh, and kick those midweek blues with his varied selection of music. Good music, good times is what he strives to give those that attend.
Requests are always welcome!