Luvofmusic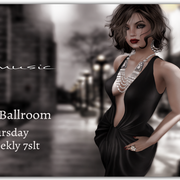 Vocalist Luvofmusic sings Thursday bi-weekly at 8pm in the Roissy Val d'Oise Ballroom.
Born and raised in Chicago, Luvofmusic is considered to be one of Second Life's most loved female performers on the grid. She can sing everything from blues to rock. She has a rich, full voice and her covers have actually brought her audiences to tears as they felt her emotions meld with their own.
Check the calendar for specific dates!