Melenda Baptiste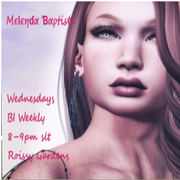 Wednesdays at the Chateau Gardens
Melenda brings her sweet sense of wonder and fun to Roissy! She performs with her gentle heart
on her sleeve. Beginning her career on a dare, she has blossomed into an excellent performer! We
can't wait for you to come hang out and listen to this beautiful voice in song for you!