JC Clawtooth 2015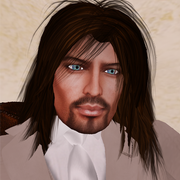 May 10, 2015
Early on a beautiful Sunday (Mother's Day), Maitre JC, (one in a team of three) new Dom Supervisors, met me in his Chateau office and graciously allowed an interview. He sat in a plush Master's chair and promptly pulled me up on his lap.
Blue Ronsein smiles and wiggles, "this is certainly journalism in action"
Maitre JC Clawtooth grins, "well, we must be comfortable, shouldn't we, and i promise to be good for the interview."
((Unfortunately, he was))
Blue: "First question: When did you get started here at Roissy Val d'Oise and how did it happen?"
JC: "I first interviewed back in late March of 2014 with Chronos, and its been one heck of a wild ride ever since then. What brought me to drop off my application was a submissive named punkin. We enjoyed some light social RP at the landing, and i came back a few times to visit. One day I arrived, not quite having made up my mind yet, and there was a dance , a DJ called Lessa was playing and she invited me over, we chatted about VdO, and a bit about D/s in general, and it was shortly after that , I did drop off my application."
Blue: "Ah, yes, I remember Punkin... she was a very spirited person :) Anyway -- next question ... Talk about what you like most here -- either physically, like a location.. or in general.. and then what you like least?"
JC: "Hmm, thats a really tough question , i need a moment to think about it."
Blue: "Take your time :)"
JC: "WHat I like the most about VdO, is the fact that you cannot just walk in here, join the group and go 'play.' Everyone is required to follow a path(s). The sim offers a wide variety of information to enhance one's own experiences. Many thought provoking challenges are offered here, as well as challenging scenarios to help one adapt their own likes and dislikes to the D/s lifestyle. I came here with pretty good knowledge of this life style, but, the fact that we are a poly sim has helped me grow immensely, and become even more aware of the submissives' needs.
What I like least is the fact that Debutantes are pretty much hands off, but I accept it fully as i came to understand more and more about their paths. Now by hands off I do not mean sexual in any way, Just in general as far as teaching them about being submissive under the guidance of the Dominants"
Blue: "Next-- Without crossing your own RL boundaries, tell us what you can about your hobbies, work, activities, or passions"
JC: " Well, one of my main passions is, I am an NRA certified muzzle loader, rifle and archery instructor. I enjoy teaching the young boys in the scout program how to shoot each of these. ): For my RL work I have a degree in electronics, and have enjoyed doing that for many years. I still find it exciting each and every day, and have an innate ability towards problem solving. For many years I had a handyman business, and performed many jobs of which i had little experience (although i did have experince in construction) ,. I would research it, ask pros for guidance, and go off and do the job... I never had a dissatisfied customer, I am proud to brag of. For the life style we enjoy, I was taken nder the wing of a wel known Master many years ago, and taught a lot, and learned how much of a sadist i was under him" grins "I found the most rewarding experiences for me involved bondage, and the use of knots, I love knots. Hmm, thats about all i can think of atm blue."
Blue: "That's really good ... appreciate it. Okay, a few more questions..."
JC: "mm hmmmmm"
Blue kisses your nose, then asks.. "Can polyamory work? Does jealousy creep in? How do you deal with polyamory?"
JC: "Blue, I do not really have a jealous streak within me, so for me, polyamory is easy. I do believe that polyamory is a useful tool to help everyone have many different experiences, and if used properly, it will help you finally find the "one" you thought did not exist. Jealousy only creates drama, and can cause people to lose a wonderful friendship, or make a decision that is detrimental, and affect many others in unknown ways. For me dealing with it is easy, since jealousy is not an issue for myself."
Blue: "just 3 more questions and I'll shut up... next one is -- What's your opinion about the Valet role (from the film and book) .. the Dom who cares for and whips the girls in training ... are we missing that here?"
JC: "Honestly, I had not even considered this before now, but since you brought it up I do think we are missing that here, and it would be a wonderful position for a Dominate to assist Debutantes in their training. I feel they do need that focus, that one that ensures they are aware of their own submissiveness. Not to be a teacher, but a guide, allowing them to find their own destinies as a submissive Here in VdO, our primary focus, as far as scenes goes, is on Sisters and Demoiselles. I feel it does leave a bit of a void for the Debutantes, and I have had discussions with many who are confused about themselves, with no one person they can fully rely on that is a Dominant."
Blue: "Okay... interesting answer. Next-- Have you ever pushed (been pushed) to the point of Yellow or Red? Tell me about that."
JC: "oh dear, myself, well, there was something very recently, that I had to go into the Dominant's IM and inform him that was in bad taste and it would have been a red for me. But in general, no , I enjoy many different aspects of the D/s lifestyle. There are some types of play I do personally avoid , such as hard blood play. The one thing i found most difficult to do, was intentionally push a limit, that was required in the Dominant log, but with proper in-depth discussion with my scene partner, they turned out to be wonderful scenes."
Blue: "Just following up on that-- are you changing the Dominant log based on what you just said?"
JC: "I won't change that part of the log, due to the challenge it offered, and the reward in itself, I found truly helped me to grow, the only real change I have made at this time is to add that Doms are required to do two initiations, and one has to be as a Protector. I have two others that help me in the Supervisor role, and although we have lightly discussed the Dom log, we have yet to take it on fully, and decide what, if any changes need to be made."
Blue: "And here's the last question...(whew) In your experience, what can Roissy do better, to keep and inspire its best people?"
JC: "I believe that it does not fall on any one person, or on any one group or entity, I firmly beleive that the people here, are the ones who make Roissy VdO a valuable and rewarding place to be a part of. I personally do not feel that there is anyone here that should be considered VdO's best, we are all equals in the pursuit of making this a viable , breathing living entity, a place that remains close to so many hearts , and is called home by so many I do feel that perhaps we could come up with a wider variety of ways to enhance, or create RP experiences, all falling in some way within the theme of the sim, but that falls upon the masses to agree on ways to improve the experience."
Blue: "Thank you very much, Maitre JC."
Blue Ronsein
Roissy Journaliste