May of the Luna 2016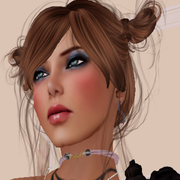 An Interview with May of the Luna Resident
(Note: May's French/English translator missed a few words and presented some awkward structures,
but I left her sentences as she said them, because it came from her heart and her personal style.
Blue: Hello, May, thank you for this interview. To begin, can you tell us how and when you started in Second Life, and how you found out about Roissy Val d'Oise?
May: When I found second life, it was a little to curiosity, then having an attraction to the role, I made my entry but I had the idea of what I wanted to do. Many visited sim, more or less far closer to what desired, be and learning ... Many disappointments and suffering seen and experienced, too much drama I attended ... I was looking for a safe and quiet place or 'flourish without fear ..." I looked long time and I fell in love with VdO, a sim where you are safe and surrounded by no drama, or we can learn sans fear and move towards our goals.
Blue: Were you always a submissive in SL, or did you become one later? Did you ever have a Master before coming here?
May: I wanted to give, offer, be subjected, any way I would in real life, if I could ... in SL I never been other than subject, but in my mind I knew I had a long way to do and a lot to learn. I have lived on a sim before and it was the most insecure sex orgy market and without pain limits; I did not learn anything that suited me – just shut up and walk, it was not my goal. I like the story of O; I wanted to experience the same thing almost as intense and real as the book. Of course you cannot play everything, but I know that what we learn has to be safe, to offer to give, and has to be something either in our love that see less elsewhere despite the glittering names.
I wanted to be a sister when I had finished reading all the rules of the course has VDO, I'm stubborn and I stayed patient jusqua my 60 days. I have taken advantage of these moments to look deep inside this I wanted, and weigh whether I should continue or wait.
Blue: Good. Now another question for you: Thinking about all the experiences here – the concerts, the ceremonies, the social life, the D/s scenes, the workshops, etc.– what do you like to do here the most?
May: I would say if I said all false, love, but it takes all kinds, and we can all enjoy the same level, so I look for in each step the little things that makes me believe it's going to be interesting, but to say that I prefer naked by a rpport another no, they all have their place here ... From the least interesting was the most enthralling; what I like are the concerts and ceremonies above all filled with joy, sadness, mixed with happiness sometimes. I often cry in real when I attend a sister graduation, but I weep for joy because I'm happy for them
All workshops are to take at least several times because bare one does not understand everything, rather than stay on uncertainty or forgotten issue, I participate when I have a moment to workshops, I always find something to learn I did not know and I advise everyone has to participate in workshops several times, you learn something new at each...
Blue: Okay – very good. Now another question: Have you ever had to use your red or yellow signals to protect yourself with a Dom? and if you say yes, please tell us about it.
May: Frankly .. no, I 've not had to use words yet. When I'm with a Dom, I often feel what he in his heart, his manners, his attitude often asking about his goals, and when I think it will not go, I do not make a scene, say I plan nevertheless an exit to avoid falling into evil, if it happened that Dom hurts too much I would say my words safe but often VdO, we do not have the time to the words, it is they who would ask if all is well, which shows that the safety of the subject to them is also a priority, be BDSM does not mean torture and torture, many beginner Dominant come with the idea of BDSM that have seen here before and they see that scene is not the same thing, they discovered that our security is their security, we must never let sentont we do if we in danger, stop the scene and talk is a possible asset here and it surely avoided full of drama.
Blue: May, can you tell us about you as a person? (Without disturbing your RL privacy.)
May: About me .. I'm just me, I would be forever. I love my life here in VdO, I have lots of friends and I am happy to be there.
My person, I am discreet and I hate to interrupt people. I like to help when the opportunity is present . I want give without receiving and I never ask in return, my life is still simple and unobtrusive. But I like to be nice, admired (what a contrast with simplicity). I like shopping, but I hate unnecessary spending pranks, selfishness, vanity, anger, everything abuse, report aimlessly without purpose, other.
I am curious to discover every facet of life here, every moment spent is intense or not, I take life as it is as long as you do not come too much in my real.
Blue: Do you play a musical instrument? Do you paint artwork? Cook? Have any special hobbies?
May: (Laughter) No, I do not play any instrument, either here or in real, but I confess to having a great time that I spend listen to my favorite song over and over sometimes.
I love creating in SL, this is a wonderful thing that allows us to do whatever we can, and we want is something that I love. I also have an attraction to beautiful pictures. I love when she makes me dream.
Blue (Smiles) What is the most difficult experience you have had serving a Dominant here in Roissy? If you can think of one.
May: The most difficult? I cannot say, but I am often exhausted, emptied as real as SL, the concentration is so intense. I remember not insurmountable scenes, but scenes not harder – it is just a way of being, we know how to manage our stress and our suffering in our limits.
I never had any trouble in any scenes – can be at worst a long moment of reflection, to know what I had to say.
Blue: Good answer. Now for your last question. An easy question: Talk about the name you have –May of the Luna – what does that mean?
May: I do not really explain just why I have this name. I just say I had to choose it because I was born in real a day in the month of May and a full moon (knock on wood) And I when I dug before naming my avatar like this, knowing that all is not permanent. I'm just me, actually; May with or without moon (laughs) this is because just "May" nothing is trivial; I wanted to add the little spicy thing that attracts curiosity, but the history of the moon is real in my life.
Blue: The full moon – when you were born.
May: Yes
Blue: Yes, I call you May, but the moon is an interesting curiosity.
Your English is very good. Do you speak English, or do you mostly use a translator?
May: (Sighs) I must use regular translator. I could not express myself properly without mistakes. But I also admit that I have made progress in understanding in English I learned more here than in 3-year college.
Blue: Anything else you would like to add that I haven't asked about?
May: Many people do not see the difficulty of not being bilingual – show themselves impatient or annoyed ... I see this often ... I wish these persons try one day to speak in my tongue VdO with or without translator. They would understand how we live sometimes. Effort, difficulty of understanding certain terms (translators are stupid and make no differences in terms) .. I must also say having the laughter of fools translations crisis ...
To conclude I would say, do not be in a hurry, learn and learn to be patient, loving, helping, do not let people aside, never ignore the suffering and hide behind an avatar; we are not closed to our disavantages and still have to open up, but I know that work is in progress and I'll end this, be you, be sincere, be alive, we love you.
Blue: That is such a nice way to end this interview!
May: Thank you Blue.
Blue: I am so impressed with all you said – it's lovely. So ... thank you very much... merci beaucoup...?
Blue Ronsein
Roissy Journaliste