Raven 2016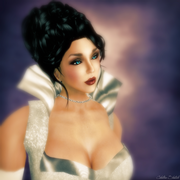 January 16, 2016
The sun was setting and I was out for a stroll... passing a quaint cottage, I heard a soft voice greet me, and turned to see Raven, one of our lovely debutantes sitting quietly on her front porch. She invited me to join her for a warm cup of tea and I settled down beside her. Little did we know our conversation would take us into this interview.
I share with you how one debutante viewed her approaching Demoiselle Initiation, which was scheduled to occur the following morning. Please note, our lengthy conversation has been annotated.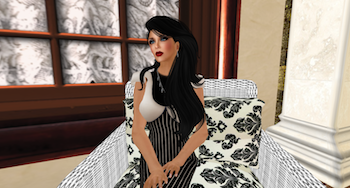 Juliette: What does this initiation mean to YOU personally, in other words, answer from your heart and not what you think you should say... (smiles)
Raven: mmmm actually i take the Story of O serious, so to me the initiation is not a sexual time, it will be a time for me to experience for the first time of pain and pleasure, to know what service and obedience is as a submissive and to be explored and available to the men of Roissy
Juliette: Great. What is your greatest fear about being a Roissy Val d'Oise Demoiselle?
Raven: failing to be pleasing to the men at Roissy... why i fear that , is i failed being a good and true submissive and maybe thought to much on myself instead of the Dominate man.
Juliette: oooh, that is part of growth for some of us. You are a strong woman.
Raven: yes it is (smiles)... yes i am (chuckles)... a bit bone head to.
Juliette: and you are a doer... so you take quick action and as submissives we must learn to DO only when told to do... it's hard one to learn.
Raven: yes... i always have to take a deep breath and listen first then act (smiles)
Juliette: oh yessss (smiles) we are a lot alike I think Raven.
Raven: (smiles) i been alone way to long (chuckles)
Juliette: we have to learn to pull in our own reigns so to speak
Raven: yes (smiles)
Juliette: How long have you known you were submissive?
Raven: probably since my younger woman life, it is our culture to please, i am part asian and that is how women are raised, so it is in us already and i am at peace with it....being a submissive is not weak as i am a strong woman, being submissive is knowing the art to please
Raven: That's lovely Raven.
Raven smiles warmly
Juliette: May I ask which culture you are?
Raven: i am in Hawaii, i am part Japanese and have strong influences in that culture (smiles) my Dad was the Dominant in our family structure so we were raised in realm.
Juliette: Oh paradise.... (smiles)
Raven: yes but its been cold (chuckles)
Juliette: yes here too in Southern California this winter
Raven: ooh yes (smiles)
Juliette: I know you have a past in Gor.... is this where you feel you failed as a submissive?
Raven: ooh no (smile)s i went to Gor as a Free Woman and was a top physician in Gor, i also worked as a Broadcaster for Goreans portal radio and did poetry and narratives on the lifestyle as a Gorean, so themes were done from slaves to warriors, even controversial topics like: are you a Gorean Man enough with an earth mentality....(grins)...did that for 4 years (smiles)
Juliette laughs softly
Raven: and i was a submissive in Gor, it is a mans world and i knew my place (smiles)
Juliette: Then it sounds to me you didn't fail...
Ravens: (smiles) no ...SL Gor is just so different now... so i left that rp , i do still work for GPR once a week on the air and do narratives (smiles)
Juliette: Tell me, Raven, what part of Demoiselle Initiation do you look forward to?
Raven: for me experiencing what O was put through, feeling the emotion of the flogging and being in pain then have strange men open her, feeling her first insecurities and doubts of the event, then she realizes she feel a soft twinge in her that opens, she realizes she does have the feeling of sexuality of being a pleasing woman....but it is an emotional growth i personally feel
Juliette: Yes, an emotional growth...
Raven: yes, as i am such a private woman not into open exhibitions (smiles shyly)
Juliette: yes... I understand that also. What are your long term goals with us?
Raven: i want to soar as high as i can as a woman of Roissy ~ to be able to help other new Debs as they journey on their path as a submissive (smiles)
Juliette: yes, that's a wonderful feeling to do... Do you aspire to oneday be O?
Raven: yes (smiles)
Juliette smiles softly
Raven: yes i can only hope to be like O
Juliette: ok... one last question...
Raven: yes (smiles)
Juliette: What is your favorite submissive quote, if you have one?
Raven: mmmm (smiles)...let me get it i used it on my Tour for Roissy....one of my favorite quotes from the Novel (smiles)
"As a matter of fact," the other voice went on, "if you do tie her up from time to time, or whip her just a little, and she begins to like it, that's no good either. You have to get past the pleasure stage, until you reach the stage of tears."
~ Pauline Réage, Story of O
Juliette: Wonderful! I think I would like to post this as an interview with you... and also include your erotic writing you just gave me... if that will be ok with you?
Raven: that is fine (smiles hugs) your a blessing
Juliette: (smiles)... thank you Raven (hugs you back tenderly)
Raven: thank you for your precious time Juliette (hugs)
Juliette: well I won't take up any more of your time... it's been so wonderful spending this time with you... thank you for your kindness Raven
Raven: (hugs) thank you Juliette (smiles)
Juliette SurrealDreaming
Roissy Journaliste
*portrait courtesy of Raven