Abigail Demoiselle Initiation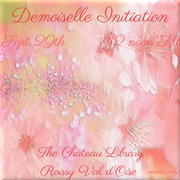 September 29, 2016
Demoiselle Initiation in 30 minutes! Please join us!
A Demoiselle initiation ceremony is at hand! Please join us as she is brought forth to serve the Dominants of Roissy Val d'Oise.
* Members only event
* Formal attire required
* Please be respectful and do not initiate a scene during this time
When: Thursday, September 29, 2016
Time: 12 Noon
Where: Chateau Library
Propriétaire et Maître De Roissy Val d'Oise René
VdO Superviseur: Maitre Dusty Caldera
---
---
Dominant Supervisor: Maitre Dusty
Protector & First Opener: Sir Arawn
Second Opener: Sir Sahrin
Mentoring Sister: Syndra
---
---
Abigail's Demoiselle Initiation arrived and a very hesitant Debutante went forth into the Roissy Chateau to undergo what has been a traditional Initiation Ceremony for many Demoiselles. Her's was no different.
Maitre Dusty welcomed everyone, sent forth Syndra, Abigail's Mentoring Sister, to fetch Abigail from the Tower and bring her forthwith. Syndra was obedient and quickly brought her trepidatious mentee into the library, presenting her to the Dominants presiding over the ceremony.
Maitre Dusty looks down into the girl beautiful eyes as she kneels before me "Abigail, you were brought before me from Samois by your mentor and by your own desire you have come here to be seen and to be initiated to serve all of the dominant members of the Château. Are you here of your own free will and willing to embark upon this new path of discovery?"
Abigail hears the silence in the room and returns her focus to the Maitre, takes another breath to still her butterflies, "Yes Maitre, I am here freely and willingly, to discover my own true submission"
He listens to her affirmative answer, Reaching down to gently stroke the soft curve of her jawline and continues "In the novel of the 'Story of O', as René so generously gave O to Stephen for additional training, so you offer yourself to the Roissy Val d'Oise community, and the House of Samois, to serve and learn as you continue to grow In your understanding of your submissive nature?"
She nods slowly, "Yes Maitre, I offer myself to this community, both to serve and to learn... about myself and others"
He nods as you reply and asks once more in a different way "Do you vow to serve with passion and with fire all of the Dominants of Roissy Val d'Oise, within your limits, to follow the directions of the House of the Samois and to ensure the comfort of all those who would require your service? It's not too late to change your mind."
Abigail looks to Him steadily, "I vow to serve with passion and with fire, all the Dominants who would have me serve them, within my limits and preferences, Maitre"
Maitre Dusty nods at the affirmative answer, reaching into my coat pocket and pulling out a soft leather collar, reaching down to lift the girl's chin with a fingertip, my eyes looking in tours as I slide the soft collar around her neck, fastening it behind her neck with a smile and pride "It is with great pleasure that I collar you to the House of Samois, Abigail. I know that you will wear it proudly."
With collar fastened about her next, the leash was attached and as is our traditional way, the re-enactment of O's arrival at Roissy begain. Abigail, as O, surrendered to the Dominants who disciplined and used her as they wished.
Maitre Dusty used the paddle to discipline Abigail, marking her skin with the vows she had sworn to, imprinting into her psyche her submission and vows made to serve all Roissy Val d'Oise Dominants from that day forth. Abigail clearly showed signs of resistence and displeasure to the discipline, going so far as to claim it was not her idea of submission.
When he had finished the punishment, he handed off her leash to her Protector and First Opener, Sir Arawn, who took swift and full control of her.
Strangely, when he asked her "Do you understand that collar represents girl?" Abigail responded that she did not know, and later, after he opened her tight back hole, and asked her "do you know what it means to be submissive?" she derogatorialy informed him, "Sir Arawn, You and I might just have different understandings of submission... and no, I am still finding my way to my own version of it."
Perhaps, her answer put him off, but it seemed he quickly pulled out of the girl and stood, handing her leash off to the second and final Opener, Sir Sahrin, who in a gentle manner praised her by saying, "you have done well thus far."
Yet, Abigail, showed clear "mistrust for his voice."
Sir Sahrin spoke in a considerate yet authoratative manner telling her, "There are many forms of service you may provide to those of us of Roissy, you have beautifully endured the punishment that may come with such service… As well as one form of opening, and now, you will share yet another." Taking a deep breath and gauging her resolve.
But Abigail was knee-deep in her aggression, to the degree that when Sir Sahrin opened her mouth, Abigail resisted "her desire to clamp down on him"!
Attempting to guide the girl into her submission, which seemed futile by this time, he said to her, "Tell us of your acceptance, your submission. It is not sufficient to merely endure… You must yearn for it. Make it a part of you."
But Abigail, unable to submit, simply stated for all to hear, "Sir Sahrin, I yearn for submission... and thought I was well on my way to finding it... yet I have much to learn... the event here are not what I long for..."
So he filled her mouth with his sperm, quickly rose from her and delivered her leash back to Maitre Dusty. "She is yours to conclude my friend," he said, turning his back.
The sad ending of this attempted Demoiselle Initiation was fruitless as Maitre Dusty said words of praise to which Abigail only negated.
Maitre Dusty reaches down to lift the girls eyes to mine, smiling at her "You have been disciplined.... You have been used sexually to demonstrate your willingness to serve the dominant members of our community..... But I wonder if you truly understand that submission is not allowing yourself to be used but simply to willingly give, with your whole heart whatever it is that is needed, to allow your power and control to be given to someone else.
"To submit means to yield to another's will, To allow someone else's needs and desires to come before your own in order that you may serve and please them..... Do you have what it takes inside your heart, your mind and your soul to give up that power to someone else? Your training is a demoiselle will continue to demonstrate your willingness to do just that. "
Abigail looks directly up to him and says quietly but firmly, "Maitre, I know I am still learning about submission. I am well aware that submission involves willing and loving giving... with my whole heart, with all of my heart and my passion. Yet what has transpired today, does not fit within my understanding of submission. I have served beyond my limits today. I have endured, you are right - and I will continue on my path to submission in a manner somewhat different to what has been shown to me. I will reconnect with the submission that lies deeply within me, once I have settled and calmed myself"
Maitre Dusty searches her eyes, brushing my fingertips lightly through her blonde hair "You will learn as you continue to grow, as you continue to apply yourself, what it truly means to submit *smiles* I believe you will one day *feel* your submissiveness....You will know it with every fiber of your being. Do not give up that journey for it is well worth the effort to find true happiness is a submissive"
In the end the girl only sighed upon hearing his words, clearly presenting to all present that SHE doesn't know the true nature of being a BDSM submissive, and claiming, "I will see to my own aftercare... .I am naturally resistant to my own submission... . I await my dismissal as would be customary, Maitre, thank You."
With that, Maitre Dusty dismissed the gathering.
Juliette SurrealDreaming
Roissy Jouranlistte
Xanadu Xue
Roissy Photographer