Alia Demoiselle Initiation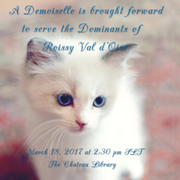 March 18, 2017
A beautiful Debutante waits in the tower to be brought forth for initiation.
Please show your love and support by joining her in the Chateau today.
March 18th 14:30 - 16:30 slt
In the Chateau main lounge
Formal attire no nakedness please
Maitre Rene, Roissy Val d'Oise Founder & Proprietaire
http://www.roissy-vdo.com/radio
Adjointe de Samois Xanadu Xue
---
---
MC - Master Dash
Dominants:
Openers - Master Dash / Miss Petra
Protecktor - Master Mykal
Sister Mentor: Xanadu (Jazz)
Master Dash warmly welcomed the community into the Chateau Library, gave the announcements, and sent the Mentor to fetch the beautiful Alia, who waited, trembling in the tower. Xanadu dutifully brought forth and presented the anxious Debutante, whose first milestone of achievement was being celebrated.
Master Dash received Alia, exclaiming over her lovliness, challenging her that she it was of her own free will and fully conscious consent to undergo the Demoiselle Initiation. Alia was quite eager in her desire to become a Demoiselle and serve "all" the Dominants of Roissy Val d'Oise.
And, the initiation proceeded. Master Dash collared and leashed Alia and gave discipline, before opening her with great pleasure. Once satisfied, he handed her leash over to Domme, Miss Petra, who took her enjoyment with her. Once pleasured, Miss Petra, handed the leash back to Master Dash, who proclaimed to all:
"We have taken this lovely debutante and disciplined her and opened her for use by the Dominants of the Château, and we have found her completely acceptable. We therefore recommend for her to the full members to fill the new role of demoiselle.
"It is never easy to complete the debutante path. So many new ideas being tossed at you, giving up the power over your own self to the power of another, to do the bidding of a dominant member, to study hard in your workshops and your readings. But you did it, you are an inspiration to all those that follow you in understanding your submissive nature and will. "
"Congratulations, Alia, you have proven yourself worthy of being called a Demoiselle of the House of Samois Val d'Oise. Wear your collar proudly, and take pride in the service you give the dominants of Roissy Val d'Oise. You may stand, and Face your loving community, Alia."
"Congratulations Demoiselle Alia," abounded from all gathered, and when all had quieted, Master Dash instructed the Protecker, Master Mykal, to take the new Demoiselle to aftercare, which he was more than happy to oblige.
Closing statements were made, and the family filed out of the Chateau, smiling with happiness that once again, they stood in support and witness to welcome a new member into the family.
Congratulations Demoiselle Alia!
Juliette
Roissy Journaliste/Photographer