Demoiselle Initiation nancy dawes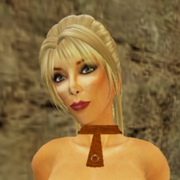 March 20, 2014
It is the middle of the afternoon at Roissy Val D'Oise when another girl is led from the tower to the Chateau to be initiated into her new role as Demoiselle.
The petite blonde girl enters the Chateau library led by Samois Supervisor Vette and is presented to the Dominant Kurt naked and vulnerable, trembling with anxious anticipation. She knows that this is the hour where her submission will change from being nonsexual as a Debutante to being filled with both pleasure and pain from this moment on as a Demoiselle.
Why do i dream of being a slut




Of being used by others




But not having my own needs satisfied




Why does the thought of




Being unworthy




Fill me with such pride




Longing to feel pain




Given for another's pleasure




Received with grace
Sir Kurt takes a leash from his pocket and, grabbing the ring of her collar, attaches it, gives the leash a tug and pulls her closer to him in her kneeling position where he studies her beauty, runs his free hand through her hair while gazing at her ample breasts and notices her nervousness. His gaze continues to travel down her torso stopping at her sex and not removing his stare he speaks, "Nancy, for the next 30 minutes you will no longer be known by that name. You are an object for the use of the dominant members of this family. For the time I use you, you will be referred to as such and you will refer to yourself similarly. Does IT understand?" He waits for her response as he listens to the rhythmic ticking of the clock.
Why do i dream of being tied down
Not able to move a limb
Being control at the mercy of another
Why does this appeal?
Freeing my mind
Fulfilling my wants
Taking away my fears
There for another to take
Accepting with grace
The roleplaying unfolds during the next hour where the girl is objectified and used in line with the Story of O. Demoiselle Nancy and the Dominants Kurt and Chew displays great roleplaing skills and captivates the audience with the erotic display of submission and Dominance.
Sir Kurt stands and removes her blindfold, kisses her lips and speaks, "Nancy, you have proven your submission and devotion to the family and the dominants of the chateau. Rene, we find her worthy of the title she has received today." He takes her leash and turns her to those gathered, "Rene, gathered guests, let me introduce to you all Demoiselle Nancy.....who serves this Chateau. Rene would you like to say some words?"
Master Rene, stands and looks at those present, and smiles, seeing the many loyal members. Thanking them for the support they have shown Nancy today as she became the newest Demosielle at Roissy Val d' Oise.
"Nancy,
It is a pleasure for me to congratulate you on your path. I look forward to seeing you continue and grow in your submission as your training continue progresses. You have shown a true gift of submission to the Roissy Val d' Oise Masters today.
I congratulate you once again and look forward to your success as you continue your path."
"Thank you Master Rene"
Why do i dream of humiliation
Of being unworthy of love
Yet knowing I am loved and wanted
Degradation
Head bowed eyes cast down
Lowest of the low
Not worthy of you
But only in my mind
Humbled in grace
The new demoiselle is then taken to the aftercare room by Sir Kurt to ensure that she is taken good care of and that if the experience has shaken her in any way, she will get to work through it and come out stronger.
Why do i dream of punishment
For the slightest misdemeanor
Wanting to take pain disciplined by your hand
Fearing the pain
But longing for it
Fearing your wrath
But looking for it
Fear and pleasure entwine
Submitting with grace
The poem embedded in this blog is taken from Demoiselle Nancy's profile and I believe the author is unknown, but it shows the true desire to submit and I believe that Nancy is a great asset to the community. Congratulations on reaching this step in your path and hope you will learn and grow even more in the time to come.