Em (enchanting martini) Courtisane Demoiselle Initiation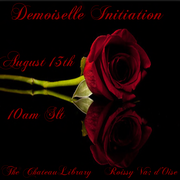 August 13, 2016
Demoiselle Initiation Saturday at 10 AM! Please join us!
A Demoiselle initiation ceremony is at hand.
Please join us as she is brought forth to serve the Dominants of Roissy Val d'Oise.
* Members only event
* Formal attire required
* Please be respectful and do not initiate a scene during this time
When Saturday, August 13, 2016
Time 10:00 AM
Where Chateau Library
Propriétaire et Maître De Roissy Val d'Oise René
VdO Superviseur: Maitre Nol
---
Time blurs as a submissive waits in the tower for her mentor to come fetch and bring her into the Chateau Library. So many thoughts go through her head. Her breathing becomes exhilerated. Perhaps butterflies swim in her stomach, or her palms beging to sweat. No matter if the girl is so excited she chomps at the bit, the memory of that short wait is never forgotten.
Em was fetched by her mentor and brought before the assembled Dominants. Maitre Nol, as attending Dominant Supervisor, took over, guiding Em through the Roissy Challenge.
"Are you here of your own free will and willing to embark upon this new exciting path?"
"Yes Maitre Nol, am here today of my own free will."
"In 'The Story of O', just as René brought O to Roissy Chateau for her submissive training, so you offer yourself to the Roissy Val d'Oise Dominants to serve and learn as you continue to grow in your understanding of your submissive nature.
"Do you vow to serve with passion and with fire all of the Dominants of Roissy Val d'Oise, within your limits, to follow the directions of the House of the Samois and to ensure the comfort of all those who would require your service? It's not too late to change your mind."
"I submit today to the Roissy Dominants with both love and obedience to my Master, North Habsburg, for it is he who has brought me to all of you."
Maitre Nol then properly collared Em to House of Samois, locking the collar about her slender neck and proceeded to give her a good punishment with a strong paddle to help her remember forever the vows she made: "My submission is offered to all Dominants of Roissy, Maitre Nol, I submit to my fullest ability, to accept what each Dominant will teach me, to adapt to each Dominants requests and respond to the unique ways they will guide & shape me. I will obey... and learn... and submit with passion."
When satisified with the pain the girl was demonstrating, Maitre Nol ended and handed her leash over to Em's Master, so he could use her before everyone. Which he did. Master North invited Maitre Taylor to join him and the two roughly used the girl before all. Soon, all three of her holes had been enjoyed by the two Dominants and she was presented back to Maitre Nol to be given the bestowal of her new Demoiselle Title.
Maitre Nol clears his throat as he steps back to his seat moving the girls on her knees close, "We have taken this lovely debutante and disciplined her and opened her for use by the dominants of the Château and find her completely acceptable to fill the new role of a demoiselle.
"René sends you greetings, also Dusty who both could not attend today, but you all know their support to our community is strong, very strong.
"René has a tradition to bring some poems to the audience. I dont have any but I have a short story for you Em as a memory on this day.
"A collar was made to be ready when needed. In search of a neck of course. It had a snap and the snap made a fine click. A man buying the collar tested each morning the snap and heard the fine click but there was no neck to be found.
"He got angry on the collar and he shouted "don't snap, there is nothing to snap!", but the collar continued to snap. He throw the collar out of the window and it feel down on the street and broke to pieces.
"There have been some fine gems in it and a women, a poor woman found it and joyfully she brought the gems to a jewelery.
"The jeweler made a fine necklace out of it and the woman was wearing it proudly. The gems did amazing things.
"The woman got happy and everyone seeing her fell in love. Never a sound came up.
"Love is silent."
Maitre Nol looks up: "Congratulations, Em, you have proven yourself worthy of being called a Demoiselle of the House of Samois Val d'Oise.. Wear your Master's collar proudly, and take pride in the service you give the dominants of Roissy Val d'Oise. Face your loving community, Em"
"Congratulations" erupted in the library... when they settled down, an invitation was announced for the celebration dance that was to follow. In the end, Gillian laughed, and turning to Maitre Nol thanked him with a gentle smile.
"Thank you Gillian," he repled. "As Rene said working like a beaver."
Juliette SurrealDreaming
Roissy Journaliste
Xanadu Xue
Roissy Photographer