Kitty Meow Meow Demoiselle Initiation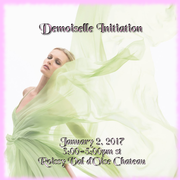 January 2, 1017
Demoiselle Initiation TODAY @ 3:00 pm
A Demoiselle initiation ceremony is at hand!
Please join us as she is brought forth to serve the Dominants of Roissy Val d'Oise.
* Members only event
* Formal attire required
* Please be respectful and do not initiate a scene during this time
When: Monday Jan 2, 2017
Time: 3:00 PM
Where: Chateau Library
Propriétaire et Maître De Roissy Val d'Oise René
Master Mike Meyers
---
---
MC - Master Mike
Protector: Mistress Derry
Participating Domme: Miss Petra
Sister Mentor: Juliette
Debutante: Kitty
The lovely Juliette ushers in the very beautiful Kitty to kneel before the Master Of Ceremonies, Master Mike. Her dark honey skin barely covered by the sheer delicate lace of her undergarments, clinging to her full curves and displaying her attributes. Master Mike tests her commitment with questions, making sure she is submitting to what is about to happen, and to the community of her own free will. Kitty's own breathless words confirm and she is ushered to the cross.

Kitty is then strapped to the large cross, her long frame stretched out for all to see. She is then stripped with a small pen knife the Master Mike has handy, baring her down to her sheer silk stockings and heels. After a brief tease of the paddle over her bared cheeks, the paddle begins to fall, landing soundly on her backside.She is subsequently questioned about her ownership as Master Mike takes his time and between sharp gasps and loud cries, she answer accordingly, along with her numbering her strikes aloud. After a thorough discipline of 10 strikes, Kitty's cheeks now glow a warm red.

She is then tugged along to Mistress Derry for the next leg of her journey. After brief exchange of words, Kitty is lead toward a bar. She is roped and suspended in the air, toes of her heels barely brushing the ground. Mistress Derry's hands travel over Kitty's warmed body, and she asks Kitty the same questions of ownership, with a very sensual approach. Kitty's responses are given just as readily, but the tone different as she is aroused. After a sensual arousement, a soft pink dildo is produced. Mistress Derry speaks sexy words of encouragement as it is used expertly on Kitty, brining her to climax....twice.

After a small moment of respite, Kitty is led to Miss Petra, who has Kitty walk of her own accord to the cross, where she is once again strapped to the wood. After some steamy words spoken by Miss Petra, she proceeds to warm and stretch Kitty's tight back opening with generous lube and multiple fingers. When Kitty is prepared to Miss Petra's satisfaction, she produces a large black strap on, moistens it with Kitty's own juices and takes her back entrance with a steady rhythm, marking her with bites and speaking sensual commanding words until Kitty reaches climax for the third time.

After being gently taken down, and ushered back to Master Mike, he speaks words of strength and encouragement, then he had the lovely Kitty stand and address the crowd. "Thank you for accepting my submission today" was all she said as she flushed deeply. She was then given over to Mistress Derry for a proper and well deserved aftercare.
Congratulations Demoiselle Kitty!
Samiah
Roissy Journaliste
*photos courtesy of Juliette