Leylah Demoiselle Initiation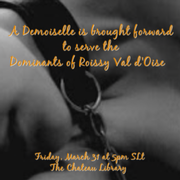 March 31, 2017
A Demoiselle initiation ceremony is at hand.
Please join us as she is brought forth to serve the Dominates of Roissy Val d'Oise.
*Members only event
*Formal attire required
* Please be respectful and do not initiate a scene during this time.
When Friday 31st March 2017
Time 5:00 PM SLT
Where Chateau Library
Proprietaire and Maitre of Roissy VdO René
Dom Supervisor, et Maitre du chateau Thomasx Xue
Adjointe de Samois Xanadu http://www.roissy-vdo.com
---
---
MC - Master Mike
Dominantes:
Openers - Sir Roger / Sir Joshua
Protector - Sir Joshua
Sister Mentor - Amaya
Master Mike welcomed the community into the Chateau Library, gave the announcements, and sent the Mentor Amaya to fetch the lovely Leylah, who waited, trembling in the tower. Amaya dutifully brought forth and presented the anxious Debutante, whose first milestone of achievement was being celebrated.
Master Mike received Leylah, exclaiming over her lovliness, challenging her that she it was of her own free will and fully conscious consent to undergo the Demoiselle Initiation. Leylah was quite excited in her desire to become a Demoiselle and serve "all" the Dominants of Roissy Val d'Oise.
And, the initiation proceeded. Master Mike collared and leashed and cut away Lehlay;s clothing with a penknife and gave discipline using a paddle. He handed her leash over to Sir Roger, who took his enjoyment with her. Once pleasured, Sir Roger, handed the leash to Sir Joshua, who completed the opening of Leylah's three holes.
Once Sir Joshua enjoyed his own pleasure, he hand the leadh back to Master Mike, who proclaimed to all:
"Leylah, you have taken your first step as a demoiselle today, Joshua and Roger are both pleased with how you served them, I am pleased with how you accepted your first taste of discipline."
Leylah, raising her eyes respectfully to Master Mike..smiling gently over to Amaya...honored by His words.
"Leylah, as I have stated, today is a first step. As you move forward, you will be challenged, you will be afraid, but fear is the enemy of us all. Be an example of what happens when a girl shows strength in the face of fear, for you mademoiselle are a girl of Samois. Playing small is not part of your character as it is not part of the character of your sisters. As you allow your light to shine unabated, your presence gives others permission for their light to shine, to illuminate the way for everyone."
"Congratulations Demoiselle Leylah," abounded from all gathered, and when all had quieted, Master Mike instructed the Protecker, Master Joshua, to take the new Demoiselle to aftercare, which he was more than happy to oblige.
Closing statements were made, and the family filed out of the Chateau, smiling with happiness that once again, they stood in support and witness to welcome a new member into the family.
Congratulations Demoiselle Leylah!
Juliette
Roissy Journaliste/Photographer