Nono's Demoiselle Initiation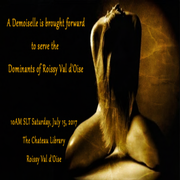 Who Nono
When July15th, 2017
Where Chateau Library
Master of Ceremony Master Mykal McMahon
Protector Sir Bereg
Participating Dominant Master Mike Myers
Mentoring Sister Synnova
Master Mykal greeted the family gathered for this important moment in Nono's submission.
Sir Bereg returned after delivering the submissive girl to the tower, "thank you Bereg".
Smiling he turned to Synnova, " As her mentor synnova, please retrieve the girl from the Tower and make sure she is properly prepared for this initiation and ready to be presented to us the Dominants of the Chateau".
The Story of O in its original form filled the air setting the mood as upper garments fell from the breasts of sisters present.
His instructions given, Synnova presented the blushing young lady to kneel before Master Mykal and the Dominants of Roissy Val d'Oise.
The Challenge
Master smiled to the sight before him. "Such a beautiful young girl with much beauty you have brought before us today".
You were brought from Samois by your mentor today and by your own desire you have come here to be seen and to be initiated to serve all the Dominants of the Chateau. Are you here of your own free will and willing to embark upon this new exciting path?"
je suis ici de plein gré et c'est mon voeur le plus cher de servir tout les Dominants ( I'm here voluntarily and it is my wish to serve all the dominants).
Master Mykal continued, Nono you may change your mind as you are here of your own accord. Please speak now, Nono are you ready to start this exciting new chapter along your path here at Roissy?
je suis prete, Master, depuis que je suis venu pour la premiere fois a Roissy (I'm ready, Master, since I came for the first time to Roissy).
Nodding to her affirmation, "In the novel of the 'Story of O', as René so generously gave O to Stephen for additional training, so do you offer yourself to the Roissy Val d'Oise community to serve and learn as you continue to grow In your understanding of your submissive nature?"
I wish with all my heart, guide me on the way to the submission, and serve with great pleasure the Roissy Dominants.
The new demoiselle stood as commanded, her stature shy, eyes drifted down as she took her place before Master Mykal.
A penknife quickly slit the silk of her lingerie and stockings, the fabric floating to the ground. As each morsel reveiled her pale hue flushed.
Nothing will be hidden from our dominants any longer. You will offer yourself to any dominant member that chooses to grace themselves with your company.
You have nothing to fear Nono as you about to have senses and feelings awakened with in you that have been long dormant
Withdrawing a leather collar out of his pocket he eveloped her slender neck ensuring a strong bond. His voice rising, "Now you are collared to the House of Samois may you wear it with just pride and honor".
Thank you Master.
The Discipline
Reaching into his other pocket he displayed a relatively lightweight short length but certainly a leash symbolic of her submission and willingness to serve. Lifting her chin with a finger touch and clipping it firmly to her new leather collar with a very soft **CLICK**, tugging lightly on the leash to ensure it is secure.
As he led her to the post her pale flesh flushed her shy stature. Cufs circled her wrists and ankles. Nono looked to Master Mykal her lip trembled a chill quivered her spine.
Slender arms clasped above her head, the new demoiselle whistled between her teeth drawing in a breath. She bit her lip, her lashes pressed to her cheeks.
A sense of calm as the Master ran his hand over her skin, you could see the length of her muscles relax, for a moment.
First you will receive discipline to know as a submissive where your place is and what you can expect if you disappoint a Dominant at Roissy.
Swallowed deeply nodding her understanding.
The room was silent as he lifted the flogger over her shoulder and draped it down her back slowly
ooch! Shuddering under the first kick on my back and whistles again between my teeth
Clenching fingers into tight fists, breathing a little harder, knowing that another shot in the arm waiting for me
He raised the flogger, striking it across her back with impact.
Her mouth opened to scream, tears filled her eyes, and you could see the tight clench of her jaw.
As the Master continues his figure eight over her flesh, she emitted a cry so strong her binds strained against the apparatus trying to direct the lashes to fresh skin.
Her cries continued as he marked her round bottom.
Tears streaming down her cheeks "My body is on fire!"
Eyes following her tormentor his lips curled to smile at the marks left behind.
He stepped closer, setting down the implement, a finger wiped her tears away. "Well done, Nono, this is but the beginning my dear". Reaching up, unbinds her and lowers her down gently.
Come along nono, to your next Dominant
Thanks Master Mykal
The Second Dominant and Protector
Nono looks up at Sir Bereg timidly, her eyes drop to the floor before him.
Thank you, Sir Mykal
Bereg, I give you nono, she has done well thus far and I recomend her passing...use her well
A strong yet kind voice offers, Nono, a trying day, isn't it?"
Her lips pout, the pain evident as her feet press to her red ass.
Very good, nono, you know to kneel in front of a dominant.
Your twin pony tails will help you serve me in your next test.
Oh? She felt her cheeks blush.
Assuring she was ready he continued, "This is not about your pleasure, Nono, but about you serving the dominants of Roissy".
Her eyes filled with worry as she followed him to the ottoman, her face flushed as he drew closer to her. Taking her place she looked to Sir Bereg with wide eyes.
Strokes your legs, and with a grin on my face, unzips my pants and takes out my cock
Shivering at the touch of the fingers of Sir Bereg on my skin and feel my heart beating very quickly saw him open his pants
Nono, get my cock wet with your saliva, and suck me with your red lips.
He pushed her to the floor, pulling your twin pony tails onto my cock
Slip between the thighs of Sir Bereg, and shyly takes his cockhead between her lips and pinch them
Gently, I move my lips and starts some come and go slow, blushing
Wraps the pony tails around both hands and pulls you further on me, my cock stiffening
She grasped his cock, her mouth pleasuring the orbs, her body flushed with heat.
His hips thrust into her mouth more and more deeply, trying to force a gag on his engorged penis.
Lips encircling his girth, the bulge in her throat as she swallowed and sucked the length eagerly.
Bounces your head up and down on me, arching my back as your tongue flicks the head of my cock.
Ahhhhhh, very good, nono.
Pulled her head harder and sinking his shaft deep into her mouth. He grasped her and pulled her up from the floor, roughly, pushing her back onto the ottoman.
Parting her lips he took her, "Awwww, nono, so sweet."
Her eyes closed, she shivered and moaned to his pleasure.
Pulling your hair, pinching your nipples, I plunge deep inside your pussy, "Ahhhhh, nono, you may serve us well after all!"
She flushed crimson, her moans growing stronger and stronger. " yes Master, oh my god, this feeling is strong. I feel pleasure in my whole body.
His fingers squeezed her ass as he took her, lust driving his aim, ramming hard as he tested her use.
I squeeze your ass hard and drive into you with lust, fucking you to test you well. Her moans filled the air. "ooh my god!"
Filling my need as a dominant over you. Digs my fingernails into the flesh of your ass
Her body shook to his ministration, back arched she hungered for his release.
I Release my orgasm into you, flooding your inside with my sticky sperm. A moment passes he pulls her from her pose. Thick strands of lust trickle down her thighs.
Sir MIke, nono has served me well.
The Third Dominant
She sat down hard, the pain showing in her strained movement.
Master Mike stands up, taking the leash from Bereg, "Thank you Bereg." Looking over to Nono as she sinks to the floor, "And now for you mademoiselle" a smirk crossing my lips as I pull her unceremoniously to the ottoman. Pointing at the ottoman, "on your hands and knees".
Drags my fingers over her marked, warmed skin, inspecting her like a show horse. Driving two fingers roughly into her pussy. Dragging them out slowly, I pull the whetted digits up the crack of her ass and push them against her anus.
Her head whipped around to look at Master Mike, a moans escaped her lips as the walls of her sex contracted.
"Mademoiselle, you are here to serve, let everyone here see what it looks like when you serve" as I yank her ponytails back hard as my fingers begin to loosen her ass.
ooch! The walls of her puckered hole gripped his fingers. "Yes Master" her voice a guttural groan.
Loosens my grip on her hair for a moment, reaching down I pull my hardened cock out of my pants, sliding between her legs, I drive my cock into her ass hard and deep.
Screaming with all my strength, feeling Master Mike sex enlarge me the hole
Master Mike grabs her hair by the end of her ponytails once again, yanking her head up, "Keep your eyes open girl, let them al see you, see you in service" As I start to thrust harder and faster inside of you.
My tears flow again streaming down blushed cheeks. Trying to lift his head by reflex, but can't move, then I scream with all my strength, my screams percent throughout the Castle "Oh my god!"
"Now you're starting to understand service mademoiselle, very very good."
Yes Master, (screaming and crying, contracts my butt to leave less passage). The marked ass cheeks burning into her with each thrust.
Makes a final hard thrust, releasing torrent after torrent of my seed deep inside of your ass, letting my cock slip out of the gaping hole, I run my hand softly up her back, "You've done admirably mademoiselle."
Thanks Master... feel the passage less narrow and less painful. This liquid in me, twice now, makes me blush
Standing, a tug on the leash, I bring the girl over to Mykal, pointing to the cushion at his feet, "Take your place" I say to her before handing the leash to Mykal, "She is ready brother."
The Title
Catching her breath she kneels before Master Mykal, attentive to his words.
Holding the leash in his hand, Master Mykal pauses to think over the recomendations as he scans her beauty
Looking into her eyes "Nono, It is important to understand that when we embark on a journey into the BDSM lifestyle, we do not always know where that journey will take us. We have all discussed limits and preferences in our workshops
Looks up the gathered group of family and friends, "This young lady has reached a point in her training where she will begin to experience
Living your dream is what it's all about.... Finding those things that truly excitd us and fulfill us as individuals. Reaching our full potential as we begin to truly understand what drives us.
Those of you who have made this journey already know what I am talking about. I am grateful that we have a mentoring program that helps guide us along our way. Thank you synnova and others that have helped guide nono
We are a community of like-minded people that freely give of our knowledge and experience to help one another.
Demoiselle Nono here may be experienced in the many ways of BDSM but now she will have the opportunity to truly experience total submission as she yields herself in this poly environment.
Merci beaucoup at A/all
Please everyone congratulate our newest Dem, Nono!
Thunderous wishes of congratulations from Nono's family and friends.
Thank you all for attending. A big thank you to Rene, whos vision we all share. Have a great day everyone
Dreamsdesire Starfall, Roissy Journaliste
Xanadu Xue, Photographer