Star's Demoiselle Initiation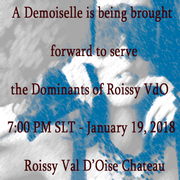 WHO Star (star7412)
WHERE Chateau Library
WHEN Friday, January 19, 2018
MASTER OF CEREMONIES Master Brick
PROTECTOR Sir Cy
SECOND DOMINANT Sir Bereg
MENTORING SISTER Sweet
by Sadie Xue, Roissy Journaliste
Xanadu Xue, Roissy Photographer

Master Brick started the evening event off by calling for the attention of all and asking that Sister Sweet retrieve her mentee from the dungeon. Idle chit chat murmured though the room as the crowd anxiously awaited the unveiling of the lucky girl.
Sweet looked around the room as she spoke, "Maitres, Masters/Mistresses, Sirs/Misses and ladies... It gives me great pleasure to present Star for her initiation. Star, please kneel on the cushion."
T H E C H A L L E N G E
He smiles as Star is brought into the room, prepared in lovely garments and was placed before him on the pillow, "Thank you, Sweet ...." he then glanced at the girl kneeling, "Such a beautiful name for such a beautiful girl you have brought before us today. Star, you were brought from Samois by your mentor today and by your own desire you have come here to be seen and to be initiated to serve all the Dominants of the Chateau. Are you here of your own free will and willing to embark upon this new exciting path?"
Master Brick continued, "In the 'Story of O', as René so generously gave O to Stephen for additional training, do you offer yourself to the Roissy Val d'Oise community to serve and learn as you continue to grow In your understanding of your submissive nature? Do you vow to serve with passion and with fire all of the Dominants of Roissy Val d'Oise, within your limits, to follow the directions of the House of the Samois and to ensure the comfort of all those who would require your service? It's not too late to change your mind."
Star blushed a faint pink tome on her cheek as she answered, "Master Brick I come here on my own free will. I want to learn."
Master Brick nodded at the affirmative answer and slipped a hand into his coat pocket to pull out a soft leather collar. Then he bent down to lift the girl's chin, sliding the soft collar around her neck. He fastened it behind her neck with a smile and pride. "It is with great pleasure that I collar you to the House of Samois, Star, I know that you will wear it proudly."
T H E D I S C I P L I N E
Master Brick commanded that she disrobe as he slipped a leash from his pocket, a relatively lightweight short length but certainly symbolic leash of her submission and willingness to serve. He lifted her chin with a finger touch and clipped it firmly to her new leather collar with a very soft CLICK. He tugged lightly on the leash to ensure it is secure. He leaned down close to the girl, his hand firmly gripping the leash "Do not fear what is about to happen but rejoice in the fact that you are serving the dominant members of our community in your service."
Master Brick walked her over to the post and placed on her wrists two leather cuffs and firmly attached them to the post. He took a step back leans down and grabbed a paddle. He looked at the paddle as he spoke, "Now Star I am going to discipline you for the first phase of your initiation. I will give you five cracks on your bottom. I want you to say 'Thank you, Sir, may I have another,' after each one."
He showed her the paddle and instructed her to kiss it for good luck. He then lifted the paddle up behind him and then swiftly brought it down to connect with her butt.
Star's voice quivered as she exclaimed, "Thank you, Master Brick, can I please have another one."
Again and again, the process was repeated until Star's cheeks were a crimson red.
Finally, he put the paddle down and untied her from the post. He held her gently as she caught her breath from her discipline phase. He walked her over to Sir Cy and passed him the leash.
T H E P R O T E C T O R
Sir Cy addressed Master Brick as the pass over was made, "Thank you Brick, you can be very proud of the way, you have tested Star and she has impressed me by taking all that you have given her She does shows signs of being a great serving submissive. Thank you, my friend, I hope I can test Star as well as you did."
Turning to Star, he added, "Star are you prepared to continue your initiation, and do you understand, you will be asked to show you are prepared to please the Dominants of our community with your body. within your limits?"
Star shyly replied, "Yes I am, Sir Cy, I come here on my own."
Sir Cy grinned as he took a small glass jar out of his pocket and carefully unscrewed the lid. He stuck a finger deep into the jar and took out a small mountain of the mix. He bent the Star over and lightly started smearing it around in a circle. "Listen very closely, I will turn your back to the most of the people here; I don't want the community to see how limp I am, when I get close to you, unzip me and take out my limp cock and made it hard for me, take all the time you need but I need to be hard. Then when I am hard, I will turn you over into the doggy position. You're so pretty that I am sure I will get off inside you very easy now, but for now concentrate and get me really hard."
Star nodded and unzipped his fly taking his member and inserting it into her mouth. Sir Cy put his hands on her head guiding her as she winked up at him.
His resolve melting away; he flipped her over and rammed his cock into just before exploding into orgasm in her sweet folds.
Sir Cy groaned as his last drops flowed into her before releasing his grip on her hips. He instructed her to catch her breath quickly and to hold her passion for Sir Bereg.
T H E S E C O N D D O M I N A N T
Sir Bereg took her leash and paced slowly around her, "Star, you have done very well serving Brick and CY so far. Thanks Cy, I can see she is hot. Hot enough for the next test of her ability to serve the dominants of Roissy. A very pretty sub for the dominants to have at their service here. Are you ready for your next test of service, star?"
Star smiled up at Sir Bereg, "Yes, Sir Bereg, I want to learn."
Sir Bereg returned her smile and gently reached forward to tassel her hair, "That's an excellent attitude, star."
Sir Bereg took a tube of lube from his pocket and squeezes it onto her anus , spreading it around and then added some on his cock. He then pushed her face down onto the ottoman, pulled up her hips, and slowly eased his cock into her anus. He rode slowly at first, then harder and more forcefully. Star moaned as she bit her lips.
She rocked back and forth moaning louder at his permission. He pulled the buns of her hair, forcing her head back as he drove into her harder – deeper.
Star exclaimed, "Yessss! I want it please harder! I want it faster and faster - it feel soo wonderful!"
Hearing her exclaim he came in her and panted, "Satisfied you can serve the doms of Roissy in every way."
Star smiles hearing his words; she stood and went to kneel once more before Master Brick. Sir Bereg handed her leash off saying, "Brick, star has served well, thus far. I return her leash to you."
T H E T I T L E
Master Brick stood and took the leash back; he yanked the girl closer and turned to the dominants, Sir CY and Sir Bereg. "You and her mentor, Sweet , have prepared this girl well for service by the dominant Members of our community. We have taken this lovely debutante and disciplined her and opened her for use by the dominants of The Château and find her completely acceptable and recommend for her to fill the new role of demoiselle."
Master Brick continued addressing the crowd, "It is never easy to complete the debutante path.. So many new ideas being tossed at you.. giving up the power over your own self to that of another, to do the bidding of a dominant member, to study hard in your workshops and your readings.. But you did it.. you are an inspiration to all those that follow you in understanding your submissive nature and will. Congratulations, Star , you have proven yourself worthy of being called a Demoiselle of the House of Samois Val d'Oise.. Wear your Master's collar proudly, and take pride in the service you give the dominants of Roissy Val d'Oise. Face your loving community."
The Library erupted in applause and shouts of congratulations!
T H E F I N A L E
Master Brick paused for the congratulations to die down a bit then turned to her protector, "Please take this lovely new demoiselle and provide for her care after the initiation."
He turned back to the family and friends of gathered together today for initiation, "I want to thank each one of you for Joining us here today and showing your support. As René has mentioned, it is that support the keeps our community strong. I would like to thank Rene for this wonderful sim."