Susie Courtisane Sister Graduation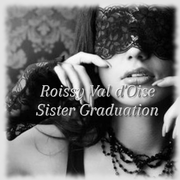 April 13, 2016
Susie' Graduation to Sister - Roissy VdO Gardens
10 am SLt
You are cordially invited to attend the graduation ceremony of Susie Asalia.
Please join us in the Chateau Gardens as Susie graduates from Demoiselle to Sister. Celebrating a milestone on her path.
Founder and Proprietor Maitre Rene
Adjointe de Samois Gillian Darkwatch
---
---
A hush falls over the gathered, as Maitre René arrives on stage, turns and smiles at the assembly, saying, "Bonjour dear Family! I am happy to see you all join together this day in celebration of this Sister Graduation."
A comedy act follows as Gillian slams into Maitre Rene as she comes on stage, followed by Maitre Rain who falls off the walkway as he tries to avoid the collision, while Sana just pushes past and takes her cushion, along with Gillian finally, while Maitre Dusty walks into the Chateau gardens and up onto the stage as Maitre Rene is attempting to give his welcome address.
"Spring has come to Roissy Val d'Oise," he begins. "bringing with it the explosion of new life! This is always a good sign for continued growth." Maitre René smiles broadly and looks at Gillian and with a wave of his hand, says, "Gillian, please let the Sister Graduation begin."
And so it does. Mentoring Sister Sweet escorts Courtesan Sister Susie up onto the stage and kneel on their respective cushions.
Gillian begins the standard welcome address with a, "Maitre Rene, Honored guests, welcome all to this joyous event...." followed by Maitre Dusty's standard weclome address, adding, "Today we honor Susie, who steadfastly stood the test of time, she has been patient and understanding, and is glorious in her service to the family of Roissy Val d'Oise , a place that many of us call Home. Susie, you are proof that our submissives are the finest in SL and we are so very proud of your accomplishments." After which, Xanadu speaks on behalf of The House of Samois, focusing specifically on Susie and saying, "My first meeting with Susie actually was when i interviewed her .. as she told me of her history in both in sl and BDSM .. plus having owned her own sim . Also impressive was she had been with Maitre Rain for 4 years previous which made me smile .. thats a long time here in sl. I have found Susie to be responsive to all .. both through her submission and her commitment to Roissy VdO. I seriously cant think of any time i have asked for her assistance that she has not been eager to assist.. and for that i again thank you Susie."
Soon, other's stand and speak on Demoiselle Susie's behalf....
---
Susie's Mistress speaks first.
Trot Mistwalker: "I was honored that susie asked me to speak here at her graduation to Sister. My Master is in the habit of picking up wounded birds and crushed flowers so to speak. Susie was one of these when we took her in over 4 years ago now. The flower has bloomed and her trust, loyalty and submission is beyond reproach, but will continue to grow as it should. I am so very proud of you susie. I have seen you grow even more while here at Roisssy. Tackling each log and challenge with enthusiasm. Talking to and engaging both those new here and those that have been here for some time. There is no doubt that susie will make Roissy proud too and will continue to work hard as a Sister here."
---
Susie's Master speaks second.
Maitre Rain: "It is not often a Master has the pleasure of watching his submissive grow as I have watched susie. Susie is that rare gem.....a diamond who came to us with her beauty slightly hidden by misuse and neglect. I point to her here today with pride......she has truly come into full bloom in her submission. I give all of YOU credit for how she has grown.....Roissy has been so very good to and for susie. Our programs were so helpful in nourishing her natural talents and now she enters Sisterhood, well trained, confident, and with a loving heart to help those who follow in her path. Susie....... I am so very very proud of you girl."
---
Susie's Sister Final Mentor speaks next.
Maitre Dusty: "Today is Susies's day! A day of celebration for her accomplishments and progress. I'm extremely grateful to all who have aided her along her challenging path to Sisterhood. I was delighted and quite honored when asked to participate in Susie's Final. The fact that she took her time to complete her training path to Sister only speaks of the quality that she has worked relentlessly to put into each and every step along the way. Susie and I discussed the final scene and what we were both ready for, limits to be pushed, goals to be reached and challenges to be met. Susie Is the consummate submissive, patient, Intelligent, attentive, eagerly seeking only to serve in whatever way pleases and satisfies her dominant the most. While not revealing too much of what the training accomplished during our time together, one aspect was to try to see how she handled uncontrolled anger and tickling - two of her limits. As it turned out, this was quite a challenge and in the end I am not sure who was more frustrated in my attempt to anger this girl, her or me. My point is she handled everything I put her through very well Responding to every challenge with patience and poise. Susie seems to be a bit more reactive than proactive but that only spotlights her wonderful submissive nature. It does not diminish her desire and abilities to serve and serve well. Her heart is strong and her desire is to give back to the community Is readily apparent. Being a courtesan demoiselle has not held her back as she is always ready to help out her sisters within her abilities. I am proud to recommend her for Sister....I believe Susie has much to give back to the community and will do so willingly and with all her being."
---
Susie's Mentor Sister speaks next.
Sweet: "Dear Maitres, Masters, Sirs and my fellow subs! I am so honored to be present here today to welcome Susie to the rank of Sister! Susie has been a delight to mentor...our morning meetings at the landing were usually when we discussed how life was going. I missed her initiation, which upset me, but Rl has to come first. I was very happy for her that day! What a WONDERFUL addition to the Demoiselles!. I first met Susie at the landing...in purple, of course! I had been asked to be her mentor and was a bit nervous, as she was coming in collared to one of our Doms, now Maitre. (glances over to Maitre Rain) No pressure there! Who I met was a very vivacious, intelligent woman, wanting to please, not just the Doms, but her mentor. Having only limited time to talk to each other...NOT including weekends, we would talk about how her path was going. When the time for her initiation came along, I KNEW she would do well, and was thankful Trot would be there for her. Her workshop on self-esteem is one to be given again! Well written and presented. As was her Disco event! Both HUGE successes! I am very proud to have help , at least a bit, with Susie's path. I welcome her with open arms to our excellent group of sisters... and can't wait to see her begin to mentor! CONGRATULATIONS SUSIE!"
---
Confirment of Title
---
"Maitre Rene, You have heard the recommendations of Maître Dusty and the warm support given to that recommendation of Sweet her mentoring sister. May I invite you now, to confer on Demoiselle Susie the title and the ring of Sisterhood?"
Maitre René straightens in his chair... his hand smooths down the front of his vest. He nods and looks toward the Courtesan Demoiselle kneeling on a cushion to his right, noticing how respectfully she bows her head, thinking on the recommendations he has heard on her behalf.
He looks to Rain and smiles, saying, "Today it will be a pleasure to have another one of your girls up here on this stage, my friend.
"As pure a submissive as Roissy has ever known my friend," brags Sir Rain proudly.
Maitre René continues, "The words spoken on Courtesan Demoiselle Susie's behalf indicate that she is worthy of being received into our Sisterhood." He looks to Gillian and smiles. "Gillian, have Susie, kneel before me to receive ordination."
"Demoiselle Susie, come forward please and kneel before Maitre Rene," coaches Gillian and gives Susie a warm encouraging smile.
"With pleasure Gillian," replies Susie and moves on a shakey legs to in front of Maitre Rene and kneels repectfully.
Maitre René stands and, looking upon Demoiselle Susie kneeling before him, speaks to both her and all assembled.
"I really am not sure what time of year is my favorite... spring or summer... but i can't help but take a deep breath of the fresh air after a hard winter, which i know so many of us endured. Let's hope those of you in the southern hemisphere won't have a harsh winter also as you move forward into your own."
He looks upon the humble submissive, smiling and humming: 'Can't you feel it when spring has come, that it's time to live in the scattered sun?'
"Bonjour Susie." He smiles and slips his hand into his jacket pocket and pulls from it his familiar old weathered journal. Flipping it open, he finds Susie's page and reads a moment then looks up to the community.
"You see here before you a submissive woman who has honored her path with enthusiasm and dedication. I can almost hear your heart thumping in your chest, Susie."
Susie Asalia takes deep breaths trying to calm her heart beat.
Matire René's kind smile spreads over his face as he studies her own.
"I always share the milestones achieved for each submissive and so let's look at yours…………..
"You began your journey as Debutant August 16, 2015 and received your Courtesan Demoiselle Initiation on September 30, 2015, at which time you were properly opened by three of our Dominants and began your service in Roissy Chateau to all our Dominants."
Matire René smiles thinking about her Demoiselle Initiation when he thought of her as a purple flower, as Susie also smiles at the memories.
"Susie, keeping true to your vows taken during your Demoiselle Initiation, you have proven that what you did say "yes" to at that time you meant, for you have kept your promises through your devotion, loyalty and service to our Dominants and community."
"Yes Maitre i did and still do."
He continues, "I hope you did see that your fragrance has drawn to you many new and wonderful experiences as you continued the next phase of the submissive path leading to Sisterhood?"
"Yes Maitre.. a sub never stops growing."
Juliette smiles softly.
Maitre René smiles and looks up again, glancing around at the faces before him. "Here are Suzie's accomplishments on this second phase of Demoiselle to Sister...
"December 8, 2015, she gave her Sister Workshop: Submissive Self Esteem - an inspirational and uplifting guidance to all submissives, demonstrating her willingness to help nurture and guide other submissives.
"February 9, 2016 she hosted her Sister Event: Night Magic, a disco inferno dance, including best disco costume contests. Sadly, due to the time of day it was held I was unable to attend but I see on the webpage it was a great time. I am sorry to have missed it."
Susie says, "You were missed Maitre."
"Thanks," he replies before continuing. "Lastly on her list of achievements is her Sister Final which was given to her by Dusty as her Mentoring Maitre, which was a very serious challenge of her strengths and identification of her ability to stretch limits, proving she is worthy to become a Sister. And so now here we are." He glances up and smiles at her.
" Today and it is with pleasure that I award you the prestigious Roissy Val d'Oise ring and title of Sister. Susie, please hold out your hand."
Susie Asalia with joyous tears holds out her hand, smiling, while her Master sobs without shame.
Maitre René takes hold of her hand as he reaches inside his vest pocket and pulls out the shiny gold ring. He holds it before her pretty eyes letting the sunlight glisten off it.
"Is this what you want?"
Susie Asalia see's the ring and how it shines and holding her breath a moment before remember to breath again utters, "Yes Maitre Rene."
Smiling, he reaches for her hand and slides the shiny gold ring into place on her finger, holding her hand between his own. He peers into her eyes as he softly says, "Life is all about timing.... ? the unreachable becomes reachable.... the unavailable become available.... the unattainable.. attainable.
"Courtesan Sister Susie, have the patience to wait it out and make the right decisions when you are presented with choices. My wish is that you will continue to grow and learn and nurture others along your way. Be a reminder to our girls of the patience needed within a submissive's mind and help nurture other Demoiselles to achieve their milestones.
"Continue to show your loyalty to our wonderful community through your service to not only our events but most importantly to the caring for of our wonderful Dominants!"
"Always Maitre," Susie agrees.
Letting go her hand, Maitre René smiles again, and reaches for a class of champagne. Holding it high, he invites all, "Join me now in congratulating Courtesan Sister Susie! Cheers!"
As the cheers begin to quiet down, Maitre René steps back and turns to Gillian and smiles.
"Gillian, the time has come to give our newest Sister her rightful title and let's welcome her into our Roissy Val d'Oise Sisterhood." Feeling proud, he sits down and settles back, watching.
---
Gillian gives the standard speech, giving Susie her new Sister Title and inviting her to share with all of us.
Courtesan Sister Susie:
"Thank you Gillian... Hello Maitre's, Master's, Sir's, Miss's, sister's, guests and thank Y/you A/all for coming today to support me on this important day. When my Owners brought me here I was a little worried as I always am about new things but I quickly learned there was nothing to be worried about as I began meeting people and doing my path. I instantly fell in love with the atmosphere, the rituals here and the people. I would like to say thank you to E/everyone in the family for all the help and support I have received here at Roissy.
"I want to extend a special thank you to Maitre Dusty for doing my final and showing me that pushing limits is not always a bad thing. You gave me the confidence to succeed.
"Thank you to my mentor, Sweet Baby Blue for helping me with my log and explaining the rules and for being there to encourage me when i needed it.
"Thank you to Maitre Rain and Sister Trot for bringing me here to continue my growth and for being the guidance i have always needed and craved.
" I would like to say thank you to Sister Sadie for doing a awesome job DJ'ing my Sister Event.
"I would also like to thank Sister Sana for the great texture she did for my initiation, Sister Event and graduation.
"I would like to give a big thank you and loving hug to Maitre Rene for sharing His dream and home without which none of this would be possible.
"Finally i wish to say i plan on continuing my growth here at Roissy. A path is not needed to continue to grow and learn. I am hoping to be able to help others here at Roissy in any way i can. I am home and so blessed to be a part of all of this.
"Thank You E/everyone."
---
At this time, the ceremony begins to wind down. Gillian stands and delivers her standard speech, inspiring all the submissives to coontinue forward and giving thanks to Maitre Rene for our home, at which time, Maitre René stands and smiles at Sister Susie, the Admin and guests assembled on the stage.
"We have all heard it said it takes a village to raise a child. Well, while it doesn't take a village to raise a submissive, here at Roissy Val d'Oise a submissive will find her entire community joins together with heart and soul to nurture and guide her into her deepest core and to the success of reaching her milestones.
"Such protection and care is given from a place of chosen family. Each one of you chooses to be part of this community and to become family.
"We cannot do this journey, this life, this dream alone……………………..
"Again i mention the spring time, when you look about our home, there is always something happening: workshops, discussions, storytellings, demonstrations, entertainment, activities but most importantly, above all these, is joining together in our role-play. THAT is how we share the deepest core of who we each are. Whether it be serious role-play in our chateau or dungeon, light role-play in our cafe or in various locations around our estate or in the role-play between a couple in a private room, I ask each of you to share your gift, your deepest core, the authentic essence of who you are with one another.
"Love and care for one another and continue to dream with me as we flow forward on a ribbon of spring sunshine into the warmth of summer."
Matire René smiles and gives a small laugh. " Spring seems to be filling me with the energy of a romantic!"
"I like the poetry," admits Maitre Dusty.
Maitre René smiles.
"Nothing wrong with that Rene," agrees Maitre Rain.
"Thank you for sharing your time and showing support today as Susie became a Courtesan Sister of Roissy Val d' Oise," says Maitre René. " I hope you will join in the celebration dance following. I let Gill give the details on that. I wish you all a wonderful time. Thanks again everyone."
---
Maitre Rene leaves the stage and thus the graduation comes to an end.
Juliette SurrealDreaming
Roissy Journaliste
Mira
Roissy Photographer