Chip's Maitre Ceremony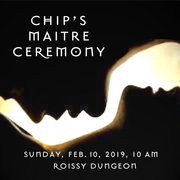 WHO Chip Althouse
WHEN Sunday, Feb. 10, 2019
WHERE Old Dungeon
MASTER OF CEREMONIES Thomas Xue
SPEAKERS Taylor Smitty
Venna Althouse



By: Siahnn, Roissy Journaliste
Photography by: Xanadue Xue
The assembled crowd spoke in quiet tones as they waited for the ceremony to start. Tonight we would honor the promotion of Master Chip Althouse to the level of Roissy Val d'Oise Maitre.

W E L C O M I N G D O M I N A N T
Maitre Thomas looked across the room and began, "Welcome, all my friends, to our Maitre ceremony. In the past, the Master would be promoted to Maitre after his Maitre event. This is the 5th time we have used this new format, and we are still making adjustments. Change can be a good thing."
"We are here to celebrate the dedication that Chip has shown to complete his journey and achieve his full Maitre position at Roissy Val D'Oise," continued Maitre Thomas. "The Maitre and path ceremony is intended to be different, primarily since the path is not easy, and Maitres have always been the special cut above level Dominant at Roissy Val d'Oise."
"In the beginning of Roissy, in February 2012, there were no training paths, and the Maitres had a very special role," Maitre Thomas stated. "Thats right, seven years of VDO. That is such an awesome milestone, and I am happy to have been a part of this sim the whole time."
Maitre Thomas went on, "In the beginning, the Maitres role was to train the submissives and progress them to sister. They were the only Dominants allowed to train the Dems. Their role has not diminished over the years. It has only been enhanced. The Maitres play a critical role in mentoring other Dominants and also assisting submissives with their logs."
"The Maitre path is not for the casual Master/Mistress that simply desires a higher tag. Rather, the Maitre/Maitresse tag represents a more mature dominant that represents Roissy Val d'Oise well in all areas and is frequently active on the sim," Maitre Thomas explained. "Expected Maitre/Maitresse Duties: Once completed, the Maitre/Maitresse will be expected to regularly mentor less experienced Dominants. Although the Dominant Supervisor will recommend, and approve and monitor the mentor assignments, the Maitre/Maitresse are encouraged to seek out dominants that are in need of mentoring. The mentor role of the Maitre/Maitresse is to guide and advise the Dominants in their path."
"There are three requirements before starting this path:
1) You must have spent at least three months after your graduation to Master/Mistress actively participating in the sim and be in good standing with the sim during this period before you can start this path.
2) You must obtain a letter of recommendation from a current, active Maitre/Maitresse who will act as your Mentor for your training at this stage," Maitre Thomas paused and turned to smile at Taylor, adding, "Taylor wrote a very nice recommendation for Chip."
There was laughter when Master Chip said, "I paid him plenty."
Maitre Thomas concluded, "The Maitre log has many required tasks, including mentoring, discussions, demos, initiations and tasks. Its not easy, nor should it be. Chip was very patient working through them all over time. Thank you, Chip for sticking through it."

S H O R T C O M M E N T S
"At this time I Invite anyone from the family to raise their hand to say a little something for Chip this occasion if you like," Maitre Thomas invited the crowd.
Chrimson said, "I would like to say a big thank you to Master Chip for helping me through a tough part of my log. He was sincere ,great fun and helped me understand a great deal . Thank you Master/Maitre I know you deserve this immensely."
Maitresse Derry stated, "I think Chip's event was one of the coolest I've seen. We had to wait a bit for the results, but it was fun socializing while waiting to be drawn and the caricatures turned out great. It was a testament to his creativity. Also, the water tank demo gave me an idea for Sia's Sister final. Thanks, Chip."
Master James stood and adjusted his tie, "I would first like to say Congratulations Chip! Roissy Val d'Oise is indeed fortunate to have you among the ranks of Maitre. You were a great mentor for me, and you will be a fantastic Maitre! I am very happy for you my friend."
Maitre Sting said, "Chip is a good companion. He did show me, and did well, the RP at the workshop Show Domination at the Rising Sun. I congratulate him and the team we had for this. He and Venna are poly and they are good members of this poly sim. I am glad to be here for him today."
"That was a great demonstration, Sting, wow," the soon to be Maitre Chip laughed. "Sting had me in Japanese sumo mode."
Maitre Thomas shook Chip's hand, stating, "Thank you, Chip, for your patience, persistence and service to Roissy Val d'Oise as a whole. I am happy to now call you one of the Maitres of Roissy."
At this, the crowd roared congratulations and applause for the new Maitre, Chip.

M E N T O R ' S S P E E C H
"I have a couple of speakers. I will start with Taylor," Maitre Chip announced. "My First Speaker is my mentor, Taylor Smitty, who is a fair-to-middling golfer, loyal Auburn fan, and has guided me along for many years. Taylor?"
Maitre Taylor set his Gentleman Jack and water down next to his chair and stood. "A Long time ago Chip and I met. It was easy and natural. He seemed to be very balanced, calm, focused, but with a fantastic sense of humor. We, to this day, enjoy some good natured ribbing of each other."
"If I am totally honest, this is sort of a test. How would a fellow Dominant react? Will their pride get the best of them and blow up on/at me?" Maitre Taylor shook his head, "Not Chip, his reactions were always smooth as silk and we both came out grinning."
Maitre Taylor took a deep breath and continued, "And so it came to pass that it was only right that I be his Mentor. I always tried to keep my nose out of his business and rely on feedback from the community. Most importantly the submissives. Not one single time did I ever have to hunt Chip down to ...." Maitre Taylor paused and rubbed his chin, "...have a heart to heart like I have with so many Dominants in the past."
"Somewhere along the way, Chip finished his path to become a Master," Maitre Taylor shrugged. "It was inevitable, really. There was never a doubt in my mind. We talked after the ceremony and I let him know I was no longer his Mentor, that we were equals, but he insisted we be proteges, confidants, which I though was very fitting."
Maitre Taylor paused and looked down at Venna, "And then there was Venna, the collaring. Chip finally found someone that could put up with him on the long term."
"Hanging in there, Maitre," Venna winked as Maitre Chip grinned.
Chuckling, Maitre Taylor continued, "I honestly admire them both. I have first hand knowledge of a Master/submissive relationship that fits so well." He looked at them both, one then the other. "There will be trying times and not every situation works forever, but please take the time to enjoy the moment while it is here."
"In closing, let me say to the Rene, Thomas, and the admins, Chip has my full endorsement in becoming a Maitre of Roissy Val d'Oise. He's stood the test of time, been a community contributor, and when he wears that VdO tag out on the rest of the grid, we can rest assured he sets a good example of how a VdO Dominant presents themselves." Maitre Taylor grinned, stepped toward Maitre Chip and offered his hand. "And, Chip has never, not one single time, acted like it bothered him to be the second best looking Dominant here."
"Thank you, Taylor. I appreciate your words. You've been a great role model for me, seriously," said Maitre Chip as the two men gripped hands for a firm shake before Maitre Taylor returned to his seat.

S P E A K E R S
"My Second Speaker is my beloved Venna. She made my final Maitre scene work beautifully and has helped me in so many wonderful ways along my path. Venna?" Maitre Chip helped her up.
Venna smiled to her master as she rose from the cushion, green eyes straying to her beloved master's handsome face before she took a step towards the crowd, saying, "Greetings Maitres, Masters, Maitresses, Misstresses, Sirs and all friends and family of Roissy and my Master. It is with enormous pride, honour and enduring love that I stand here today to speak about this amazing dominant."
"Yes, I am biased," Venna laughed softly, smiling at Maitre Chip. "He is not only an amazing Dominant he is also my Master, a man who has become my friend, my teacher, my guide, my confidante, my sounding board and my lover. He is the kindest, gentlest, honest, truthful and patient Dominant I have ever had the good fortune to meet and I belong to him."
"But, it isn't only all of those things that make him the Dominant that he is. Far from it. He is also strong and fair, and his strength of character, hard work and understanding of our world here at Roissy is what has driven him on to achieve the accolade he receives today," Venna smiled again to her master, then chuckled. "He is an awesome Roleplayer, with a wonderful sense of humour and imagination. So, if you have not scened with him, I advise our budding submissives to make an orderly queue at his door to book an appointment."
"Throughout his journey, we have travelled almost all of it together, with lots of laughter and a few tears. I am proud to have been at his side through it all. I am even more proud to be here today, to be able to tell him and the Roissy Community how much I love, admire and respect him, and to be able to wish him every success in the new role and road that lies ahead of him," Venna said.
Turning once again to Maitre Chip, Venna smiled, "Congratulations, my beloved Master. I know you will continue to help others achieve the same success that you have today. I hope and pray that I will be by your side always as you do. Congratulations my Master, MAITRE CHIP!"
Venna smiled and blew him a kiss, mouthing 'I LOVE YOU' before returning to her cushion, tears of joy and love streaming from her eyes for him.
"Thank you, my dear Venna. I so cherish your words," said Maitre Chip as Venna dabbed her eyes and smiled.

M A I T R E S P E E C H
"Welcome everyone. I appreciate your creeping down– or is it up? – to the old dungeon to witness this Maitre ceremony. I'll keep this short, to get to the champagne and dancing faster," the new Maitre addressed the crowd. "I certainly have a lot of people to thank, and I have had a boatload of extraordinary experiences on this path. I'll reminisce on all that in time. I will say a quick thank you to Dex for helping in my final Maitre scene and disciplining Venna."
Maitre Chip continued, "But, while we get a great sense of achievement in following our paths, training is a side benefit of being at Roissy Val D'Oise. The real reason we're here is to grow and experience a lifestyle with a group of people that we can truly respect. It's true that we get our share of people who come here for all the wrong reasons. Some are alts, snooping around. Some give it a try but don't like it. Some like to spread gossip. Some think it's just free sex. You get all that on ANY sim."
"But the way VdO is organized and what makes it significant in SL, is the quality of pure joy we get day after day. Thanks to René's insight when he started this place, it's become one of SL's top draws, with a 7-year history of success," said Maitre Chip
"Why?" Maitre Chip went on to explain, "Because the people all pitch in to make VdO work, and as a result, there's a ton of mutual respect. Think of the way Xanadu knocks her tail off day after day to keep us organized and balance out all our activities; or the way Gillian, with Ginger and Priscilla's help, lures top entertainment here while she balance a full load of workshops, interviews, and other Samois chores. How about the way Thomas devotes so much time running this place with unsung hours spent tediously reading logs and notecards and making difficult judgment calls; and the way Kurt, Dom, and other Maitres all help out to keep Thomas from tearing his hair out. Then there's the way Venna, Julie, Sana, and others do the same for Xanadu; and the way DJ Sadie brings so much great music to our lives almost every day."
"Just about every senior level person who's lasted more than a year cares enough to take on a 'job' without pay to make this sim tick. I, of course, will try to evade that responsibility and coast, hoping Thomas won't notice," Maitre Chip joked to the chuckles of the crowd.
"I'm sure I've left out a few names of hard-working members, like Petra, Dusty, Derry, Sting, Blue, Rebecca, Diamond, Scorpio, Norma, and others. But think about it. Isn't it much more fun being here when you respect each other, the way we all do?" Maitre Chip asked the audience.
"Anyway, my special thanks to Taylor, who's been my mentor since I started here about five years ago. He's had to fabricate nice things to say about me way too long. He is a tremendous asset to VdO, and I've been lucky to have him support my long, slow climb to becoming a Maitre," concluded Maitre Chip. "Finally, the girl who's supported me, encouraged me, and given me her submission for almost two years now, my dear, loving, Venna. I can't thank her enough."
"I promised to keep this short. Thank you again for coming to my ceremony today," the new Maitre Chip ripped up his speech amid thunderous applause, yielding the floor to Maitre Thomas.

T O A S T
"Hmm, well its late enough for champagne, I believe," said Maitre Thomas, handing Maitre Chip a flute of Dom Perignon. "Alright, my friends, raise your glasses and lets toast our new Maitre, Chip. Way to go Chip! Cheers!" He downed the whole flute since he needed to stop tearing his hair out.
Maitre Taylor raised his glass high, trying not to spill it on his head and said, "Here's to you Chip!"
"Cheers my Master. Cheers everyone," called Venna, "Heres to many more Maitres and Life in Roissy!"
As the toasts and well wishes continued to come from the happy crowd, Maitre Thomas added, "I also wish to take this opportunity to thank Rene for providing all of this for us, and for having the vision to bring us all together. We are a large diverse group with many things to share. Thank you all for joining us here, to celebrate with Chip."
"Cheers to René," Maitre Chip raised his glass to René as well. "Thanks again for coming everybody."
"You are all dismissed now, We can now go the garden with DJ AK, lets go dance, drink and be merry," Maitre Thomas closed the ceremony.