Garrett Master Ceremony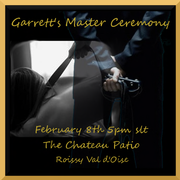 February 9, 2016
Sir Garrett's Master Ceremony tomorrow !
A Master ceremony is at hand. Please join us as Garrett receives his newest position as a Master of the Chateau
*Members only event
*Formal attire required
* Please be respectful and do not initiate a scene during this time
When Monday 02/07/2016
Time 5:00 PM SLT
Where Chateau Patio
Propriétaire et Maître De Roissy Val d'Oise René
VdO Superviseur Maitre JC
VdO Superviseur Maitre Taylor
---
---
When a Dominant crosses the threshold, joining the prestigious ranks of the Roissy Val d'Oise Master, it is a serious matter and great cause for celebration.
Sir Garrett's Master Ceremony arrived and the famille came together in support and recognition. The following are the special words spoken on his behalf.
Congratulations Master Garrett on achieving this great milestone on your Dominant Path.
Matire J.C. - Opening Address
"Welcome all my friends and a hearty thank you for joining us this evening as we celebrate the diligence that Garrett has shown to complete his journey and achieve his full Master tag, and now joins the ranks of the many fine Masters of Roissy Val D'Oise. After applicants receive their Dominant tag and begin work on their log of task, it is much like any other journey where one seeks to learn and complete work and yet learn a great deal about themselves and the others around them. They find the others around them, both Dominants and submissives alike teaching one another from their store of wisdom.
"At Roissy Val d'Oise, we believe that being a Master of the Chateau is an achievement to be earned. We ask our Dominants to demonstrate their diligence in learning about our culture here at VdO and BDSM in general, to express their knowledge and understanding of critical components in this lifestyle, and to exhibit skill in building creative, enjoyable and erotic scenes with the submissive women in our community.
"As with anything in life not everyone who begins this journey completes it. Those who do complete it do so because they don't give up, they keep moving forward. Many come here looking for a chance to have RP; most that make it through to earn their Master's tag discover much more than that.",
"They discover a chance to learn, or re-learn about themselves and about BDSM in a warm, encouraging, growing community that takes it's heart from the Story of O.
"Before I turn the floor over to Garrett and his guest speakers ,I wish to present his Master ring that has been made for the Masters of Roissy VDO. So Garrett,, on behalf of Rene, I give this to you as well as one who now joins the ranks of the Masters of the Chateau."..He walks over to him, offering him the ring. We are honored to have you in our community, as we are with the rest of our family here and I have no doubt that you will continue the hard work you have so far as you continue this next part of your journey in our community."
**Garrett Kohle (garrettkohle) stands and accepts the gold ring, sliding onto his right hand and clenching his fingers into a fist. He smiles and admires the symbol and nods with pleasure**
Master Garrett Introduces Speakers
Thank you, JC, and thank you all for your warm praise. I am so very pleased so many of you could make this event, I am truly honored by your presence. The first individual I have requested to speak on my behalf is a man who has my up most admiration and respect. He was kind enough to act as my Mentor as I embarked on my journey through Roissy Val D'Oise. I always knew Kurt was a wise and generous man, and he did not disappoint me as he shared his sage advice with me time and again. Many of you know the kind of man Kurt is; honorable, trustworthy, dependable. He is a paragon of what all dominants should aspire to, and I am humbled he is kind enough to share some thoughts with us tonight. Maitre Kurt, I turn the floor over to you.. "smiles proudly*
Maitre Kurt Speaks
"This evening we honor Garrett who has worthily earned the title Master of Roissy VdO. There are many things that impress me about Garrett but I'd like to talk about two of them. The first thing is the way he makes others feel. I believe a man can be measured by how much more uplifted we feel being in his presence. I have been his mentor during his path to Master and I consider him the perfect mentee for someone like me. If you ever saw the TV series Home Improvement, you will recall Wilson W. Wilson, the neighbor next door who always talked to Tim over the fence. You never saw Wilson full face, just the top of his head. Garrett was perfect in this regard, low maintenance, working his dominance and requirements out mostly on his own with the submissives and coming to me when he wanted a bit of feedback on an idea, always offering a solution and then asking my advice. In this way we became not mentor and mentee but friends. I like and respect him for that. It shows a maturity in a man who can make others feel better by being in his presence and sharing time together. It shows that he understands and lives the values that this community strives to nurture and uphold. There has not been a time that I have spoken to him but that he shows an interest in me and appreciation for our friendship. To me, these things mean a lot. I feel happier and more confident and in turn I am nicer to others, feel more confident and perform that much better. I have a feeling that we are all here tonight because in some way Garrett has touched each of you as well. Today we celebrate not only a Master but a great friend, a gentleman dominant and member of the family of Roissy VdO.
The second thing is the way he approaches dominance. While it is important what we dominants think of each other, the real measure of the man is what the submissive feel about him. The submissives I have spoken to all describe him as a gentleman using words such as caring, kind, eloquent, passionate, imaginative, intense and a wonderful roleplayer, even eloquent and surprising. The list could go on and on. His profile mentions that he is a gentleman vagabond. Watching Garrett has inspired me to think about my own approach to D/s. The submissive needs to respect the dominant. But sometimes people confuse respect and fear. They're not the same at all. Likewise, some confuse submission with fear and terror. I don't believe the submission we talk about here at VdO comes from fear and punishment but rather from love and discipline. Garrett has shown this. The submissive feels safe and secure around him and this is what allows her to float off and really feel her submission, even in an environment and medium such as this. You don't need to make a submissive feel fear in order to get her adrenaline flowing and make her wet.
All of us are here for our various reasons. Some have had bad experiences in RL. Some of us have had bad experiences in SL. Submissives who have been abused trust no one and expect the worst. But patience, leadership, compassion and firmness can help them overcome their pasts, overcome their fears and learn to trust again. The submissive should feel better about herself and about being here after each scene. For me, these principles are really about life, about living your life so that you're not competing with the submissive, or with other people. Rather you are working as a team, communicating, trusting, This is what Roissy VdO can be. It is what I see Garrett and so many other dominants here doing.
One final note I would make is that he shows love and loyalty to his girl Pearl. I suppose he feels lucky and she feels likewise. This loyalty garners the respect of this community. I thank all those who work with Rene and support him and to Rene especially for providing a home and environment where all of this can happen.
So to you Garrett, I salute you, your preparation, your accomplishments, your dedication, and the example you are to this community. Your title of Master is not only well earned but very well deserved. Congratulations Garrett.
Master Garrett Introduces Next Speaker
I always enjoy hearing Kurt Speak... I cannot thank you enough, good sir. The next person I asked to speak this evening has been a close friend of mine since the moment we met. We met by accident, outside of Roissy val D'Oise... thus proving to me that some encounters may very well be preordained. In any case, she has proven to be a loyal friend and an unparalleled confidante. Her commitment to Roissy is inspiring, her dedication to those around her implacable. I am so pleased she has agreed to stand with me tonight. Sadie, If you would be so kind to join us and say a few words?
Sister Sadie Speaks
Garrett, Sir Garrett, now Master Garrett. Boy, we've come a long way haven't we?
Master Garrett and I first met in a group chat. I accidentally imed him instead of the person above him. You know how the line drops as a new message is posted? I clicked the wrong person, but I was very glad I did. Some heavy flirting followed but we didn't meet in pixels for a week or so. A shopping trip brought me to Roissy and as I looked at radar, guess who I saw in the distance? Yes there he was in a group in the cafe. I immediately noticed his roguish good looks and his incredibly TALL avatar. Being shy as I am, I sashayed over and well, more than flirting ensued. We didn't see each other all the time but often and soon I told him that I was applying here and became a Debutante. He came to a few events and workshops with me and finally said "Let's do this together."

Ok i'm not shy. He was there waiting and watching over me through many of my tasks and my initiation and even provided a little third party aftercare. We continued down the path together and supported each other as we did. Rl called Master Garrett away for a time and my VDO continued on through graduation without him. And then he returned. The funniest thing happened then or maybe strangest--- we became great friends. He came back to VDO with a dedication that surprised even me and brought with him his sweet Pearl whom I am happy to call friend and mentee.
He is my confidant, my sounding board, and my musical consultant at times....he is my friend always, . He is a compassionate and intelligent Dom and will be a great asset to the Masters of VDO. I couldn't be prouder or happier to be here to speak on his behalf and I'm so honoured that he asked.
[17:25:34] Sadie (sadiejonessmith): Because I represent the submissives, I surveyed around to get some comments from my sisters. Boy did they have lots to say!
Comments included - he is one of the most eloquent Doms. He is kind, caring and very thorough. I can only wish all of the Doms are more like him. He helped me overcome a fear and I'm so grateful. I can't say enough good things about him. I adore him and he is wonderful Dom. Thank you for all the laughs - sailing, horseback riding, dancing - for supporting my djing even when you didn't always like what I played, enjoying the quiet times and traveling the path together. I am now and always will be your friend.
I have an ears when you need someone to listen, arms when you need a hug, and a shovel when....well you know. .I love ya .
Master Garrett Speaks
Thank you, dear Sadie... I could not be more honored.
Today is a bittersweet day for me. Of course, I am overjoyed that Roissy Val d'Oise has seen fit to count me among its Masters. Frankly, I did not think I would see this day. Perhaps we all look at that log when it is first presented to us, and assume it will not present any difficulty to complete. Then of course, life gets in the way. We become preoccupied with our the details of our own worlds. We become frustrated, find ourselves questioning our commitment... Suddenly that log looks more daunting than we assumed.
Hence, I look around at all of you, those of you have accomplished this path, who have joined the ranks of Demoiselles and Sisters, Dominants and Masters, and I commend you. Hell, I am in awe of you. You have chosen to embraced the road less traveled, and made the best of it. Having been able to join you this day as a Master truly teaches me the lesson of humility, and for that, I thank each and every one of you. You have chosen to embraced the road less traveled, and made the best of it. Having been able to join you this day as a Master truly teaches me the lesson of humility, and for that, I thank each and every one of you. And while I can revel in my joy this day, I am forced to remember my shortcomings. I have made mistakes while I have been here. I have my regrets. I have hurt people... good people, along the way. I can't take that back, of course, though at times I can at least make amends. ((my apologies for repearing myself!)
I think about all the things I have regretted, and I wonder to myself... what have I learned?
I ask myself about the virtues that make a person whole. Of course, we all have different answers to that question, all of which are equally valid. But as I traveled this path for nearly a year, finding my own faults through trials and tribulations, I have considered my virtues... I consider what I want to strive for, not as a Dominant or Master... but as a person. I've struggled with honesty, loyalty, courage, compassion. I've learned that honesty is integral for any relationship, from a simple one time encounter, to the most intimate relationship. I've come to appreciate the true meaning of loyalty; that it is something earned through action and not just words. I appreciate the need for courage of conviction. Not just to voice your opinion, but to follow through with it through action. I seek compassion, not just from my own heart, but from those around me, who know that there is a person behind each and every avatar.
Many of you here today have been integral of teaching me those lessons and reinforcing the importance of each of those virtues in my mind. Thank you all for that lesson, from the bottom of my heart. I would be remiss if I did not recognize some of the people who were helped me reach today.
[17:38:57] Garrett Kohle (garrettkohle): Thank you, Fae de Smitty, for willing to join me in my final task, for being so adept a roleplayer and emoter, for making it a memorable moment in this long and winding path.
Thank you Alika, for your wit, your humor, your support and kindness. Thank you Laerka, for constantly amazing me with your depth of words generous heart. Thank you Susan, for inspiring me to reach higher and attain the next level. Thank you Di Anne, for being a delight to be around, and for demonstrating true strength. Thank you Ambri, for helping me push my own boundaries, which I may not have done otherwise. Thank you Swan, for always believing in me and pushing me to explore and for being trusted friend. Thank you Dusty, for your praise and recognition. I am truly moved by your kindness to those around you. Thank you JC, for being both a great supporter and occasional sparring partner. *chuckles and winks* Thank you Sweet, for being so endearing and generous, even when I mty not have deserved it. Finally, Thank you Pearl. Thank you for being the keeper of my heart, both in RL and SL... for standing by me in my moments of doubt, my bouts of denial and ungratefulness, for being so patient and caring, even when I truly never deserved it. I can never express to you, even in my most eloquent of moments, how much you truly mean to me.
I have no doubt I have missed deserving people in my remarks... don't be afraid to remind me of my ignorance after the ceremony *winks with a playful smirk* We are a community here at VdO. A family. Sometimes we fight, sometimes we bicker. But when we are at our best, when we put aside our differences, we truly shine. Thank you all for this great honor you have bestowed upon this night.
Maitre J.C. Concludes
Thank you Garrett, Kurt and Sadie, we are truly grateful for all each of you have done.. Everyone grab a glass of champagne to toat the new Master. To Garrett !
ANd I wish to take the opportunity to also thank Rene, for providing al of this for us, for having the vision to bring us all together, we are a large diverse group with many things to share, and It warms my heart for having all of this to share with each and everyone. Thank you al for joining us here, to celebrate with Garrett, you are all dismissed now, thanks so very much.
Juliette SurrealDreaming
Roissy Journaliste
Xanadu
Roissy Photographer