Master Ceremony Siegfried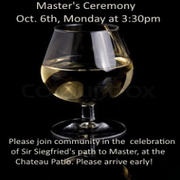 October 6, 2014
"Really and truly unused to such ceremony for me, I think the clock has stopped!"
~ Master Siegfried

Justyn Clawtooth stands and glances around to the Roissy VDO Community as all had gathered for a celebratory and well deserved time for one of our own Dominants. "Thank you all for joining us today as we celebrate the work that Siegfried has completed on his journey to achieving his full Master tag, and as he joins the ranks of the many fine Masters of Roissy Val D'Oise.
"It is true that we have a wonderful family here ar Roissy Val D'Oise and to thank you all for your excellent work and role play. You are what make this sim what it is today. And, we certainly thank Rene for his continued gift of the sim to us as it truly is our home.
"As many of you know, or might not know, after applicants receive their Dominant tag and begin work on their log of task, it is much like any other journey where one seeks to learn and complete work and yet learn a great deal about themselves and the others around them. They find the others around them, both Dominants and submissives alike teaching one another from their store of wisdom.
"It is truly a unique path. One that gives direction and allows for creative flexibility to explore one's own interest within the different areas or disciplines of BDSM.
"But, with anything in life, not everyone who begins this journey completes it. Those who do complete it do so because they don't give up, they keep moving forward. Many come here looking for a chance to have RP; most who make it through to earn their Master's tag discover much more than that.
"They discover a chance to learn, or re-learn about themselves and about BDSM in a warm, encouraging, growing community that takes it's heart from the Story of O. Along with such, they find that they learn from those around them where some have experiences from rl, sl, or both.
"Siegfried, has turned in his log, and successfully completed his final task, and taught a workshop alongside all of that. So this evening we are here to celebrate what he has accomplished in his time here and his commitment to roleplay, and to welcome him to the ranks of the Masters of the Chateau."
Justyn Clawtooth: >>>>points to the new tag above his head......"Take a moment to congratulate him before I continue on."

Oz Renfold: Well done!
Babs (babette.bellios): Congratulations Master Siegfried
Rina (subrina.wildrose): congratulations Master Siegfried!
Nara (nara1) smiles looking up "Congratulations MASTER Siegfried.
wendi (wendi.boucher): congratulations MASTER Siegfried..!!!!
Kely Renfold (kelyren.benoir) grins big placing her hands together clapping softly
Blue Ronsein: Master Siegfried
West Destiny (westdestiny): Congratulations to you!
Marcus BlueSky (noplacelikeom): CONGRATS SIEGFRIED!!
Blue Ronsein: *•.¸'*•.¸ ♥ ¸.•*´¸.•*
Blue Ronsein: .•*♥¨`• BRAVO!!!! •¨`♥*•.
Blue Ronsein: ¸.•*`¸.•*´ ♥ `*•.¸`*•.¸
Juliette (surrealdreaming): congratulation Master Siegfried! \o/ Hoooo! \o/
??oηηoη Çα?pioη (bronnon): Congratulations Siegfried
StarenaBloodmoon: congratualtions Master Siegfried
Aisha Sohl: congratulations Master Siegfried
tessa (tessatiara): Congratulations Master Siegfried
Mα? σƒ??? Lυηα (mayofluna): congratulations Master Siegfried
Justyn Clawtooth: " Congratulatios Siegfried"
Stingwolf (sitingwolf): smiles well done congrat
Justyn Clawtooth reaches into his jacket and takes out a ring, recently polished, "Siegfried, on behalf of Rene, the sim, and all of the Dominants of the Chateau, I present you with this ring," as he turns to walk over and hand it to Siegfried.
"This is nothing like watching one of these ceremonies," said Master Siegfried.
"Now, " said Justyn Clawtooth. "Feel free to go ahead and introduce to us your guests as we look forward to hearing from them."
"I am overwhelmed by the number of people who are here," said Master Siegfried. "And I thank all of you for taking the time to come. I have asked tell you some of the ordeals I put her through trying to learn the ways of VoD. Excuse me, I forgot to say Nara. Poor girl she had to endure my typing also.
"Oh me?" says Nara. She stands and smiles to all, giving Master Siegfried the warmest of smiles also before clearing my throat. "I felt a certain humbleness when Sir, or rather Master, Siegfried asked me to speak at his ceremony. My mind immediately flowed back to when I first met him, which seems so long ago. so putting pen to paper I composed the following.
"We were all gathered at a workshop Master Siegfried came into my IM for some reason. Well, without saying too much, lets just mention that my cheeks went a delicate shade of pink during the conversation." *grins and looks at Master Siegfried*.
"He was eager for a tour, asked many questions. Of course I complied and showed him over our wonderful sim and even managed to not scare him off when urging him to put in an application. I helped him with many things, trying not to become frustrated. But goodness he were a good student for a submissive to .. guide in a delicate way. I dare not list some of the things. *grins again* but Master must say, how handsome you are now.
"He regularly came to VdO before being granted an interview and acceptance into our home as a Dominant. But even though he waited a while he were patient. we firmly established a friendship.
"I have watched him grow. His eagerness to learn his role as a Dominant was evident. If he were in doubt he would ask. He is always concerned about how a submissive is after a scene and never forgets aftercare.
"I want to recall in closing something that happened a few days ago here. A new debutante, reluctant to do her first serve, but with some gentle persuasion from me I took her to the Chateau, Master Siegfried were there. I went into his IM, explained the situation and he said that I were not to worry, he will take over. Good, glad he said that, topping is not a favourite pastime of mine. *grins*
"I were amazed, truly grateful how he handled it. The praise he gave her. I saw suddenly the nervousness leave her body, a smile to replace that look of anxiety on her lips. He showed a genuine compassion, kindness towards her. Patience so evident in the process. She did a beautiful first serve thanks to Master Siegfried.
"Master Siegfried I know others will learn by your example. I am proud you are my friend. I congratulate you sincerely on becoming a Master here and know many submissives will enjoy serving you, as I have." She smiles again before lowering myself to the pillow once more.
"I need to tell Nara was one of the first people I met when I can into VoD," said Master Siegfried. "She impressed me not only with her beauty, which was and is formidable, but with her intelligence and her imagination, both of which are also formidable. l you that. Nara was one of the first people I met when I can into VoD, She impressed me not only with her beauty, which was and is formidable, but with her intelligence and her imagination, both of which are also formidable. Thank you so much Nara.
"The other Sister at the end of my log was Kely. ly was the recommending sister, who helped me along the path and finished the tasks requiring a Demosielle or a Sister. Her sweet disposition allowed her to correct numerous errors on my part and to teach more that even she knows. Her beauty and intelligence, along with her natural grace compounded to help me further along the never ending path of learning, Along with Nara and so many others, she demonstrated the proper attitude for a VoD submissive. Thank you so much Kely." *mops my forehead nervously*
Kely slowly rises from her kneel glancing about the patio smiling to A/all assembled, then glances behind her "Thank You Maitre Justyn. Thank you Master Siegfried for asking me to speak on your behalf.
"Good Morning/Afternoon/Evening Maitres, Masters, Sirs, Sisters, family and guests ... it is wonderful to see so many of you here to support Master Siegfried as we celebrate his achievement. I'm thrilled to see this day arrive ... finally!!! I still remember the first time I met Sir Siegfried. My Demoiselle path was drawing to a close and I was already in the process of scheduling my Graduation. He was warm, welcoming and interested in finding out about the person behind the avi ... we spoke for quite some time.
"After my Graduation, when I was still adjusting to my new role here at VdO, he was the first to approach me for a Discussion requiring a Sister. I remember being quite nervous - afraid I would not perform up to 'Sister-quality Standards' - but he was sensitive to my nervousness, made me feel at ease. Somehow we managed to have a very open and in-depth discussion .... *chuckles nervously winking in his direction* despite being distracted by my legs and exposed collar.
"I was honored when approached by him to perform his final task. It was obvious that Master Siegfried put thought and planning into our scene, taking special notes of my limits and likes. In his 'signature' style I was punished for being "wanton" ... *chuckles softly while glancing around winking to her Sisters nodding sagely*.
"What really made an impression on me was his attention post-scene. He followed up closely with me for a few days to ensure I was ok ... not dropped. This extended aftercare is often ignored or dismissed. Master Siegfried is tuned in. He "gets it" and cares for the girls he interacts with.
"Master Siegfried displays a tenderness when need be, a dominance at the right times, and an impressive attention to details. He is always there to offer a cheery smile - whether in IM or in person, a warm compliment, advice, or his assistance with any task a Deb or Dem may need.
"At the beginning of my speech when I said "finally" to this day arriving ... well, because of breakdowns in communication this day was significantly delayed for him. We may have had to wait longer for him to prepare and present his workshop on Scene Negotiation, but it was well worth the wait. I remember watching him diligently working on it with the same care and attention he gives to every scene he is involved in. Well done, Master."
She turns again to Maitre Justyn "Maitre, It was my honor and privilege to offer my recommendation as a Sister of VdO that Sir Siegfried be granted the title of Val d'Oise Master."
Kely turns towards the new Master "Master Siegfried, Congratulations on a well traveled path. I wish you nothing but the very best as you continue your journey of growth and education along side us A/all." She softly smiles as she lowers herself back down onto her cushion, adjusting her skirts around her thighs.
Master Siegfried say, "Of course, a Dom has guidance from a Master and a Maiter. My mentor was Maitre Justyn. JUSTYN. Maitre Justyn provided many lessons to ease the path of a Dominant toward Master. There are many rough corners of a Raw newcomer, and it take a lot of compassion and patience to help the candidate become a semi-polished member of the family. This he did for me as well as extending many courtesies to me as I learned. I thank you Maitre, and will work to uphold the standard you set. thanks again."
Justyn Clawtooth rises and looks around at everyone.... "I have met many Dominants, since I arrived at Roissy VDO last March, and even more since becoming the VDO Dom Supervisor. Siegfried has served the VDO community here very faithfully but also sought to help those around him however he could apart from methodically working through a log.
"It is always an honor to watch, even if from a distance how everyone interacts. I learned a long time ago, that even as Dominants, there is nothing wrong with listening and watching, and it is some of what I do best and like to do. Siegfried has been a great resource for our community in many ways.
"So Siegfried I say think you for your time spent well done already in serving the Chateau here, and for the continued journey down the road as a Master as well. Before I offer up a toast in your honor, are there any other words you would like to leave with our Family?"
"Just a few observations, perhaps, he replied.
"Excellent," said Justyn Clawtooth.
"My first impression of VoD was that it is a beautifully conceived and executed sim," shared Master Siegfried. "As I began to meet the people of Roissy, I was impressed by their friendliness and desire to help and point a new comer in the proper direction.
"I was also impressed by the amount of training that is part of the experience. Between the library items, workshops and individual mentoring, new people can learn the ins and outs of BDSM and the lifestyle of it. That it requires some training is obvious as I look back on my journey. Fortunate I was guided by nice and helpful people. The most part, are not frustrated Condominium Board members
"Part of the genius of VoD is that it attracts people who, for the most part, are not frustrated Condominium Board members. It is up to all of us and we need to always remember the four pillars:
"The Four Pillars of Roissy Val d'Oise:
"It is up to all of us and we need to always remember the bour pillars:
"The Four Pillars of Roissy Val d'Oise:"
He searched in his jacket.
"Have fun. Be respectful.Be tolerant.Use common sense
"Well, I think that is the farthest i need to be. I am so grateful to be here and to have such a turn out. Now, let us drink and enjoy our friendship and family."
"Siegfried," said Justyn Clawtooth. "We congratulate you, encourage your continued journey, and most of all give thanks for all of you that make up this community."

Juliette Surrealdreaming
Roissy Journaliste
*photos courtesy of Aisha