Miss Flor Mistress Ceremony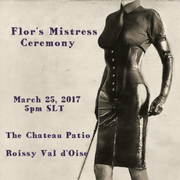 March 25, 2017
A Mistress ceremony is at hand
Please join us as Flor receives her newest position as a Mistress of the Chateau
*Members only event
*Formal attire required
* Please be respectful and do not initiate a scene during this time
When Saturday March, 2017
Time 5:00 PM SLT
Where Chateau Patio
Propriétaire Maître De Roissy Val d'Oise René
---
---
At the appointed hour, Maître du Chateau Thomas Xue stood and welcomed all for the celebration of a Mistress. The following are the speeches made on Mistress Flor's behalf, including her own
Maître Thomas Opens the Proceedings
Welcome all my friends please accept my most deep and heartfelt welcome. Thank you for joining us this evening as we celebrate the perseverance that Mistress Flor has shown to complete her journey and achieve her full Mistress tag and now joins the ranks of the many fine Mistresses of Roissy Val D'Oise."
After Roissy applicants receive their Dominant role and begin work on their path tasks, it is much like any other journey where one seeks to learn and complete work and yet learn a great deal about themselves and the others around them. They find the others around them, both Dominants and submissives alike teaching one another from their wealth of wisdom. At Roissy Val d'Oise, we believe that being a Mistress of the Chateau is an achievement to be truly earned through hard effort, education and practical experience exercising new concepts. We ask our Dominants to demonstrate their diligence in learning about our culture here at VdO and BDSM in general, to express their knowledge and understanding of critical components in this lifestyle and to exhibit skill in building creative, enjoyable and erotic scenes with the submissive women in our community. We also ask our Dominants to show understanding and care for the submissives here. We know Flor has done very well in this area. As with anything in life, not everyone who begins this journey completes it. Those who do complete it do so because they don't give up, they keep moving forward. Many come here looking for a chance to have good role-play; most that make it through to earn their Mistress's tag discover much more than that. They discover a chance to learn, or re-learn about themselves and about D/s Relationships and BDSM concepts in a warm, encouraging growing community that takes its heart from the Story of O.
Before I turn the floor over to Flor and her esteemed guest speakers, I wish to present her Mistress ring that has been made for the Mistresses of Roissy VDO. So Flor, on behalf of Rene, I give this to you as well as one who now joins the ranks of the Mistresses of the Chateau. "I can speak for myself and the whole family that we are honored to have you in our community as we are with the rest of our family here. I know that you will continue the hard work you have demonstrated so far as you continue this next part of your journey in our community."
Master Jac0b's Speech
Maître Thomas, Sister O Xana, Flor and honored guests, before I begin I wish to give a very personal thank you to each and every one of you for taking the time to attend Flor Nachtigal-Rae's graduation. She has worked hard and is very deserving. She will be a tremendous asset and well-needed boost to the ladies choosing the Domme path. I have every plan to recruit her into my mentoring program.
It gives me great pleasure to be able to speak at your graduation both has a friend and mentor. A long time ago in a land far away, I came upon a chateau that I found along the road. Tired and thirsty I thought I would stay at least for the night if things were alright. I spent the night, a day, a week and a month, damn I'm still here. I found VDO's people all friendly and nice. One day standing in the court yard I came upon two ladies named Flor and Meli, very pretty ladies I must say, sweet too. I walked over introduced myself and did the prescribed ritual peacock dance. Flor stands quiet but Meli, the cheeky one was quick to inform me they were Dommes. Not to be deterred I shot off my best smile and replied, "Doms can have fun too". We did have fun, years of fun, we became vast friends and I became a member of their family. This was not a pixel related friendship where we did a scene or two and a few hugs. This was a bond between three people who have each other's backs, an enduring friendship with Flor and her wife Meli. You cannot have anyone better than these two watching out for you. Flor took Meli as her wife. Anyone who is familiar with Meli knows that alone is a reward winning accomplishment. They honored me by inviting me to their wedding. I promise not to tell they have their 4-year anniversary upcoming on May 19. I have known Flor as you can see for a few years now and we remained close friends all this time. The fact that she asked me to speak for her speaks volumes of our friendship. I'm not embarrassed to say when it comes to speech writing, I'm as creative as a brick so bear with me.
Flor is a lady of many talents: Builder, Art Gallery Owner, Musician, Artist last but not least an experienced Domme. She is popular with both the Doms and subs and respected by the submissives she has interacted with. Flor is a respected member of the Dominant group for her commitment to her VDO family. You will find her never failing to give help and support to those in need. As for myself, I find she has a dry sense of humor, usually reserved, stays quiet observing. Her razor-sharp mind, always absorbing the information that surrounds her behind that pretty smile. A word of caution to my family members, don't go complacent thinking you will get something by her. I can guarantee she will go walking away eating your lunch and you won't even know what happened. It is with great pride that I stand here before my VDO family as a member of the Dominant supervising team that I proclaim, "I proudly recommend her advancement to Mistress."
Jac0b turns looking at Flor. "I strongly suggest that this is not the end to your journey, you have one more step to take - "Maitresse" and I will be proud to help you in that progression any way I can."
Sister Alika's Speech presented by Adjoint e de Samois Xanadu Xue
Greetings Maître Thomas, Maître Jac0b and Mistress Flor, Maîtres, Maitresse, Masters, Mistresses, Sirs, Misses and Ladies. Alika was called unexpectedly in to work and asked me to present her speech honoring Mistress Flor's accomplishments - these are Alika's words.
I would like to welcome you all here today to celebrate Miss Flor's Mistress Ceremony. What can I say about Miss Flor? She's everything I would have looked for in a Mistress and I am delighted that she will have that title and I'm grateful that I got to help in a small way. Miss Flor is someone with whom you feel comfortable and can easily share your thoughts and feelings. You do not have to think twice when you are with your friends. A true friend loves you unconditionally, understands you, but never judges you and always tries to support you and give you good advice. Mistress Flor: You challenged my boundaries - You made me push harder. It has been an honor and a privilege being part of her journey and one which has been imbued with wonderful memories. Congratulations on your success! You have made us all proud. Please keep up the good work! Your dedication, enthusiasm and insight are really inspiring. I wish you many years of great achievements! Please accept my congratulations on this wonderful recognition of your merits. Congratulations Mistress Flor on your achievement."
Mistress Flor Speaks
My friends, this is a truly special day for me. I should first thank Rene for providing us with a place to build and grow this community where we all learn get better at what we do and pass on the things we learn. Without Rene's generosity none of this would happen, and we'll do well to remember that. It has been a remarkable journey since Golden seduced me into applying for the dominant path. I always wanted to be a member of a larger D/s community. Over the years I tried that in a few places. It worked better in some situations than in others, but in the end being part of a real, working D/s community was an unrealized dream. Before I joined Roissy Val d' Oise, I had mostly seen how fractured and contentious things can get when people try to build communities around power exchange. I can't exempt myself from that. I have my ideas about how things should be done, and I have a temper, even if I'm not easily provoked. In my earlier attempts, I always reached the point where I got too angry to stay.
In Roissy Val d' Oise I saw the potential conflicts clearly when I joined. I knew VdO had only recently (re)opened itself to female dominants, and I expected conflicts around the role of dominant women here, because I had seen that before. I saw us clash over other things too. During my time here we fought about safe words, administrative issues and quite a few other things. I certainly don't back down from a good scrap if I feel strongly about something. The question was whether I would have the resilience and serenity to settle in complete my path, or whether I would blow up and leave before it was complete. I've been angry more than once. The remarkable thing is that eventually we always pulled together and put the issue behind us. The fact that I've managed to complete my path probably says as much about Roissy Val d' Oise as it says about me.
I understood two important things along my path. One is that there are more ways than just one of doing things right. The other is that living together means that life is forever imperfect, because that's human nature. Sometimes things get tense, and we'll have some heated exchanges. If we're really a community we'll grow and change a little, and move forward. I've seen us do just that a few times. No growth is entirely painless, after all. I don't mean to imply that I think all is well in Roissy Val d' Oise today. I see areas where we must improve. To me, the most pressing of these is an imbalance between the commitments that dominants and submissives make at the beginning of their second phase of training. New demoiselles make a solemn promise at their initiation, and we collectively hold them to it. But new dominants don't do the same thing, and I consider that a mistake. When we enter the dominant phase of our training, we assume large responsibilities, without that same formal commitment to our duties. Not only do we not formally commit to any responsibilities, we're not very clear on what they should be either. Asking dominants about what they consider their responsibilities tends to get you a different answer form everyone you ask. If we are to hold our subs to high standards, if we are to keep Roissy Val d' Oise "a cut above the rest", then we, the dominants, must be clear on what our duties are, and we must hold ourselves accountable. How do we conduct ourselves day to day? What responsibilities do dominants have towards the subs, and what responsibilities do dominants have towards each other? All of us members of Roissy Val d' Oise should know that. I feel strongly each and everyone of us dominants should make that formal and solemn commitment in front of everyone, for all to hear. Just like our submissives do.
I didn't come here for the coffee and I didn't stay for the conflict. I needed an active exchange of ideas with others. My wife Meli pointed out that a dominant in isolation can go rogue or simply be overwhelmed. We need the company of others, especially other dominants to keep us grounded. That finally is what I really took from my path. We all can push ourselves a little more, and get a little better each day without having to do it all at once. That sense of stability is what I missed before, and what I found here. I've come to understand how important the give and take with all of you has become to me. Becoming a Mistress in Roissy Val d' Oise means one thing above all: I'll be here and do my part to make Roissy Val d' Oise work - For all us". Thank you my friends, and my family for being part of this journey. I would not be here without you.
Maître Thomas's Closing Speech
Thank you for your effort and dedication to our family...your words a clear and wise. I can say that I regret not being around when you were interviewed, or you would have heard me make sure you understand what you pledge to the submissives of the sim. I do look forward to working with you in the future, Flor, very much so. We are truly grateful for all each of you have done. Everyone grab a glass of champagne to toast the new Mistress. To Mistress Flor! Here is to you Flor..."From all of us and behalf of Rebe...Salute! Congratulations!
I also wish to take the opportunity to also thank Rene, for providing all of this for us, for having the vision to bring us all together, we are a large diverse group with many things to share, and it warms my heart for having all of this to share with each and everyone.
Congratulations Mistress Flor!
Raevene
Roissy Journaliste/Photographer