Sir Dom Master Ceremony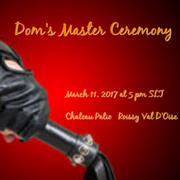 March 11, 2017
Please join us as DomTrifone receives his newest position as a Master of the Chateau.
*Members only event
*Formal attire required
* Please be respectful and do not initiate a scene during this time
When Saturday 03/11/2017
Time 5:00 PM SLT
Where Chateau Patio
Propriétaire et Maître De Roissy Val d'Oise René
Roissy Dominant Supervisor, et Maitre du chateau Thomasx Xue
---
---
Maitre Thomas surveyed the assembled throng, as he rose to welcome the community of Roissy Val d'Oise:
"Welcome all my friends and a hearty thank you for joining us this pleasant afternoon. We are here to celebrate the perseverance that Master DomTrifone has shown to complete his journey and achieve his full Master tag, and now joins the ranks of the many fine Masters of Roissy Val D'Oise.
"After applicants receive their Dominant role and begin work on their path tasks, it is much like any other journey where one seeks to learn and complete work and yet learn a great deal about themselves and the others around them. They find the others around them, both Dominants and submissives alike teaching one another from their wealth of wisdom. We believe that being a Master of the Chateau is an achievement to be truly earned through hard effort, education and practical experience exercising new concepts. We ask our Dominants to demonstrate their diligence in learning about our culture here at VdO and BDSM in general, to express their knowledge and understanding of critical components in this lifestyle and to exhibit skill in building creative, enjoyable and erotic scenes with the submissive women in our community. As with anything in this life, not everyone who begins this journey completes it. Those who do complete it do so because they don't give up, they keep moving forward. Many come here looking for a chance to have good role-play; most that make it through to earn their Master's tag discover much more than that. They discover a chance to learn, or re-learn about themselves and about D/s Relationships and BDSM concepts in a warm, encouraging growing community that takes its heart from the Story of O.
Awarding of the Master's ring and title
"Dom.is a respected member of our sim, and I am happy he has achieved this illustrious plateau. Before I turn the floor over to DomTrifone and his guest speakers, I wish to present his Master ring that has been made for the Masters of Roissy VDO. So DomTrifone, on behalf of Rene, I give this to you as well as one who now joins the ranks of the Masters of the Chateau. We are honored to have you in our community as we are with the rest of our family here. I know that you will continue the hard work you have demonstrated so far as you continue this next part of your journey in our community."
Standing Dom proudly accepts the Masters Rings, places it firmly on his finger. "It is fits perfect and feels wonderful. Thank you, Thomas and my all my family here tonight."
Maitre Thomas motions to Dom; "Please, the floor is yours now my friend."
Stepping forward to the audience Dom nod to Maitre Thomas. "Thank you all for being here tonight, I am humbled. I have this evening two guest speakers who have greatly helped me on the path to Master. At this point in the program, I would like to acknowledge my mentor, Master Mike Meyers. Several days ago, Mike and I had brief discussion about his speech today. He asked for my advice on what to say. After careful thought, I instructed Mike, 'Don't try to be too charming, too witty, too smart, or too intellectual.... just be yourself.'
"On more serious note, Mike mentored me with sage advice and direction. In my view, Mike is a special type mentor because not only does he mentor with words but also by example within the sim and the family. One cannot help to notice Mike's very frequent interaction with the community and his willingness to foster people on their respective paths. Mike, thank you, I appreciate all you have done for me and the Roissy family. Mike, please come forward... the podium is yours."
Mentor - Master Mike's speech
"So, I got to know man, what is it with the gloves? Black leather? Is there a hit you're late for? Trying to hide your involvement in Russian hacking? You got to let us know. Oh I know there are a few of you out there that are saying, 'Score! Another serial killer in our midst.' But Dom saved his most impressive bits for public events, like the ever amazing "Coitus dominance" and the "phallic torpedo". Just so you know Dom, the therapy bills are coming to you about that. Seriously, Dom has acquitted himself well since his first days here. Willing to lend a hand when needed, direct a girl in a scene or even a simple chore, making sure to make himself available so people feel comfortable and treats people with a gentle good humour across the board. He's confident of who he is and how he wants to be treated and how he treats others. End of the day, he is who he is and because he knows who he is, he is here today. So, with that said, I'm proud of Dom, not only as a mentee, or as a newly minted Master, but someone that expresses the best and brightest of what Roissy can be when you commit yourself to the path and people here. Congratulations on your arrival to your new station Dom.
"I was blessed by being introduced to Amaya during my first weeks at Roissy. Little did I know she would have such a great impact on my life here. She has always been friendly and helpful, but she also exceeded my expectations in many ways. Amaya performed two path scenes with me including the final exam. She was nothing less than spectacular in both scenes. The final exam was quite involved and very demanding but Amaya held true to her nature, to her role, and to her experience. We completed the final exam much to the credit of Amaya's genuineness and authenticity. Amaya, from the bottom of my heart, I thank you for all that you have done for me during my journey here at Roissy. Amaya, please now do me the honour of sharing some of your thoughts and words on this special occasion."
Sister Amaya Rose Shaw Speech – Final Project
"Maitres/Maitresses, Masters/Mistresses, Sirs/Misses, Sisters, Demoiselles, Debutantes and Visitors. I am so happy to be here to speak for Master Dom. I met Master Dom when he first came to Roissy. It was many months ago, when we did our first scene for his Master Log. I remember that he kept saying he was nervous because he had not done a scene in an environment such as second life. Through our initial conversations, I came to learn about his vast knowledge of BDSM from that other world. I do not believe he realized how many of those skills he showed me during that first scene. When Maitre Thomas asked me if I would do my dear friend's final, I leapt to accept the chance to scene with him again. He was proficient in every area and when I say proficient, well let's say that I was very sore for a few days."
"When I was writing for Dom's Master ceremony I remember something Blue had said. She spoke of the four critical parts of scening and I realize that Master Dom executed them all with intelligence, compassion, and respect. I was nervous about the final because I wanted to make sure that he looked good. Yes, I was nervous. He made sure to stay in consist contact with me during the whole final. It was amazing and delicious. I have to say I was smiling for days afterward. There is one very exceptional trait about this man. He cares, I mean he really cares about the submissive. He stayed in contact with me for days afterward checking on me because I experience delayed sub drop. He was persistent in his attempts to make sure that I was in a good space. I support his advancement to Master. He will be a positive influence on those that he mentors, and he will watch over those girls that are moving up to sisterhood. Thank you Master Dom for allowing me to share this experience with you and I humbly say that I am very happy you are my friend."
Master Dom's Speech
"Amaya, thank you again for your kindness, your friendship, and your generosity of time. You are certainly a quintessential Sister of Roissy. Esteemed special guests and Roissy family......the weary worn leather soles of my shoes first touched Roissy in late October 2016. My venture here was out of curiosity and exploration. I was curious to see if the sim was really based on how it was presented Second Life Search. I also considered my first visit to be one of interest and to gain a better sense of the sim. My inner motivation was a hope to re-discover something special that was gone from another world and time in my life. My wonder was if I could find a path to crossover from real life Ds to the Second Life version. Like many explorations, it became a journey. The journey consisted of much admiration for the beauty and grandeur of the sim's architecture.
"I admired the French style buildings and the finely groomed gardens. The exploration also became one of renewing and learning much knowledge and wisdom that I acquired in previous years. I found the level of education and scholarship here to be exceptional. I discovered many fine attributes in Roissy that awed me, but it has been the people here that have made this journey remarkably wonderful. The people of Roissy VDO make the sim's beauty and richness come alive. During my first weeks, I heard much talk of the Roissy VDO family. After several more weeks, I began to understand what that meant. What impressed me most was the friendliness towards newcomers and the generosity of time and help given to all who sought it. I gratefully experienced both, and I am happy to report that Roissy VDO fits the name, "family" very well. The caring, the fostering, the helping, and much more are evident every day on this sim and within this family.
"I want to thank everyone who granted me help and kindness during my initial exploration and during the extended journey that has brought me here today. The people that helped are too numerous to mention, and if I tried I know I will omit many. Let it just be said that without the generous assistance of my Roissy family, the title of "Master" would not be hovering over my head today. It would be impossible for me to list the countless discussions, ceremonies, dances, events, conversations, arguments, serves, and workshops that helped me grow and flourish here. It is my sincere hope that I have contributed back in some measure all the wondrous sharing that I have received. Further I hope that I have made Rossy a better place through my knowledge sharing, my example, and my simple presence I have been on the sim virtually every day since my late October 2016 first visit. Not every day has been noteworthy or memorable but I can fairly say I have a collective observation of certain things that appeal to me. Now most are saying, Dom is now referring to the wonderful female population of Roissy. Well, no doubt, the ladies of Roissy stand out. They are beautiful, charming, engaging, and giving. They are also well behaved for the most part. They are simply the most amazing women in Second Life.
"Let me now turn my thoughts to the men of Roissy. This focus is a bit more difficult since I am a man and I am very judgmental as to the qualities dominates should possess. I will acknowledge here that we have several female dominants in the family. I love them all and the diversity they bring enriches us all. Please note the following does not apply to you. That said, I will climb on my soap box and I will focus on one observation that has made me cringe with some of the male population at all levels. This is a bit "tongue and cheek" but I want to make my point. Roissy prides itself on a high level of worldly class. I become crazy when observing a Roissy man attired in ill-fitting shabby clothes, terrible shoes, and horrid hair. For the love of God, Red Skelton has been dead since 1997! It's time for a makeover. I feel it is the responsibility of us all to mentor these individuals in the proper dress for the sim. This can be done without offending the person and without causing them to produce Lindens to meet our standards. This is not being snobbish. It is being kind and helpful. I know this manner of help is often rendered here but it should become a standard. Men -- for heaven's sake -- we are not bums and hobos; we should be representing the sim at the highest levels of refinement. Your personal dress and hygiene are key to maintaining the high-class image we need to project here at Roissy. Hopefully, I have made my point without offending too many people.
"Before concluding, I would be remiss not mentioning the other major event that occurred earlier today. It is with great pride that I share this day with our newest demoiselle and my special friend, Rebecca. Congratulations, Rebecca, I am happy and blessed to share this wonderful day with you. Further, I was greatly honored by your gift to provide you Aftercare.
"In closing, I want to thank Thomas and the admin staff for helping make this event special. My thanks again to Amaya and Mike as well. A special "thank you" to Sadie for the graphics she created and contributed. Your kindness deeply touched me. A very special thanks to, Rene. His kindness and generosity makes Roissy VDO an extraordinary place for us all. Before I had the program back to Thomas, my sincere gratitude to you all for coming. You made this moment memorable with your presence. Thomas, the floor is yours.
Maitre Thomas Closing Speech
"Thank you Dom, our newest Master, we are truly grateful for all you have done. Special thanks to Mike and Amaya for helping our new Master through his path. Everyone grab a glass of champagne to toast the new Master. I also wish to take the opportunity to also thank Rene, for providing all of this for us, for having the vision to bring us all together, we are a large diverse group with many things to share, and It warms my heart for having all of this to share with each and everyone."
Raevene
Roissy Journaliste/Photographer