Sir Mako's Master Ceremony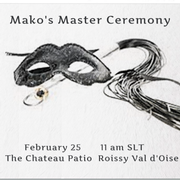 February 25, 2017
A Master ceremony is at hand.
Please join us as Mako receives his newest position as a Master of the Chateau.
*Members only event
*Formal attire required
* Please be respectful and do not initiate a scene during this time
When Saturday 02/25/2017
Time 11:00 AM SLT
Where Chateau Patio
Propriétaire et Maître De Roissy Val d'Oise René
Dom Admin Team Member, Maitresse d'Chateau Ayita
---
---
The Ceremonial Patio began to fill as the hour soon approached for the beginning of it. Maitre Thomas strolled into the middle of it and wished outloud: "wished Rene..allowed Starbucks on sim." Naturally, a chorus of remarks followed, lightening the mood from a serious one.
When the bell tolled the hour, Maitre Thomas gave the welcome, "Welcome all my friends and a hearty thank you for joining us this Mid-morning (Starbucks helped me), as we celebrate the perseverance that Master Mako has shown to complete his journey and achieve his full Master tag, and now joins the ranks of the many fine Masters of Roissy Val D'Oise." And thus began Sir Mako's Master Ceremony.
The first order of business was the awarding of the Master's Ring & Title, performed by Maitre Thomas.
"Before I turn the floor over to Mako and his guest speakers, I wish to present his Master ring that has been made for the Masters of Roissy VDO. So Mako, on behalf of Rene, I give this to you as well as one who now joins the ranks of the Masters of the Chateau."
Maitre Thomas walked over to him, offering him the ring. "We are honored to have you in our community as we are with the rest of our family here. I know that you will continue the hard work you have demonstrated so far as you continue this next part of your journey in our community."
Sir Mako reached out, accepting the Ring, and slips it onto my finger. "tis my honor. Thank you Thomas, and my Famille."
"Well done, Brother. Now please introduce your first speaker."
Master Mako feels his sim tag...."evolve" over hishead. "The ring, a perfect fit."
The following speeches were spoken on his behalf by his special guests.
Mistress Ayita as mentor.
"Why thank you Mako. So, when I had my Maitresse ceremony, I remember Mako writing a little something for me. I told him that it would return to haunt him when he made Master and I do so hate to break a promise. Anyone here remember what I am talking about? If not .... well of course I have to share.
"There once was a Maitresse in black... Who with mentees had certain knack. Pushing them hard,
Her voice like a Bard, Her whip ever ready to crack.
"It was so cleverly put together in the moment. I could never hope to do it justice, but hey people tell me its the thought that counts. You ready Mako?
"There once was a Master who was no disaster ... Determined to prove to his mentor he could work faster. Driving her nuts, Giving the subs shiny red butts, And sentencing us all to such awful rhymes!
" Ok ok, all joking and awful poetry aside ... Mako was assigned to me as a mentor the moment he came to VdO. I was called into the office during his interview, the very day I received my own promotion. He was concerned about getting the right 'fit' and it seemed that we were. Or so I hope ...
"He was a diligent mentee, always checking in, showing me his progress and never failing in his efforts to do better. He worked his butt off, taking any constructive criticisms or advice with a big grin and eagerness to progress.
"I am so glad to see that he continued along this path even in my absence, and I am very very happy to stand behind him as he accepts this honor. Congratulations Mako, I wish you the very best and know you will be a great contributor to our community now and in the future."

Sister Blue - Master's final project
Thank you. Maitres/Maitresses, Masters/Mistresses, Sirs/Misses, Sisters, Demoiselles, Debutantes and Visitors I am so honored to speak on behalf of Sir Mako and his ascent to Master this day.
I know I'm a bit of a pain... well ... pain slut, actually. But I have never had so much variety in that subject at one sitting before Master Mako delivered his final scene, and I must say, "variety is the spice of life.
He could have gotten through the scene with far less creative thinking. But Master Mako was a master of BDSM that evening, and my DNA can probably still be found on every instrument in the dungeon. Because of his tight RL schedule (and mine *guilt*) we had to organize our get-together through instant messages for most of the planning, although he did charm me with his macho (Mako?) presence too.
He broke the scene into all four critical parts -- and since I did my Sister workshop about them, I was secretly hoping he would know what they were: (1) Planning/negotiation, (2) Anticipation. (3) Execution, and (4) Aftercare. He impressed me by not only knowing the distinction, but by entitling them in chat as we went along; for example, "----Negotiation open----," "---- End negotiation----" and so forth. It was a very considerate and loving the way he checked my limits, likes, and dislikes, and even asked me light questons about my SL appearance and personality.
This showed me that now-Master Mako cares about both parties in D/s and respects the submissive's feelings.
Blue laughs and holds up a yellow booklet, "Typing for Dummies." He warned me up front that he has typo-dislexia (which we all have, some more, some less), and joked that I should be ready for it. She hands the booklet to Master Mako, "a gift from me, Master."
I can say this with humor because in spite of sensory deprivation of almost every kind, candle wax, whippings, painful clips in delicate places, and... ..other experiences...this honored man was dynamic in his control and totally in command for the entire four or five hours we shared.
So, at the risk of, uhm, baring my chest about my exciting adventures with now-Master Mako, I will conclude with kisses, hugs, and my wholehearted support for his graduation this evening.
Master Mako's Speeh
"…let's skip the first 33 pages of my acceptance speech, I have decided not to talk about the wicked adventures of my early, formative, out-of-control, borderline degenerate bar-hopping university days. This is a very special moment for me. Promotion to the Roissy VdO rank of Master. I feel that as a person, I have discovered something fascinating in myself here, or better said, 'unleashed here from within myself'. When I first arrived at Roissy VdO last summer, I was adrift. I was searching.
"I knew there was something more I could grow into, but out on the SL grid we can just drift – a sailing schooner without a steadying centerboard, or a rudder to steer us. For a while I wasn't sure what I could be or what I would look like as I worked to bring my D/s Self into virtual. But now, as I look at this ceremony's announcement in the VdO calendar>>> Master "TBA"... as a certain ring to it,, grinning at the post.
"I started here without a real idea of how to personally interact in chat or in scening, to really feel respect and to share the respect. This is a large part of my real life D/s experiences. In SL, I was a rather awkward brute force, make it up on-the-fly role player, so VdO's somewhat structured scening was almost a deal-breaker here for me as I flubbed a bit and floundered a bit at first.
"I benefited immensely from the special help I found here from the experienced hands of our Famille. They guided me in reflecting on the RL D/s lifestyle I so enjoy and in bringing that into how I roleplay BDSM activities. Without that support, I might have just moved on. But this membership opened-up to me. Our submissives were willing to be patient with my awkward initial VdO scening efforts. Thank you all!
" I found that participating in the Deb chores achieved more than just helping our submissives fit into scening here, but contributed to improving this noob virtual dominant role player as well. I hope the many Debs I have scened with still smile or even smirk at our shared scenes for their logs. In every scene I learned fun.
"Even more importantly, I was afforded with many opportunities to join into sim and personal discussions on the D/s lifestyle and in applying BDSM activities. I talk at length on how we can share ourselves in a virtual setting and in roleplaying. I learned scening strategies I still use. Thank you all for that!
"Two notable things were extremely formative for me; first, a certain Master who took me under his wing, talked me through ideas of what D/s scening can be - beyond shallow posting contests.
"He helped me to learn to feel what I was doing here, to articulate feelings that blossomed inside me and that just had to get out. More than that, I figured out how to intensely feel and share those feelings. He graciously reviewed parts of his many past logs with me, to give me examples and outlines for planning scenes, from mundane but very creative scenes, to intense BDSM activities, and to wildly sexual ones.
"I used these examples to experiment with while I found my own voice. We had long talks on how he planned his scenes and how he looked for telltales that adjustments to BDSM activities were needed as they progressed. I leaned heavily on his examples for a long time here, style and language mimicry a profound form of praise on my part. From this I have evolved. Now planning a specific scene and how it was to progress is routine for me. Also, I learned to look forward to the shared tenderness of planned aftercare as a vital and necessary part of any adult scene. Who knew it could be so wonderfully savored?
"Secondly, those I scened with have really helped me break through, and to find my ability to be "me" in scenes. I have confidence now when I intelligently plan-out a scene, tailored to a specific girl, designed to progressively grow in intensities and lead her sensations on a path I wish to take her on.
"As with many of you with whom I have talked, once one's initial roleplay stage fright is gone then personal interactive growth is unleashed. For me it became an almost vertical progression graph, tracking the rate of my changes here. It has been profound for me. I rapidly developed scening skills here, in reaching out, in touching others and in being touched. The sensations have become routinely wild and intense, and with more of our full members than I once imagined,,,, it is very addictively felt.
That applies to the simplest chore scenes with our charming Debs, like my most recent one a few days ago, to my wildly intense moments of adult discipline and lovemaking shared with our Dems and Sisters.
"These experiences inspired me for my Master's workshop topic: "Sensual Impact Play". Ahhhh,,, so many erogenous parts to a girl's body, so little time. And when my namesake mako shark miraculously appeared in the Chateau pool one day last fall, I knew I was home! …much to the dismay of several Debs who learned to co-exist with and to feed makos. It is a pity that the mako has now poofed. Lament the void, oh future Debs!
"I was blessed by having Maitresse Ayita as my Mentor. She offered perspective for the virtual interactions, and by example she instilled competence in my progression. That limerick I presented to her on-the-fly at her Maitresse ceremony was truly heart felt, amongst other places. ((rubs my emotional backside a bit, recalling stern, sharp-tongued teaching sessions she shared with me, as much by example as by her clever sharp words))
"By the mid-point in my Dom2Master Path I had developed confidence in the roles that we share and express here, and I knew I was in a good home. I continue to work hard to show respect to all.Further about respect, and humbly stated here, if I have inadvertently slipped a bit during my tenure here to-date in offering my sincere respect to any, in how I caused you to feel otherwise by my word or deed, I request a kind thought for me and a little forgiveness perhaps. I do try to exemplify the highest quality D/s values we share here, as best as I know how.
"Finally, to those Dems and Sisters I have shared my more intense adult scenes with, know I felt each of you in my heart and in every fiber in my being, every emote we expressed, every touch given and received, and with every thrill magnified wildly.
And for the most part I am still smirking and vibrating from all of them! Mmm, and if any of my Brothers here ever get a chance to do their Masters final project with Sister Blue, jump on it! I have parts still tingling from interacting with her! I will leave you A/all with my parting Famille aspiration… "to continue to scene and interact, to share and to feel everything."
"Many of you by now have heard me say to visitors at the VdO landing zone "here at Roissy VdO, our sim's greatest strength is in its many workshops, and in the many VdO discussions and the scenings we share, where we A/all learn together and grow together." I believe in this.
May it never end! Thank you for this honor today.!
Congratulations
"Everyone grab a glass of champagne to toast the our new Master here at Roissy Val d'Oise."
[11:55] Mako Quixote: mm still my fav bubbly "Dom Perignon '69 "
[11:56] Dusty Caldera grabs a glass of champagne and cheers...
[11:56] χ????? (xanadu.xue): Congratulations Master Mako
[11:56] Cal (calvinford): Good year ;)
[11:56] Mike Meyers (michaelmmeyers): Congratulations Mako
[11:56] Juliette (surrealdreaming) smiles up at the new Master, "Congratulations Master Mako!"
[11:56] Priscilla O (priscillamaid): Hooray for Master Mako! Well done!
[11:56] Sal (salaciousintent): Congratulations, Master!
[11:56] Meribor Ressick (meriborressick) applauds loudly! ~ Congratulations, Master Mako!
[11:56] FreeDom (simplekindofman): congrats
[11:56] Ayita (naybabe): Congratulations Mako!
[11:56] Thomas (thomasx.xue) smile sand raises my glass..."Congratulations Mako"...Cheers
[11:56] Tzeitel: congratulations Master Mako
[11:56] α?ι?α? ???????? (tinypinkyzero): Congratulations Master Mako
[11:56] ???z????? (suzettemeatgirl): Congratulations Master Mako
[11:56] Dusty Caldera: Congratulations, Master Mako!
[11:56] Dom (domtrifone): Bravo, Mako
[11:56] Petra Steele (petrasteele58): Congratulations Master Mako
[11:56] Joshua Angél (joshuadavids): Well done Mako and congratulations
[11:56] Mako Quixote: a whew, I kept you all awake during my dissertation! nice :)
[11:56] sadie xue (sadiejonessmith): Salut Master Mako
[11:56] Scartisha Nayl claps softly "congratulation Master Mako
[11:56] sefa Perl smiles warmly , blue eyes dancing seeing the Roissy familie about on this wonderous occasion "Congratulations Master Mako!"
[11:56] Sophie Stormwalker (sophiestormwalker): Congratulations Master Mako :)
[11:56] Lah (lahkoonah): congratulations Master Mako, very well done, i am so delighted for You
[11:56] orchid Zsun: congratulations Master Mako
[11:56] Cal (calvinford): Congratulations Mako !
[11:56] Blue Ronsein raises her glass, Congratulations, dear Master Mako
[11:56] Rebecca (candy4mee): I wish you well on your new path Master Mako, congratulations Master Mako!
[11:57] Sal (salaciousintent) sneaks out the back hoping everyone has a wonderful day.
[11:57] Marie LeBlanc (maireleblanc): Congratulations Master Mako. I wish you many successes and great fortune
[11:57] Mako Quixote half bows, in response to all my well wishers
[11:57] PattyJ McMillan: congrats Master Mako
[11:57] Mako Quixote: dang, and we finish early!
[11:57] Diamond Gebhardt: Congratulations Master Mako
[11:57] Rebecca (candy4mee): we can stay here and chat
[11:58] Thomas (thomasx.xue): "Master Mako! you know that has a Sharky ring to it....good thing I keep my harpoon gun handy for emergencies at pool side.
[11:58] Mako Quixote: 3 minutes,, 3 hours, it's the principal of the thing!
[11:58] Mako Quixote: ahhh makos can be tamed,,, sort of
[11:58] Raevene: Congratulations Master Mako
[11:58] Chanti (chantililace): Congratulations Master Mako :)
[11:59] Dora (anniedora): Congratulations Master Mako
[11:59] Asfridr Verne: Congratulations Master Mako !!!!
[11:59] Manny Oskar: Congratulations Mako !!
[11:59] tinge (tingelater) smiles and sets the champagne glass aside .... Congratuations Mako Sir *sweetest smile*
[12:00] Mako Quixote: mmm, so many lovelies,,,,,,,,
Maitre Thomas Closing
I also wish to take the opportunity to also thank Rene, for providing al of this for us, for having the vision to bring us all together, we are a large diverse group with many things to share, and It warms my heart for having all of this to share with each and everyone. Thank you al for joining us here, to celebrate with Mako, in the garden with Mike Meyers. You are all dismissed , please have a most excellent day.
Juliette
Roissy Journaliste
Aliyah
Roissy Photographer