Ambri Sister Event - A Midsummer Night's Dream Masquerade Ball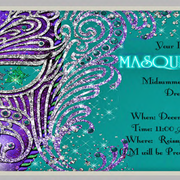 December 18, 2015
Ambri has had quite a journey thus far. She initiatially began as a Debutante on September 30, 2013, undergoing her Demoiselle Initiation on October 24, 2013. The following spring, Ambri left Roissy Val d'Oise on April 20, 2014.
She returned to Roissy Val d'Oise on August 20, 2015 and was re-accepted into the Submissive Training Path. She re-entered the path as a Debutante on August 24, 2015 and underwent her second Demoiselle Initiation on September 21, 2015.
Continuing forward in leaps and bounds, she is completed her tasks and prepares for her Sister Final.
Ambri presented her Sister Workshop, entitled "Fear" on November 3, 2015, and her Sister Event was held December 18, 2015.
Ambri tells us: "i couldnt make the first, but make up i did and it was blast. i had soo much fun thank you VDO and my wonderful friends. i couldnt have done this without you. HUGGLESSSS."
Her sister event provided a hud that allowed everyone to be incognito (removing titles and names); if one didn't peek into a profile it made for the excitement of identifying who was beneath that mask.
Kudos Ambri for your Sister Event!
Please enjoy this special video gift by Sister Sadie.
Juliette SurrealDreaming
Roissy Journaliste
*photos courtesy of Xanadu