Cali's "A Funny Thing Happened on the Way to the Forum"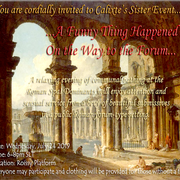 WHO Calixte (CalixteFiore Resident)
WHEN Wednesday, July 24, 2019
WHERE A Roman Bath
MUSIC DJ Benros Karlfeldt
by Blue Ronsein, Roissy Journaliste

Calixte masterminded a sensaitonal re-creation of a steamy, sensual Roman bathing and relaxation experience where Dominants enjoyed pitchers of warm water and bodily caresses from a bevy of beautiful submissives in a stunning public Roman forum setting. The dress was togas and Roman bathing attire, with our Roissy family luxuriating together at the delicious communal baths. And yes, Famille, Debs, and Interns were taking part (with appropriate clothing and, ahem, limited touching.
Cali explained for the newly arriving as she served Maitre Chip a goblet of wine, "There are poses in the tub (I have more if we run low!). The bath and throne poses are up to 3 way... the red chairs and massage tables are MF... There are dance balls on the back wall for anyone who would like to dance (near the door) and there is a footwashing station to my left behind Sir Loki and Norma at the bench. Debutantes and Dom Interns may participate as well!"
For those who'd like a more lascivious version of Cali's Roman bath, complete with licentious, libidinous, and seriously sexual experiences, she offered, with a smile, "I have had a lot of requests for this event to be done with a "dungeon" style to it... and i have a smaller build if you would like to see that on a more regular basis – a naughty Roman event."
Blue votes, "YES, CALI!" And congratulations on a great, imaginative Sister Event!