Diamond's Sister Event "Hollywood Squares BDSM Style"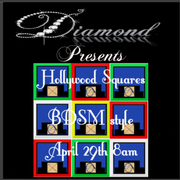 Who: Diamond Gebhardt
When: Saturday April 29, 2017
Where: Dungeon
DJ & Scripting: Sadie Xue
Set Builder: Sana
Panelists: Leilani Lag Muffin, Harley Wytchwood, Leylah, Emma Rose Shaw, Derry Auer, Dekegh, Mike Meyers, Suzette, Ori Sasani
Special Guests: Sting, LovelyBrat McMahon
Contestants: Blue Ronsein, Sana
Hosts: Xanadu Xue, Synnova

For two hilarious hours, game show host Diamond Gebhardt brought Hollywood to the Rosissy Val d'Oise dungeon -- pitting two innocent contestants against each other to judge whether nine wisecracking panelists were right or wrong in their answers to a barrage of BDSM questions.
Adding more craziness were two special guests, Sting and Lovely, who dragged panelists into their BDSM clutches with pranks, spanks, and bondage of their own.
After two rounds, the game was tied, and Diamond came up with a final question randomly given to Blue, who answered it for the prize -- a horny teddy bear! DJ Sadie let loose with music and everybody danced into the night, still laughing and having great fun! Congratulations, Diamond!
Submitted by Photography by
Blue Ronsein Xanadu, Raevene