Ginger's Sister Event – "Roissy Val d'Oise Fair"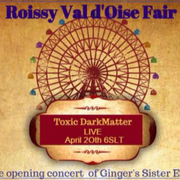 What: Ginger's Sister Event
Where: The Park and various locations
When: Thursday, 20 April 2017 – Thursday, 27 April 2017
An event enjoyed by the Roissy community that brought the child out in all of
us. Full of fun, spanning a week with an opening concert on Thursday 20th April with the rich, sultry voice of Toxie (Toxic Darkmatter) and culminating in a finale concert on Thursday, 27th April with tenor Dimi (DimiVan Ludwig).
Inspired by the enjoyment experienced as a child when Ginger went to the fair on her birthday, Roissy was transformed into a fairground comprising 8 rides available for all to experience: a roller coaster, bungee jump, drop tower, ferris wheel, water slide, bouncy house, bumper cars and a cluster of colourful balloons that when grabbed floated you up above Roissy.
At the finale concert, Ginger as host warmly greeted approximately 40 guests. At her feet, a gift inviting all to take a memento. Pressing the gift I received a penis giver, noticing that 94 gifts had been taken it was not until the end that I found that there were 10 different adult gifts including a 'boobies activator', Kinky-O! Purple Dom BDSM Bear', 'Morris Cage' and much more. The event concluded with Dimi singing the moving anthem 'Purple Rain'.
Congratulations Ginger on the thought you put into this event providing many hours of happiness for members and visitors of the Roissy Community.
Submitted by
Raevene, Roissy Journaliste
Photography by Raevene