Jaymelie - Sister Event: "Jungle Fever"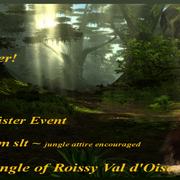 July 30, 2015
Reminiscent of a Tarzan movie, Miss Devi lurred us deeper into the jungle with her sultry voice as she seduced us to surrender to our inner fantasies. Surrounded by lush vegetation and wild animals, our family was deposited into the Roissy Val d'Oise version of Jungle Fever.
Wild Woman danced to the beat, while lone-clothed warriors pumped beside them and protective helmet-clad British crept cautiously, in hopes of just a glimpse of their inner abandonment to freedom.
The King of the Jungle, Maitre Taylor, and the Queen of the Jungle, Xanadu, found each other for a brief moment in the middle of a clearing before each grabbed a vine and swung away in opposite directions.
Kudos goes to Jaymelie for a successful Sister Event!
A thank you goes out to DJ Leesa for getting the party started spinning a few fun and playful tunes to get us into the mood.
Juliette Surrealdreaming
Roissy Journaliste
*photos courtesy of Cristal, Xanadu, & Juliette