Ju's Sister Event "Rockin and Rollin 1980's"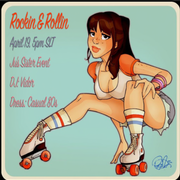 Who: Ju (juelle Robbiani)
When: April 19, 2017
Where: Party Skybox over Roissy VdO
The wild party-goers of Roissy were in full rock-and-roll splendor as a 5 pm moon beamed down and kissed Ju's exciting Sister Event. Everyone was dressed for the 1980's, with plenty of awesome music, fun, and jumbo photos of movie stars and '80's personalities plastered up above the dancers.
As Ju explains it, " I chose a roller rink from the 1980s because it is a carefree idea, and one that people who enjoy good music or being more active while they get together could participate in. It was a lot of fun to go back into time when it was fun to be in neon. :) And Vidor is a very old friend who I watched get into dj'ng, so I had to have him there for the music."
Congratulations, Ju, for a fantastic rockin and rollerskating Sister Event!
Submitted by
Blue Ronsein, Journaliste
Xanadu Xue, Photographer