Lark's Sister Event "Sports Tailgate Party"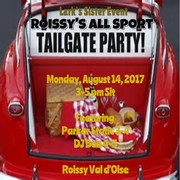 Who: Lark Bowen
What: Sister Event. "All Sports Tailgate Party"
When: August 14, 2017
Where: Tea House Rooftop
Rah-Rah-Ciss-Boom-Bahhhhh! Fans, cheerleaders, and athletes all showed up to root and scream for their favorite team at Lark's dazzling Sister Event - and Roissy's first All Sports Tailgate Party.
A terrific performance by Parker Static, who rocked the Rooftop for the first hour, preceded DJ BOB, who covered the second half. Dancing on a massive parking lot, sports fans broiled hot dogs, hamburgers, and chicken and drank oceans of beer, all the while hooting and howling for their favorite team.
Lark's event raised a cool 5,000 Lindens for the sim as well, so everybody, including Maitre René, came out a winner!
Blue Ronsein, Roissy Journaliste
Xanadu and Sweet, Photographers