May of the Luna Sister Event ~ Saint Patrick's Day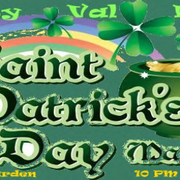 March 17, 2015
DJ Ferdy was our special guest, bringing with her an incredible library of traditional Irish music that charmed the lucky stars in Everyone.
Gathering together on a 50 shades of green stage in a transformed Chateau Garden, donning our best green frocks, with Maitre Marcus in his fanciful kilt, and Maitre Rene in his best Robin Hood outfit, we all had a good crac swigging back a pint of frothy Guinness and some shots of good 'ole Jamie!
The one-hour Sister Event, organized and hosted by our Demoiselle, soon to be Sister, May of the Luna, seemed to jump over the crock of gold, ending all too soon, though many stayed on to enjoy the festive environment.
Kudos to our dear May and congratulations to wonderfulful Sister Event!
Juliette Surrealdreaming
Roissy Journaliste
*some photos contributed by Xanadu