Rebecca's Sister Event "Star Wars, The Last Jedi"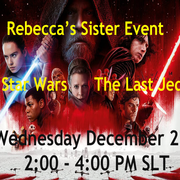 WHO Rebecca (Candy4mee Resident)
WHEN Wednesday, Dec. 27, 2017
WHERE A Skybox Far, Far Away
MUSIC DJ Sadie
HOST Sweet
ACCOUNTANT Sana
by Blue Ronsein, Roissy Journaliste
Photos by Xanadu Xue
A startling Sister Event awaited dozens of costumed Roissy members as they passed through time and space to rock around the Galaxy at Becca's gorgeously designed Star Wars epic.
You could almost feel the characters zapping enemy forces as they danced to theme music provided by the Princess Leia of VdO, DJ Sadie. According to all the galactic news organizations, Rebecca raised more than $L6,000 for the sim in the process!
Even the three identical triplets in Darth Vader costumes had fun, clunking around in those big ugly masks. Congratulations Rebecca for a wonderful Sister Event!