Susie Sister Event - NIGHT MAGIC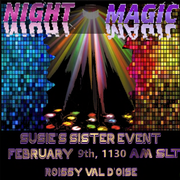 February 9, 2016
Let's Ring Susie's bell showing your support at this Disco Inferno dance. Brush the dust off of your disco outfits and get those dancing shoes on. The disco dance floor will be open for you to get down and boogie to lots of tunes played by DJ Sister Sadie. Contest for best Male and Female disco outfits.
---
The fun of slipping into an 70's disco outfit was clearly evident as the famille showed up in sequines, bell-bottoms, halter tops, platform shoes and more.
Susie presented a memorable event to our community in a venue designed by Sister Trot. DJ Sister Sadie (one of our own Sisters) kept the tunes playing as we danced under the disco balls sending streams of sparkling light.
The spectacular event ended with a Best Disco Outfit Contest.... Congratulations! and the winners were:
DOMINANTS
1st place - Sir Zaquary
2nd place - tied between Maitre Taylor and Maitre Rain
3rd place - Sir Mafi
SUBMISSIVES
1st place - Laerka
2nd place - tied between Karli and Xanadu
3rd place - Juliette
Kudos to Susie for presenting a wonderful Sister Event!
Juliette SurrealDreaming
Roissy Journaliste
Xanadu
Roissy Photographer
*some photos courtesy of Trot