Syndra - Sister Event: GREASE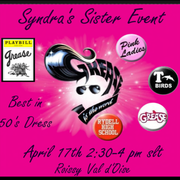 April 17, 2016
All had a great time, as our family gathered together in support and honor of Demoiselle Syndra's Sister Event: GREASE.
Donning poodle skirts & oxfords, tight leather pants & heels, or hip hugging knee-length skirts, our submissives wiggled their booties to our wonderful Dominants dressed-up like James Dean or John Travolta with their leathers and slicked back hair!
What fun we had in an outdoor drive-in movie theatre!
Kudos to Syndra for a fabulous event!
Juliette SurrealDreaming
Roissy Journaliste
Xanadu
Roissy Photographer