Xanadu's Sister Event Putting On The Ritz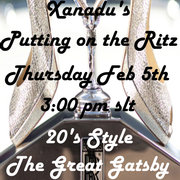 February 5 2015
What a fun time was had by all at Xanadu's Sister Event: PUTTING ON THE RITZ, which she held in a skybox above our Roissy Val d'Oise estate.
Upon arrival, you entered on the second story landing of a 1920's Jazz Club. Looking over the railing below, the colorful and exciting club spread out below, equipped with a bar, tables and dance floor.
Charleston, Great Gatsby, and Flapper dresses were the attire of the evening, with several of our Dominants showing up in quite the fashion (of course all our Submissives were dressed to the 9s!) and WOW what a site to behold.
Prohibition alcohol was served and our very own Maitre Rene was DJ!
Kudos to Xanadu for another wonderful Sister Event!
Juliette Surrealdreaming
Roissy Journaliste