Annie's Sister Graduation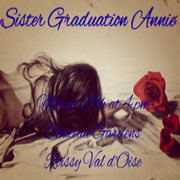 March 29, 2015
"Maître Rene, Honored guests; welcome all to this joyous event; for today we come together to witness the Graduation of Demoiselle Annie, who will join the exclusive ranks of the Roissy Val d'Oise Sisterhood.
"It is with some sadness that we bid farewell to this Demoiselle as she leaves her path here in Samois to rejoin the wider Roissy community.
"But, this is a happy occasion that brings us here today as I am able to announce that as Samois loses a Demoiselle today, Roissy Val d'Oise gains a welcome Sister.
"As a sister she will continue to be active with Samois as it is Sisters will be Mentors and older sisters to the young and striving Debutantes and Demoiselles. Sisters will always be welcomed at Samois, it is there home and comfort center, if they should ever feel the need. I as well will be available if you ever need a shoulder to lean on or just a friendly chat.
"It is always wonderful to see so many of you coming out to support our Demoiselles who have completed their paths and are leaving Samois to follow another path within our VdO family.
"The paths our submissives take may not always be plain sailing and we can often wonder why we are here and why do we stay. Other times we are grateful we did stay and progress further until we come to the end and graduate.
"Today we look to annie who stood the test of time, worked hard and made us all very proud by finishing that path and graduating. We wish her well on her new role and hope that she will follow others who trod the same path to become members of the Roissy Val d'Oise sisterhood - a group of exceptional ladies who stood the test of time and became not only better submissives but also achieved their own personal goals.
"Samois will always welcome any sub whether it be for help, inspiration, express concerns to, or just talk. Our submissives are the best in sl and we are proud of each and every one of them.
"Once again thank you all for your continued support."
~ Vette

"I remember annie when she first came here..she was always spilling drinks..but maybe that was excuse for the paddle.
"As the community of Roissy VDO gathers, it is without a doubt that it is a special time for both Annie and the community here at large. It is a time of celebration because of the tremendous accomplishment in which the Sister graduation stands for and marks for the girl that attains it.
"It is true that each person here is different. How one girl, in her own submission and creativity, goes about task may vary some from another girl? But, there is a common sisterhood, a common goal within the path that Annie and many others have ventured down.
"Most importantly, we meet and make friends that last a lifetime during the journey to sisterhood". What does a Sister after she graduates? Here at Roissy VDO, a Sister's life is one of helping others on their path and being a proud contributing member of our community.
"Annie, we gather to celebrate with you as you have connected with us. You endured, you worked hard, and you stayed the course. The road to sisterhood is not meant to be easy, as we demand perfection here at Roissy VDO.
" Our Annie, has now joined the group that represents the best submissives anywhere...the Sisters of Roissy Val d'Oise! Welcome annie."
~ Maitre Thomas

"I am so honored by my Dearest friend to have been asked to speak at this auspicious occasion. Sometimes the best way to speak is in a poem..this one is for you, My Dear Friend Annie. She walks in quiet elegance..floating down the paths. Always smiling...always there to cheer you. The room comes alive as your energy is released, Energizing those around you. She is the FRIEND who is there for you no matter what. Good or Bad, Happy or Sad. One could call her Greedy... the dice roll in her favor. And i Don't ALWAYS win! I call her wise, funny, dependable, kind, thoughtful. But best of all, I CALL HER FRIEND!
"Congratulations to my Bestie! What a marvelous addition to our graduating class of sister! I loves ya!"
~ SweetBabyBlue

"I have known annie since she was a budding debutante. She always struck me as lighthearted, submissive, fun loving and friendly to all. She has been committed to our community from the very beginning. You will find her on the sim every day--giving someone a smile.
"Many months later I was honored when she asked me to lead and evaluate her through her final task. Spending time together allowed me to explore her strengths, weaknesses, desires, fears, limits and how much Roissy Val d'Oise means to her. This information helped me design a scene that took into account the direction given by vette and her observations on annie's strengths and weaknesses as well as my own.
" After a couple "warm up" scenes where we reviewed the strict rules for her final and worked on getting her prepared for pushing her limits, we staged her final in the chateau. With the help of Maitre Kurt and Demoiselle grace, annie was tested to and just beyond her limits. She was ignored, disciplined and used thoroughly and came through with flying colors.
"She exhibited precious submission, unquestioned obedience, passionate desire and heartfelt emotions, as well as her trademark sense of humor. She waited patiently when she was not the center of attention, and gave her all in roleplay when she was the focus of the scene. Maitre Kurt would agree with me that annie served with fire as we had no doubt she would.
"Annie is keen to serve in our community, helping wherever she can. As a sister I believe she will be a great mentor for her younger debutantes and demoiselles. I know she has experienced a lot of personal growth in our community and she has a wealth of experience to draw on when leading new girls on the path.
"Without hesitation I can confidently recommend annie to join the Roissy Val d'Oise esteemed family of sisters."
~ Maitre Marcus

"Sadly Gillian cannot be here today, but i can say i am truly honoured to be her stand in.
"I am so sorry I am unable to attend Annie's graduation, thank you Babs for reading my speech on my behalf today. Annie is a wonderful person, warm and generous with a big heart and mouth to match it..grins, no party/celebration is complete without Annie tossing her empty glass on the floor! She is always willing to help me host, I so appreciate that Annie!
"Annie's path has not been without it's ups and downs as with many Sisters that i have seen in the past two and a half years of being here at VdO. But in the time that i have watched Annie i have seen her grow and mature in slow and lovely way and so today Annie as you discard your Dem tag your path doesn't end here but continues as you take on the mantle of sisterhood. You will be able to continue to grow, continue to teach and continue to guide those around you. Help the debs and dems in their path to sisterhood by your example as well as your words. You are here to serve the doms, help them to feel welcome with your smile and willingness to serve. You will be a wonderful sister and a great asset to the sim itself.
"I believe Annie will fulfill this role beautifully and it is with great pride that I recommend her to become a fully fledged sister here at VdO just to finish off with a quote not sure who wrote it, " No one saves us but ourselves. No one can and no one may. We ourselves must walk the path"
"We each have our own path to walk here and Annie this is the beginning of a new one for you today. Thank you Maitre Rene for this amazing sim i've called home since June 2012!"
~ Gillian (read by Babs)
"Maître Rene, You have heard the recommendations of Maître Marcus and the warm support given to that recommendation of her Sisters babs, gillian and sweet. May I invite you now, to confer on Demoiselle annie the title and the ring of Sisterhood?"
Rene nods in silence ................................ smiles and looks at annie, sits back in my chair thinking and reflecting on the comments and recommendations I have heard today before confirming. René looks at them and smiles.
"I am always pleased when I hear all the commendations."
René indicating to Samois Supervisor my own confirmation to continue with the proceedings.
"Demoiselle annie, come forward please and kneel before us."
Annie tands on shaky legs and walks forwad kneeling
Rene stands up. Looking at the Demoiselle before me then along the platform. Recalling all of their supportive words as I often do. I look out towards the gathered community, friends and family feeling very proud to be a part of this wonderful famille of Roissy Val d' Oise.
Reaching into my pocket for the faded and tattered piece of paper, where I had jotted notes on different occasions along her journey, looking toward all the Debutantes and Demoiselles, "You see submissives I do take notes.
"You see here before you .... a submissive, one that has honored her path. She was accepted into the house Of Samois as a Debutante June 30, 2014.
"She progressed and moved on to the time of her Initiation on August 11, 2014 where she served and was opened by Dominates of Chateau Roissy Val D' Oise and became known as Demoiselle annie.
"Her journey continued as she traveled along wanting to learn and absorb even though she strayed off her path she returned home to make us all proud.
"February 11, 2015 annie presented an amazing workshop, "Building Trust".
[2015/03/29 16:40] René (geir): She continued along next with her Sister Event as she presented, "Greedy Beach Party" on February 21, 2015."
Smiles, remembering all the lovely submissives that participated, "they sure know how to win," chuckles, thinking of all those bikinis.
"Her Final Task was given to her on February 26, 2015. It was a test of her Submission based upon her strengths and weaknesses. Vette confirmed with Marcus on March 8, 2015 that all the final task had been completed. Now today she kneels before us March 29, 2015 to receive what she had committed herself too, the giving of her submission, today she will have bestowed upon her the VDO ring and title of Sister.
"You have heard about her journey that brings her here today, her day. Her commitment that has brought her here is a true inspiration for those who still have to complete their journey."
Rene smiles and looks at her, takes Demoiselles annie's hand as I search my vest pocket searching for the ring finding the correct one, with a confident smile I find it and place it onto Demoiselle annie's finger lifting her chin with my finger as I look into her eyes annie wear it with pride it is the symbol of your devotion and dedication.
Crouching forward as I speak softly to her, "Congratulations annie you will inspire many."
Rene sitting back...
Annie feels the tear drop and smiles looking at the ring she has dreamed of.
Rene, so very proud, turning to Samois Supervisor, "please Vette, give our newest Sister her rightful tag and let's welcome her into sisterhood here at Roissy Val d'Oise."
"Demoiselle annie.. No more will you carry that title. Cast it aside and wear this one that I give you at this time. Sister annie!!!!"
Sweet Baby Blue: CONGRATULATIONS SISTER ANNIE!
Sister annie!!!!
Maitre Kurt rubs his forehead, noticing the scar does not feel so out of place any longer and hollers, "Congratulations Annie, way to go. We all knew you had it in you!!!"

"Wear the mark of Sisterhood with pride as you go out to a new and exciting future in Roissy Val d'Oise." Always serve with passion and fire and keep your ring and title near and dear to your heart. Always remember how you came to acquire them both was through your dedication and submission."

NH Allen: congratulations annie!
Carey: ****applause! Congratulations Sister Annie!!
Cate: Gratz Annie ... smiles
Steven Carpathia: Bravo! Well done~
Priscilla: Well done, Sister Annie!!
Maitre Marcus): way to go Sister Annie....well deserved
Sir Mabus: Congratulations Annie
Maitre Trav: whispers: well done
Fae: Congratulations Sister Annie !
Rina): congratulations annie
Babs: well done Sister Annie
Sheri: Congratulations Annie
Vette: "Congratulations Sister annie and well done."
Grace: Congratulations Annie!
Diane: Congratulations Annie you are an inspiration

Annie ises from her cushion feeling that she is in a dream, as she looks out across the faces of family and smiles warmly. As she presses out the creases of her lace skirt, she crosses to Maître Rene and gives a small dip of her blonde head, her eyes filled with the gratitude she has for Him for giving her a home. She turns to her family with a shiver and begins in a quiet voice that grows stronger with every word. She smiles and mutters something about lag.
"Ode to Roissy Val d' Oise
i came to You broken
Hurt, confused, searching for something unknown
You gave me dance (ty Master Henry)
i watched and observed, learned Your ways
i joined my path as Debutant (ty Vette and Khloe)
Protected, ignorant of my weaknesses, vulnerable
i served, did chores, made friends (ty Wendi, Jules, Wyndi, Lisbeth, Rina, and Babs)
i gave You fire and clumsiness ( so sorry Maître Kurt)
i stumbled, gleaned knowledge, broke out of my shell
(ty Maître Justyn) and made mistakes
You initiated me into Demoiselle (ty Maître Chronos, Master Henry, Maître Taylor)
i struggled, learned about the lifestyle, and found my voice
i lost my way and walked away
i did battle with my head and heart, learned what was important to me, licked my wounds, and found humility
(ty Master Trav and Maître Kurt)
i lost my way and walked away
i did battle with my head and heart, learned what was important to me, licked my wounds, and found humility
(ty Master Trav and Maître Kurt)
i finished my log (ty Maitres, Masters, and Doms)
i was punished, my limits were tested, i fell in love over and over and over again (i'll never tell), my friendships were tested and new friends were made (ty bestie Sweety, Xana and Gracie)
i held my workshop i joined my path as Debutant (ty Vette and Khloe)
Protected, ignorant of my weaknesses, vulnerable
i served, did chores, made friends (ty Wendi, Jules, Wyndi, Lisbeth, Rina, and Babs)
i researched, revised, and we explored trust together (ty all who responded, Master Henry, Maître Marcus, Sweety and all proof readers)
i held my event in a skybox
with the things i have loved most in Roissy; family, fire, dancing, and greedy (ty Vette, Maître Marcus, Sweetie, Gracie, and all that attended
And last but not least, I was given my final
i was tested, denied, humiliated, ignored, and relieved when it ended (ty Maître Kurt, Maître Marcus, and Gracie)
And it was all accomplished with nails perfectly manicured, not a hair out of place, in dresses to die for.... smiles
i am grateful for the lessons my home has given to me and to the administration that helped me along the way. i vow the following to my Doms of Roissy and sisters;
i will never stop serving those i call Maître, Master, Sir, and sister
i will always have time to help others when there is a need
i will dedicate myself and time to helping all Debutantes and Demoiselles on their path
i will be humble and helpful at all times, bringing only joy to Roissy.
i will be the very best sister possible, always.
i will make you smile whenever possible :)
"Thank You, Maître Rene, for creating this place i call home and for granting me this honor today. i will strive always to make You proud."
"Thank you Sister annie please take your place for a moment on your cushion near Maître Marcus's. First I would like to congratulate you annie on your new role as a sister and the dedication you have shown in pursuing your path. I have to admit I had my doubts but when you came to me and hugged me I knew in my heart you were determined to complete your path. To achieve and become one of the elite.
"Many times I have felt your frustrations, but I always gave you open and honest answers. Always with hopes that in the end you would see why I gave such answers, even though you did not always agree. I look at you today and feel so proud to see you here. I have seen you grow from a small fledgling into a beautiful submissive.
"So today annie is your day, the time for you to spread your wings and soar. annie, our path is far from over as we reach sisterhood, it is a new beginning, and we will always travel and learn as long as we allow our minds to be open and absorbent. Reaching and taking annie's hand always remember who you are and what you are, be proud of your submission, we are a special few.
"To all my sisters this includes the present Debutantes, Demoiselles, and Sisters, each of you have been there, and shared so much with me. Tears, anxiety, frustration, cookies, coffee, tea and well a few "Other things". I would like to say Thank you, and remind you that i am always here to listen, to offer and to be a sounding board when you need me as i needed you.
"I invite each of you to evaluate your ownselves and renew your devotion to Roissy Val d' Oise and Remember the things we each agreed to as we began our paths. Take a look at your own self and figure out where you fit into the spectrum, there is something for everyone here to do.
"I love you all and i thank you for being there for me and supporting our new sister sweet. my door at Samois is always open to each of you as submissives and my listening ear open to any Dominate.
"Special thanks to all the Dominates of the sim no matter your rank. Many of you are near and dear to me and I wish to say thank you for the role you each have played in my life and in the lives of the submissives of Samois and for your kind words on many down days. A few of you have touched me in ways undescribable your words seeped deep. Your teachings will always be remembered.
"I am humbled to know each of you.
"Maître Rene, Thank you for all you do and the kindness you have shown to all of us for providing such a wonderful place for us to learn and to role play and our home. Thank you for the soft music for yet another graduation ceremony. I love that we can always count on you." Without you this day would not have been possible.
"Thank you for the safe haven you gave so many of us. A place we could come when our heads were screwed on backwards only to be pointed in the right direction. . You gave us a wonderful, lovely home, i am very Proud of VdO. It is a reflection of many things, but behind all of that is You. Thank You for allowing me to share Your dream, Your vision and Your home.
"Today would like to share something that is near to me, when I feel my lowest I read this and close my eyes allowing myself to feel the words and shed the tears of submission. Thank you, Master Johnathon Carbnell for sharing these words with me some time ago you do not know how much they mean to me.
A composer's blank sheet of music, a sculptor's clay always starts out raw and cold, a painter's canvas blank and white,
But when He has her within his hands; warm to the touch, yielding to him and full of promise, more pliant than any clay or canvas.
her blood beats hot from her heart, against her skin, warming to the touch, her submissive soul speaking out to Him; telling Him what she wants to be, begging to be what He desires.
With His firm and gentle hands, He delivers her, molds her body, colors her soul, and presents her to the world.
His perfect submissive, together, the melody of their lives plays out, and the journey goes onward
People knelt before Kings and Emperors to show their homage to them, because they are inferior and smaller than they were. They knelt to beg for things, they knelt for mercy and they knelt out of fear.
Submissives in this lifestyle do not kneel because they have to, they do not kneel out of fear or out of mercy or because they are smaller or inferior to the person they are kneeling to.
They kneel because they want out, out of love, dedication and devotion to the one for which they are kneeling before.
"Master Rene that concludes the ceremony, as the House of Samois is proud to see another of its Demoiselles take her place in the wider community. May I now invite you to close the proceedings witnessed here today?"
~ Vette

Rene stands, thinking about what Vette did say, "people knelt out of fear." and looks at them all and hope no one kneel out of fear of front of him.
Rene turning to the newest Sister smiling…
"This is your day Sister annie!"
Raises his glass. "Come everyone and raise your glass with me in congratulating and welcoming her into sisterhood here at Roissy Val d'Oise It's time to live up to your success, smile and take a bow ! Congratulations Sister annie!
"It is a time for you to reflect and celebrate on your past, present and future. A time to rejoice and celebrate. annie, it is with pleasure to call you a Sister of Roissy Val d' Oise. I wish to you see you continue to grow and learn. May your path at VdO always be remembered as something precious and dear to you. With the many new approaches and new visions, let us each work together and share ideas.
"Let us grow as a community as we seek to move forward. My door is always open if you wish to share ideas or just need to talk.
"In closing, you are all invited to play more active roles. If there is something you can offer the sim, please fill out a notecard and drop in my red mailbox just outside my office so that I can review. We are a family, and we can't do this all ourselves. I am humbled to know each of you and call you each my famille.
"I encourage each to stay up to date on all events and workshops by checking the website/calendar frequently at http://www.roissy-vdo.com/calendar/ or the main website at http://www.roissy-vdo.com/"
Rene sips some wine thinks a moment, remembering what he wanted to announce.
"Soon we will have blogs and discussion forums to offer on our WEB page. Every member in our family will have the opportunity to have their own page, where you can add text, pictures, videos and so on."
Juliette smiles
"Soon, this announcement will come forth, so start thinking of your "own" page!
"I thank you for sharing in your time and showing support today as annie became a sister of Roissy Val d' Oise. I encourage each of us as members to take a look deep inside ourselves, be the example setters for others as we lead and guide, always keeping in mind the closer we bond the stronger we become.
"No matter what others may try and tear down. "Chains of steel will rust with time, chains of the heart will only grow stronger!
"Congratulations again Sister annie.
"Please join us here in the Chateau Garden for Annie's Graduation Celebration beginning immediately following the ceremony. WashedUp SideWays one of SL's finest will be sharing his talents for the dance. Thanks again everyone."
Juliette Surrealdreaming
Roissy Journaliste