Diamond's Sister Graduation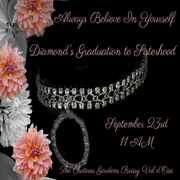 Who Diamond Gebhardt
When September 23, 2017
Where Chateau Garden
Mentor Sana (Dreamsdesire Starfall) for Blue
A bright fall day, rainbows refracted from the clear gems that encircled her neck. Links of the leash draped down between her full bosom as Sana led Demoiselle Diamond from Samois to those gathered at the garden.
Sana smiled at Diamond and squeezed her arm in excitement, "I am so proud of you Diamond" her lips brushed her cheek as she unclasped the thin fabric covering full breasts.
In the tradition of The Story of O, Sana applied rouge to Diamonds bare nipples enhancing them for the Dominants of Roissy Val d'Oise.
Diamond smiled and taking a deep breath in as her top is taken off, kisses her back on her cheek and smiles again. Feeling the stickiness of the rouge watching Sana apply it takes a finger and moves over hair from her eyes, smiles again "thank you Sana"
A gentle tug on the leash whispering "Diamond please take your place on the cushion left of the stage".
Xanadu raised her lithe form to stand before the community.
"Honored guests, welcome all to this joyous event for today we come together to witness the Graduation of Demoiselle Diamond, who will join the exclusive ranks of the Roissy Val d'Oise Sisterhood."
"It is with some sadness that we bid farewell to this Demoiselle as she leaves her path here in Samois to rejoin the wider Roissy community. Her path does not end here it is ever evolving.
"But, this is a happy occasion that brings us here today as I am able to announce that as Samois loses a Demoiselle today, Roissy Val d'Oise gains a welcome Sister.
Xanadu turned and smiled to Diamond ... "Sisters will always be welcomed at Samois, it is their home and comfort center, if they should ever feel the desire or need".
Maitre Thomas addressed the community "Esteemed, and loyal Members and Guests, you are gathered here today for one of our oldest and most beloved traditions at Roissy Val d'Oise".
"The sister graduation is the cumulation of hard work and patience. Our Diamond's graduation means quite a lot to her and to all of our family who watched her grow in her mission as a result of her training here."
"How are you feeling?"
Diamond watched him come close and smiled looking up in his eyes "I am a feeling a little of everything you can imagine, Maitre Thomas, but the if picking out one thing it would be that I am feeling closer to you all then I have ever before, if that makes sense"
"We are so proud of you Diamond, this garden is full of your friends that love you."
"Today is a very special day for her as she graduates from Demoiselle Diamond to Sister Diamond. Her path has spanned a long time and this shows that Diamond has patience and determination. Two very admirable qualities.
The path of a submissive is never an easy one, but if it were easy anyone could and would do it. The sisters of of sim earn the right to be called "sister". Our program is Elite, so when a sister graduates, her qualities are known to be of the highest quality". Maitre Thomas smiled to Diamond as he returned to his seat alerting Xanadu to proceed.
Julie stood to offer words representing the House of Samois, her long gown flowed as she moved gracefully to greet those gathered.
Thank you Xanadu, it is indeed my pleasure to represent the House of Samois on this wonderful occasion today as we celebrate the accomplishments that Demoiselle Diamond has made on her path to becoming a Sister of Roissy Val d'Oise.
The path to become a Sister at VDO isn't always easy and we have some rough and some stormy and some emotional times to go through, but this all is a part of our progress. If we just would have easy times here, we would not experience the growth necessary to be a real Sister of VDO.
I always like to compare the experience to the story that builds the base of our community here:
Remember O's look when she arrived at Roissy…She was nervous, shy, not knowing what to expect, afraid and insecure...
And then remember her eyes when she got her ring…Filled with pride, passion, devotion and submission. And this can only be reached by learning and experience. We need the wind blowing strong towards us sometimes to finally spread our wings and show our beauty.
The House of Samois plays a huge role in that whole path. It is the safety belt that holds us when we might fall, it is our wind shield when the storm blows too hard on our face. But it is also our reminder of rules and promises in times of weakness. Samois is the steady companion on our path to become a Sister.
Be a Sister that serves with passion Diamond Show devotion and love. Love for this place and love for the people. And give a bit of this feeling to the ones that arrive in future to our place. Give them your hands and guide them on their way here.
You have known this wonderful place now for quite a while. Having you up here today shows that Roissy Val d'Oise is a place that stays inside our hearts. It makes me happy to see how the love for this wonderful sim keeps us coming and keeps us holding on to the wish to serve as a Sister in this community.
In the name of the House of Samois, I thank everyone for supporting Diamond with your presence here as we celebrate Diamond's special day. Congratulations Diamond!
Dominant Recommendation
Xanadu rises once again, "Maitre Mykal, will you please let us know your recommendation for Diamond ?"
Maitre Mykal rises, his strong form standing tall. He turned smiling to everyone a special smile as he looked at Diamond...
Good morning Roissy family, we are here to celebrate a young lady's hard work and diligence as she graduates today to Sisterhood. Sisterhood in Roissy has been a long time tradition and far from an end to things, but a new chapter in her life here.
When asked by Diamond to assist with her finals I was honored and accepted the responsibility. I have known Diamond for some time prior to her finals through passing on the sim and light chat.
Diamond looked up at him and smiled
I can say that Diamond has grown through her time along the path to the woman you see today. During the finals Diamond has shown much perseverance and dedication to the tasks set out before her. I set tasks out for her after talking and spending time with her to see her mindset in order to assist her to my fullest and to hopefully make it a great experience for her.
She performed beyond my expectations, any Dominant who has the privilege to be able to spend time with her as I did should be honored as she is an exceptional young lady with a heart of gold and a deep rooted desire to please. Diamond is patient and willing to push her limits and does so with grace and vigor.
I definitely give my recommendation for our dear Diamond to achieve the title of Roissy Sister. Well done young lady.
"Thank you so much Maitre Mykal...gives him another smile watching him take his seat
Mentoring Sister and Friend
Sana smiled to Diamond and Xan as she rose up from her cushion. Hello my family, Diamond. These following words are from your mentor Blue.
" I am representing Diamond's Mentor Blue today, who wished to be here but unfortunately was not able to attend. She kindly prepared some loving remarks I will read to you, and it is my honor to present them on her behalf."
Because she liked Vette, and because Vette was Samois Supervisor at the time, I think Diamond felt she was passed down the ranks and was justifiably anxious. However, we had some long talks and gradually she and I built up a mutual respect.
I have watched her grow from a relatively shy beginner into a fine, beautiful sub whom we can all be proud to have as a Sister. Unlike some of us who rush through our logs, Diamond is deliberate and cautious, and she worked on hers one step at a time, "enjoying the journey" -- earning her Sisterhood on her own terms.
She did it with interesting scenes, thoughtful writing, lots of service tto the sim, and a spectacular Sister Event. And I am sure Maitre Sting was a positive influence as well.
She accomplished it mostly, though, by herself. My role was to answer a few questions now and then and offer encouragement. Her workshop about foreplay was awesome, without any help from me (although I would have gladly volunteered as a lab rat if she wanted to do research).
Sana smiled, continuing.
Sana and I did get our tails wagged, however, as contestants in Diamond's fantabulous, spectacular "Hollywood Squares, BDSM Style" Sister Event in April. She had to organize all that scripting, set building, a DJ dance, and a host of Roissy celebrities who sat in the squares and talked dirty at us. AND she had to moderate the game, which in REALLY hard when you get our fun-loving, sometimes crazy family laughing and talking dirty together.
Her social skills in pulling together such a mammoth and wonderful production are totally admirable, and I am so proud of her for making it such a success.
I know Diamond will progress to be an excellent Sister and will serve our sim beautifully with her quiet and gracious style . We are fortunate to have her here, and I was proud to be her mentor."
" Thank you Sister Sana for stepping in for Sister Blue .. I know you wished to add some words of your own as well Sana, so please let us listen to your words for Diamond."
Yes Xanadu, thank you.
Diamond, radiant as she listened, thought she needs to remember to give Blue a nip on the .... later
Sana, her eyes bright, huge grin curled her lips.
"Diamond! You did it, Yay! I know it is not ordinary to have a good friend say a few words, but Diamond is far from ordinary. It is impossible to put to words everything I feel would describe this amazing woman and her attributes..
If some haven't noticed I am not one to be the life of the party or belle of the ball. I tend to sit and contemplate and contemplate and so forth and so on, eventually joining into a group situation, maybe! Grins.
Diamond was able to involve submissive girls and Dominants in her event, highlighting their own personalities not wanting the spotlight on herself.. Not surprising, Diamond letting others bask in the sunshine, Diamond shines nonetheless.
I know Xanadu, Blue and Maître Thomas will remind us of her workshop and event. I am here to celebrate the person behind the font.
Diamond, new to our community as a debutante reached out to me, reading me perhaps without my even realizing it. She cheered me on in the high moments and even in silence was there for me in the darkest times. We both realized we found in each other someone worthy of our trust and someone you can be blunt with. The good, bad and often the ugly and never a moment of judgment.
Not being one to pry into someone's life offline, it took till this summer for me to even ask Diamond what time zone she was in. Sounds crazy I am sure, but we are both fiercely private individuals and I never wanted to step over the line for fear of ruining this amazing friendship.
I cannot think of anyone more deserving of the title of Sister as Diamond is. She is friendly and offers respect to every single person she meets. She extends herself, always cheerful and always with the best intentions. I congratulate Diamond for accomplishing this aspect of her 'path' a journey that will continue on.
When people say this is just Second Life® I challenge them to be here in our community and then tell me this is just a computer game, a virtual world.
Thank you Diamond for the honor of asking me to speak and Xanadu for allowing me these few moments in time.
Tears welled in her eyes, Sana returned to her seat. Diamonds beaming smile warmed her heart.
The Conferment
"Maitre Thomas, you have heard the recommendations of Maitre Mykal and the warm support given to that recommendation of her mentoring Sister Blue. I respectfully invite you to confer to Demoiselle Diamond the title and the ring of Sisterhood?"
"Demoiselle Diamond, please come forward please and kneel before Maitre Thomas."
Diamond settled on the cushion before Maitre Thomas eyes lingered on his eyes.
Shifting his weight in the gilded chair his brow furrowed in reflection and thought.
Maitre Thomas smiled to Diamond and the assembled group as he reached into his pocket. Withdrawing a worn piece of folded linen faint scribbles filled the page.
Looking toward all the Debutantes and Demoiselles, "you see Submissives, I do take notes." But no one else can read these but me. Its double secret code."
You see here before you .... a submissive woman, one that has honored her path. She was accepted into the house of Samois as a Debutante April 7, 2015.
She then progressed and moved on to the time of her Initiation on March 21, 2015 where she served and was opened by Dominants of Chateau Roissy Val D' Oise and became known as Demoiselle Diamond.
Her journey continued as she traveled along wanting to learn and absorb. March 17, 2017, Diamond presented an amazing workshop with the title "Food - Foreplay too?". This sparked the interest of many.
She continued along next with her well planned Sister Event as she presented the amazing "Hollywood Squares BDSM Style" on April 29, 2017. "
Her Final task was a test of her Submission based upon her strengths and weaknesses. The House of Samois received a notice of recommendation from Mykal that all was completed and she was worthy of Sisterhood.
Now today she kneels before us on Saturday September 23, 2017, to receive what she had committed herself too, the giving of her submission, today she will have bestowed upon her the VDO ring and title of Sister.
You have heard about her journey and her commitment that has brought her today. Here is a true inspiration for those who still have to complete their journey
Maitre Thomas took Demoiselle Diamond's hand as he digs deep into his pockets searching for the ring before finding the correct one.
Diamond watched, hand shakes a little from nervousness, smiles watching Maitre Thomas squeezing his fingers some in the process
I inspect it closely seeing the gleaming golden ring sparkle and places it onto Demoiselle Diamond's finger crouching forward as he speaks softly to her, "Congratulations Diamond you will inspire many. I am proud of that showed your dedication to yourself and to Roissy Val d'Oise."
Diamond looks from him to the ring and back to him as he leans forward, smiles humbly to him "thank you Maitre Thomas"
So very proud, turning to Xanadu, "please Xanadu, give our newest Sister her rightful tag and let's welcome her into our Sisterhood here at Roissy Val d'Oise"
Xanadu smiled, yes Maitre ... stood then looked to our kneeling Diamond... then looks round towards the assembled guests drawing their attention.
To become a Sister of Roissy Val d' Oise a submissive has to have many qualities, some are as follows: To be Trustworthy, Graceful, Loyal, Humble, Obedient, Enduring, Patient ..... and remain submissive no matter how hard that may be....
You have shown these qualities Demoiselle Diamond.....
No more will you carry that title........Cast it aside and wear this one that I give you at this time
Wear the mark of Sisterhood with pride as you go out to a new and exciting future in Roissy Val d'Oise. I remind you to always serve with passion and fire .. and always from your heart.
Congratulations Sister Diamond and welcome our honored Roissy Val d'Oise Sisterhood .
Rousing applause broke out from Diamonds friends and family. As the cheers and good wishes quieted down Xanadu's voice was heard, "Sister Diamond, please stand and take a moment to speak to all your friends assembled here today."
Sister Speech
Diamond's hair caught in the wind as she moved to the center stage lifting her raven bound locks behind her. In true Roissy style she was clothed in the O attire. White lace skirts parted to expose her lean physique.
Thank you , thank you all .. stands smiling and winking to those seated on the platform and then turns and gives all of you seated in the chairs the same takes a moment to reflect and smiles again
First I would like to thank all of you for giving your time to share this moment with me. It's so much appreciated and I want to take the time to say I appreciate every one of you for doing so.
I would also like to thank Maitre Rene for his kindness to keep a sim like this open. We get to explore, enjoy and make beautiful memories and dreams of our own because of his dream.
This being said I will confess that the road I've taken to get to this moment hasn't been a smooth one. It wasn't all glitter and roses, there were brick walls, and times it felt like I was drowning.
There were many challenges. A lot which no doubt created by my own mind, and hand. I won't go in to all of that, a long story, about two years worth..smiles
I feel what's important from the journey is to be able to look back at who I was then and to see clearly who I am now and where I can, will be later, I smile having done so and excited for what could possibly be to come.
Life is an ever lasting school of lessons, and growth. To stop is to simply stop living. There have been times on this path I wanted to give up, especially when I got to the end.
I know this is SL and it shouldn't be, but public speaking is a challenge for me, I get very nervous. So imagine after getting through the hosting tasks on the deb log how wide my mouth was open to see that there was a workshop and event to do.
but........
I discovered I could and enjoyed doing both. I don't think I would want to again if I'm honest. I was confronted to face my insecurities and shocked myself in seeing I really could get past them.
The biggest issue for me was trusting, depending on others. Originally the sister event I did was my last option on the list of choices I wrote down, but I'm glad I took a risk and did it.
I learned something about myself and discovered just how many amazing, helpful, and beautiful people we have here at VDO. Almost everyone I approached and asked if they would help me with my event, said yes and did.
It wasn't an instant fix to my nervousness, if you ask me to do that again right now I would see no evil, hear no evil and speak no evil..smiles..but another step has been made to explore and many more journeys of self discovery, I'm excited. I have more free range now and I hope I can be as helpful to others as a lot of you have been to me.
I said thank you at the beginning but I would like to say some more, if that is okay. First I would like to thank everyone that helped me with my path, from discussions, to tasks of chores, discipline, punishments, initiation.
Thank you to everyone who helped me with my sister event, I couldn't have done it without any of you. To the willing volunteers in my Workshop as well, thank you and to everyone that came out to support me. I will never forget your generosity of time, and kindness, thank you.
Maitre Mykal?...looks at him and smiles..
Thank you for seeing who I am and where I needed to be pushed the most. You have opened my eyes wider to those things learned the few days spent with you and I will always be thankful for them and for you.
Maitre Mykal smiled to her, nodding
If Blue was here I would have said this to her but will later..
I know I haven't been the easiest mentee to have. I gave you challenges, not in behavior but with letting you in.
The day we had an open chat, I understood you better and I think you understood me as you then started to let me fly off on my own more, even if I did end up landing in mud ..smiles..but when I called for help, you were there and I want you to know I appreciate that and who you are so very much, thank you Blue.
If I could literally jump, pounce, and hug this woman I would in a heart beat and squeeze her ever so tight. So, I'll do all these things to you in spirit.
Thank you Sana for always being there, the talks, the laughter, the smiles and for your ears and shoulder when I needed to speak and just someone to lean on. All good things take time, I want you to know I value our friendship that has developed. The is a connection with us and I am truly thankful for it
Almost done everyone I promise
Hugs Xan and Gillian tight...sometimes mother hens are needed not only to hover and protect but to also be ready to kick you out of the nest...rubs bottom and smiles..thank you for giving just the right amount of pushes when I needed it.
I would like to thank some people who are not here at VDO anymore, but who had an impact on me in more ways then one and they probably don't even realize it, they are missed and I wish they could be here today. Maitre Justyn and Vette.
I would like to thank some people who are not here at VDO anymore, but who had an impact on me in more ways then one and they probably don't even realize it, they are missed and I wish they could be here today. Maitre Justyn and Vette.
Finally, I would like to thank you, Maitre Sting, for taking time to actually get to know me. You opened the book and took time to read it instead of judging from the cover. You accept and let me be who I am, thank you.
I realized over time that you were discreet with the lessons you've given me, thank you for them all and thank you for choosing to be a constant in my sl and for allowing me to be one in yours....kisses you...
Thank you Maitre Thomas for making this day calm.
Summary
Xanadu congratulated our newest sister Diamond! A Sister is to always be a positive example for our Debutantes Demoiselles Members and visitors of our community .
An existential part of becoming a Sister is the time spent in our community actively and making a commitment to work for the betterment and the desire to help others grow.
We are fortunate to have this amazing community which Maitre Rene has offered this to us to safely learn the ins and out of BDSM .. or doubts we have and to simply relax learn and grow .
Our Mentoring Sisters have a large part of this as well .. and smiles .. through their guidance and support they enhance the path for their mentees .. and for this i sincerely thank yall .. your assistance is a huge help to me more then is realized.
Diamond presented her Sister workshop on "Food Is Foreplay Too? " .. which gave us the opportunity to think out side the box so to speak .. chuckles .. as we recall her words " proceed with kissing, nibbling and sucking which food fits right in here" .. fans her face and smiles to Diamond
Later she presented her Sister Event .. that again was eventful in the Dungeon. Diamond showed us her unique way she and her enthusiastic approach to Hollywood Squares through "Hollywood Squares "BDSM Style ".
Diamond if you take the time to speak with her .. is a very unique person .. although quiet she is person of many special qualities and has shown them in the what i mentioned before.
Just as many others before her .. she has had several ups and downs .. but has stood strong and moved to where she is with us today ..
With Maitre Mykal's very favorable recommendation .. today she was elevated to the status of an Honored .. Roissy Vdo Sister and now will be serving and assisting others our community.
I would also like remind you .. becoming a Sister is not the end .. but another way to actively serve our community .. as there is another phase for those who are un collared and still wish to continue to advance a bit further .. that of the " O Aspirante " .. looks to those present .. being one who inspires to become a " Roissy"O"."
Xanadu turned, Maitre Thomas and through you to Maitre Rene .. i Thank you for your generosity and the gift you give us daily .. this wonderful community .. where we are free to learn and discover our inner selves safely.
First an primarily to out Dominates .. a sincere thank you to y'all for being here to encourage and help us .. as we learn and for also for your patience,
To our Submissives .. i personally thank each of you for your continual support .. please remember .. we never have to pursue anything here by ourselves ... for we are a team. Each of you are special to me and above all very important to VdO.
In closing please remember to hold high the principals of Roissy ValD'Oise .. that Maitre Rene has provided .. We have the Best of the Best here .. and the positive support we offer each other .. only insures our strength... proving once again " We are Family" .
Maitre Thomas, that concludes the ceremony, as the House of Samois is proud to see another of its Demoiselles take her place in the wider community. May I respectfully invite you to please close the proceedings witnessed here today?
Dismiss summary
Maitre Thomas raised his champagne flute, "Come everyone and raise your glass with me in congratulating and welcoming her into sisterhood here at Roissy Val d'Oise.!!"
Diamond gave them all wide smiles ..I thank each of you for sharing this day with me..
Thomas clinks his glass with Diamond's glass. Heres to you, our GEM of Roissy Val dOise, this is your day !
A time for you to reflect and celebrate on your past, present and future. A time to rejoice and celebrate.Diamond, it is with honor to call you a Sister of Roissy Val d' Oise. I encourage each of us as members to take a look deep inside ourselves, be the example setters for others as we lead and guide.
Diamond hears the ping of glasses giving Maitre Thomas a grin, "Thank you Maitre Thomas"sips some bubbly and burps a little.
I thank you for sharing in your time and showing support today as Diamond became a Sister of VdO. The closer we bond the stronger we become. No matter what obstacles or challenges we face, if we face them together, we have the strength to succeed.
Maitre Thomas turned to the community, he smiled and puts the flute down, "Please join us in the Ballroom for Diamond's Graduation party with DJ Mykal for a celebration dance."
Dreamsdesire Starfall, Roissy Journalist
Photos contributed by Xanadu, Sana, Master Llarik and Lovely