Ginger's Sister Graduation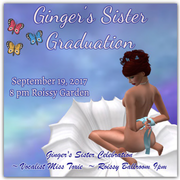 Who Ginger
When Tuesday, September 19, 2017
Where Chateau Gardens
Mentor Blue Ronstein
It was a perfect, clear evening in the Chateau Gardens as Sister Blue deftly removed Ginger's sheer lace top and brought her forth to join the Roissy band of sisters.
As Xanadu stood, the crowd settled and gave her their full attention. Her eyes scanned the crowd, She tapped the mic. ensuring it was on and addressed the crowd. "Maitre Thomas, honored guests, welcome all to this joyous event for today we come together to witness the Graduation of Demoiselle Ginger, who will join the exclusive ranks of the Roissy Val d'Oise Sisterhood."
"It is with some sadness that we bid farewell to this Demoiselle as she leaves her path here in Samois to rejoin the wider Roissy community. Her path does not end here it is ever evolving. But, this is a happy occasion that brings us here today as I am able to announce that as Samois loses a Demoiselle today, Roissy Val d'Oise gains a welcome Sister."
" As a Sister she will continue to be active with Samois as it is Sisters who will be the Mentors to the young and striving Debutantes and Demoiselles. Sisters will always be welcomed at Samois; it is their home and comfort center if they should ever feel the desire or need."
" Myself, Venna, our Samois Sister; and Julie, our Samois Assistant will always be available if you ever need a shoulder to lean on or just a friendly chat." She turned back to Maitre Thomas, "Maitre Thomas I respectfully invite you to welcome everyone."
Welcoming Dominant - Maitre Thomas
Maitre Thomas stood and looked out to the gathered crowd, "Esteemed, and loyal Members and Guests, you are gathered here today for our most beloved tradition at Roissy Val d'Oise. The Sister graduation. We have come a long way since we used a boat to transport the Sisters to be to the platform in 2012."
"The sister graduation is the cumulation of hard work and patience. Our Ginger's graduation means quite a lot to her and to all of our family who watched her grow in her mission as a result of her training here. Today is a very special day for her as she graduates from Demoiselle Ginger to Sister Ginger, a significant achievement indeed."
"The path of a submissive is never an easy one, but if it were easy anyone could and would do it. The sisters of sim earn the right to be called "sister" and are not granted a tag on admission like some sims do. Our submissives are not just 'anyone,' they have graduated from the most complete submissive training path in Second Life."
Maitre Thomas turned to Ginger as she looked up at him with a smile, "You will be a Roissy Val d'Osie. Sister."
Turning back to the crowd, he continued, "Our path has been historically by far the best submissive training on Second Life. This is evident in how many people copy our path. The phrase 'Often copied never duplicated' comes to mind." With an exuberant fist pump into the air, he cheered the audience, "Lets hear it for the Sisters of Roissy Val d'Oise!"
The crowd erupted into cheers as Maitre Thomas took his seat.
On behalf of Samois House - Samois Sister Venna
On behalf of Venna, Samois Sister, Xanadu read the recommendation of Samois.
"Welcome Maitres, Maitresses, Masters, Mistresses. Sirs. Misses, Debs, Dems and sisters and friends and family of Roissy Val d'Oise and Ginger."
"Again it is with pride, pleasure and immense honour that I stand here before you to represent the house of Samois on this very special day. A day when we gather together to celebrate the achievements of this lovely, talented, warm hearted, gentle, hardworking and fun loving Demoiselle."
"Ginger is another flower for our wonderful garden. A flower almost in full bloom and presenting all of her glory to us today. As with all of our submissives, Ginger has shown her willingness to serve our community. To help and support not only the Dominants, but also our family members and her fellow sisters. I for one know how helpful she is, having helped me to repair my broken house. Unfortunately, it didn't prevent the spanking I received later."
"Ginger let us see just how accomplished she was becoming as a Submissive, when she presented her Workshop on 'Orgasm on command,' an ingenious workshop on how to control something that is the most pleasurable experience known to man & woman."
"She certainly had a room full of Subs squirming on their cushions that day, and I bet there were a few wishing just for a moment that their command words were spoken. Please Dominants...I beg you, do not shout out En-mass, as there will be dire consequences."
"Ginger has found that being at Roissy and following the path, like most of us has been an invaluable journey. A journey where we not only learn how to emote, set limits, how to serve and give pleasure, but we find out about ourselves and who we really are."
"Most importantly, we also learn and find that everything we do earn here, will travel with us where ever we go In Second Life and in Real life."
"Ginger's Sister event 'Toxie sang at Gins Sister Fair' which was also an extravaganza of a building prowess that I suspect has not been rivaled here in Roissy VDO, and I bow to her skills in this respect. The fun that everyone had in the days that her Fair was parked at Roissy was incredible. I also heard that people found things to do with candy floss that made the mind boggle...but that's another story. Thank you for allowing us to share in your event Ginger I am sure everyone had a fabulous time."
"So as you have found out, those of you who have gotten to know this extraordinary redhead, she has earned the accolades, congratulations and plaudits for her achievements , and that is what we are here celebrating today. Here kneels a woman who has fulfilled not only her path but also herself."
"To my Sister Ginger. It is with very sincere wishes that you continue to flourish, grow, and learn and be one of the ever increasing beautiful flowers that makes the Gardens of Roissy Val d'Oise one to behold. Thank you everyone."
Xanadu looked up from her papers looking out into the crowd, "These were Venna's words: a gracious welcome from the House of Samois and her encouraging words to our Ginger."
Recommending Dominant Maitre Turrner
Turning to Maitre Turrner, Ginger's Maitre for her final "Maitre Turrner, will you please let us know his recommendation for Ginger?"
Maitre Turrner stood and buttoned his jacket as he looked over the assembly, smiled at Ginger and began, "Good evening my friends. The gathering of our community is not an uncommon event. Indeed, we gather to study, to learn, and to dance. We gather to witness the challenging initiations of girls who would enter our society as dedicated submissives. We gather to congratulate our dominants on their ceremony as they move from Doms to Masters to Maitres."
"But the event that we gather to celebrate today is far more special. It is the only event we refer to as a "graduation," a commencement, which is really just another word for a beginning. It honors the very special commitment our girls make as they embrace the title of "Sister" and begin a new phase in their service to the Roissy Sim."
" Ginger is the second girl I have helped along this last leg of the journey to "Sisterhood, and when you accompany or help another on a journey, you, of course, are on a journey too. All the usual responsibilities and challenges of domination are amplified, the decisions you make become more important, and the support you demonstrate for the girl in your care resonates far more broadly than any ordinary encounter."
"Take a moment to think about the trials our girls are asked to embrace as part of the path to Sisterhood. It is awe-inspiring. I was thrilled and humbled at the same time to be honored by Ginger's trust to be the Maitre to share this part of her journey and to lead her through this last critical task. My association with Ginger has been a positive one in every respect. For in addition to the pleasure she gave me during every aspect of our encounters, the deep connection I've made with her is a special kind of reward. It was a true honor to be the one to shepherd her through her final tasks."
"In negotiations before our encounters (to satisfy the requirements of her task concerning, kinks, limits, and implements) we agreed to explore a list of activities. She showed some initial apprehension concerning the program I suggested, but once agreed to, she embraced each challenge with an impressive enthusiasm . It was easy to strip away all her resistance to the pure submissive spirit sparkling deep in her awareness. It blossomed during each of our encounters, and I could see it shining more and more brightly with each passing day."
"In our scenes, I discovered ginger to be an eager and responsive submissive, a pure hedonist whose openness to feel intensely encouraged me also to feel deeply. And is that not the real reason we are all here: To make connections, to open to each other, and to indulge in the depths and types of feelings that may not be available to us in our other lives?"
" I found the commitment she brought to her submission and service to be absolute. And because of the totality of the way she opened to me, because of her trust, because of the risks she took, I could not have felt my possession and domination of her more keenly. She is eager and responsive to both firmness and tenderness, to discipline and intimacy, which I think, fits in well with our culture here at Roissy."
"Throughout our encounters, she maintained a refined awareness and focus that shaped her emotes and reactions. Additionally, Ginger's genuine joy in serving and pleasing colored her roleplay from start to finish. Ginger embodies all we look for in a Roissy submissive: A commitment to the culture and spirit of the sim, a deep acceptance and understanding of her submission, an eager and passionate desire to serve and to please, and the ability to inspire."
More than one submissive was wiping a tear at Maitre's words.
Maitre Turrner paused a moment thoughtfully and continued, "We are lucky to have her as part of our community and she has my heartiest recommendation for advancement to the Sisterhood here at Roissy Val d'Osie. Well done, ginger."
Ginger whispered to Maitre Turrner as he leaned in close to kiss her cheek, "Thank you so much Maitre, for everything…"
Mentoring Sister - Blue
Xanadu thanked Maitre Turrner for his words and called on Sister Blue, Ginger's mentor to give her recommendation.
Blue rose looking lovely in her pink gown and looked proudly at her beautiful mentee, gave her a wink, and turned to the members gathered. "Distinguished and Honored Dominants, submissives, and guests. A little over a year ago, Gillian, the Samois Supervisor at the time, introduced me to Ginger. I had suffered through a couple of real deadheads and had low expectations. But-- with the exception of one "broken heart" talk, she's been a totally upbeat, smart, sexy, and easy-going girl who managed to slide through every assignment with buttery smoothness and delightful joy."
"I have found her to be a lady of strength and determination, always chirpy and friendly, who buckles down and gets things done without complaining. She and I talked mostly about focusing on polyamorous relationships and on flirting coyly with these busy and sometimes "dormanants" without standing naked in front of them and handing them a flogger."
Blue added giggling, "Although... the thought had crossed our minds. "
"Ginger created her workshop on her own -- without my help at all, darn it, and it was fantastic. The reason I say "darn it" is that her topic was "Orgasm on Command," and I could definitely see myself researching that with a few good men, just to help her out. She explained in the workshop how you could work yourself to 20 or more orgasms in a scene, and, needless to say, the workshop was a great success."
"But her crowning achievement, in my opinion, again, without much help from her adoring mentor, was a week long 'State Fair,' complete with enormous rides all over our sim, plus games, activities, refreshments, a kissing booth, and live events to open it and a big event at the close. Her ability to manage all that and still keep her wits, not to mention her amazing sense of humor, still astounds me to this day."
"I know Ginger will go on to be an excellent Sister of Roissy and when asked to be a mentor -- will be a rock star -- encouraging excellence and a lot of vivacious redhead-styled energy. She is a truly positive girl, and I am so proud (and lucky) that I could be her mentor."
Blue blew a kiss as she returned to her cushion.
The Conferment - Maitre Thomas
Xanadu thanked Blue for her words of kindness and support. Turning to Maitre Thomas and addressing him, "Maitre Thomas, you have heard the recommendations of Maitre Turrner and the warm support given to that recommendation of her mentoring Sister Blue. I respectfully invite you to confer to Demoiselle Ginger the title and the ring of Sisterhood?"
Shifting in his chair, he pondered all he had heard before giving Xanadu a nod, "Xanadu, you may proceed."
Xanadu instructed Demoiselle Ginger to come forward and kneel before Maitre Thomas. He looked down at her and then out over the gathered crowd. He reached into my pocket and searched before pulling out a piece of neatly folded, but worn linen stationary, containing notes about her journey.
He cleared his throat, began to speak; "You see here before you .... a submissive woman, one that has honored her path. She was accepted into the house of Samois as a Debutante, September 2, 2016. She then progressed and moved on to the time of her Initiation on October 25, 2016 where she served and was opened by Dominants of Chateau Roissy Val D' Oise and became known as Demoiselle Ginger."
"Her journey continued, wanting to learn and absorb. March 25, 2017, Ginger presented an amazing workshop with the title "Orgasm on Command." This sparked the interest of many and caused a large cleaning bill for Chateau. She continued to next with her well planned Sister Event as she presented a wonderful fair all over this beautiful Sim from April 20, 2017 until April 27. "
"Her Final task was a test of her Submission based upon her strengths and weaknesses. The House of Samois received a notice of recommendation from Maitre Turrner that all was completed and she was worthy of Sisterhood.
Now today she kneels before us on Tuesday September 19, 2017, to receive what she had committed herself too, the giving of her submission, today she will have bestowed upon her the VDO ring and title of Sister."
"You have heard about her journey and her commitment that has brought her today. Here is a true inspiration for those who still have to complete their journey. Remember Be determined and make your dream, happen girls." He pulled a ring from his pocket, turning it between his fingers and slipped it on Demoiselle Ginger's slender finger crouching forward as he spoke softly to her, "Congratulations Ginger you will inspire many."
Ginger looked at the ring with a tear in her eye, "Thank you, Maitre."
He smiled a warm smile back, "You are most welcome."
He addressed Xanadu as he returned to his seat, "Please Xanadu, give our newest Sister her rightful tag and let's welcome her into our Sisterhood here at Roissy Val d'Oise."
Xanadu stood and answered. "Yes Maitre Thomas,". then smiled to our kneeling Ginger before looking round towards the assembled guests drawing their attention. "To become a Sister of Roissy Val d' Oise a submissive has to have many qualities, some are as follows:
"To be Trustworthy, Graceful, Loyal, Humble, Obedient, Enduring, Patient ..... and remain submissive no matter how hard that may be...... You have shown these qualities."
"Demoiselle Ginger..... No more will you carry that title..Cast it aside and wear this one that I give you at this time...... "
"Wear the mark of Sisterhood with pride as you go out to a new and exciting future in Roissy Val d'Oise. I remind you to always serve with passion and fire .. and always from your heart."
"Sister Ginger....."
Chants of Congratulations echoed
Sister Speech - Ginger

Xanadu smiled and addressing Ginger, "Sister Ginger, please stand and take a moment to speak to all your friends assembled here today."
Ginger looked out at all of the wonderful people of Roissy, "I want to thank each and everyone of you. You have brightened my life with kindness, warmth, lifelong friendships and a few kinks.
"Before arriving at Roissy, I had just read the story of O. I had never been part of a roleplay sim and was only a year into second life at all. Wow was I in for an adventure that even I could not dream about. I have learned many things at my time at Roissy, thinking on it I would say that the most important thing I learned is I was a real submissive all along even in my real life. You can learn skills to be a better submissive, I have learned it was in my nature from the start."
"One of the things that really touched me was learning that the members of Roissy open their hearts and are loving giving people who care for each other, always willing to help out. I'm proud to call Roissy my home and hope to be here for years to come."
"I have so many people I need to thank for helping me on the journey. Xana has been an inspiration, always caring and never wavering support not only to myself but everyone of us. I would like to also send out love and thanks to my mentor Blue. I can't leave out Maitre Thomas, I want to give you a big hug for making this day special for me" Ginger flashed a smile.
"Maitre Turrner was a big part of my final and I would like to thank him for challenging me in ways I never really expected. My experiences with him are something I will never forget. I'm sad he isn't here and wish him get well soon. Thank you Maitre."
"I must also thank sister Venna for her unwavering support and sound advice, she is a lady who not only enjoys her path but is also very supportive of those of us who are following in her footsteps."
"There have been many people that helped me with my scenes along my path and without you I would not be here. Miss Derry, Master Dark, Sir Ashcroft . Master Dash and Maitre Turrner all guided me through the deb stage."
"After I started my Journey along the dem path, I had so many help me. giggles softly so here goes. Thank you Master Mike, Master Dom, Sir Opie and Master Stoney.."
"And now a couple of special thank yous - Just a few weeks into my journey at Roissy I met Sister Ciara, She has been by my side everyday since. We have shared a lot of laughs, a few tears, and maybe a little mischief. I can't imagine a better friend than her. I'm so grateful that we have became friends. I love you girly and thank you so much for being here for me, A true friend♥"
"I owe a special thank you to Master Gunnar. He helped me grow not only along my path but in my real life. He taught me so many things I can't list them all, I can say without a doubt my journey was so fulfilling because of him. A true dominant in Sl and Rl. Its truly been a pleasure getting to know you, I thank you from the bottom of my heart."
Master Gunnar shouts out from the gallery, "Congratulations M'Lady"
"And now as a fully fledged sister I hope I can pass onto those who follow me something of what I have learned, in the hope that they too achieve the fulfillment that I now enjoy."
Summarization Xanadu Xue
Xanadu stood, pressing down the folds of her dress, smiling, "Congratulations to our newest Sister Ginger .. on your advancement as an Honored .. Rossy Val D'Oise Sister. A Sister is to always be a positive example for our Debutantes Demoiselles Members and visitors of our community."
"An existential part of becoming a Sister is the time spent in our community actively and making a commitment to work for the betterment and the desire to help others grow. "
"We are fortunate to have this amazing community which Maitre Rene has offered this to us to safely learn the ins and out of BDSM .. or doubts we have and to simply relax learn and grow ."
"I will say that our Mentoring Sisters have a large part of this as well.. through their guidance and support they enhance the path for the submissives .. and for this I sincerely thank y'all .. your assistance is a huge help to me more than is realized."
"I was present at Ginger's "Orgasm on Command Workshop" .. which opened our eyes regarding how submissives can have an orgasm by using a trigger word or touch.. then she presented "The Fair at Roissy" giving us the opportunity to ride a myriad of rides and partake in various activities for a week as well as the awesome entertainment provided Dimi Van Ludwig who concluded the week long event and by Miss Toxic Darkmatter, who opened this event .. and whom i will add .. will be entertaining us at Gingers Graduation Celebration in the Ballroom."
"Ginger as you have heard has many qualities and has indeed become a very special person to me .. smiles to her .. then looked to the audience spotting many .. as have many of yall . Although she is quite busy she always finds the time to be here and assist when asked honoring her commitment to Roissy. "
Xanadu smiled to Ginger .. "I know your finals were difficult at times .. but I knew you were a champion and you proved me right .... You are indeed an example of excellence."
"With Maitre Turrner's very favorable recommendation .. today she was elevated to the status of an Honored .. Roissy Vdo Sister and now will be serving and assisting others our community."
"I would also like remind you .. becoming a Sister is not the end .. but another way to actively serve our community .. as there is another phase for those who are un collared and still wish to continue to advance a bit further .. that of the " O Aspirante " .. being one who inspires to become a " Roissy"O"."
Xanadu turns .to. Maitre Thomas .."Through you and to Maitre Rene, Thank you for your generosity and the gift you give us daily .. this wonderful community .. where we are free to learn and discover our inner selves safely."
Xanadu turned back to the audience .. "First and primarily to our Dominants .. a sincere thank you to y'all for being here to encourage and help us .. as we learn and for also for your patience. To our Submissives .. i personally thank each of you for your continual support .. please remember .. we never have to pursue anything here by ourselves ... for we are a team. Each of you are special to me and above all very important to VdO."
"Please continue to show your commitment and dedication as you proudly wear your titles .. assist as you can .. but above all be here supportive of this awesome community . "
" In closing please remember to hold high the principals of Roissy Val D'Oise .. that Maitre Rene has provided .. We have the Best of the Best here .. and the positive support we offer each other .. only insures our strength... proving once again ' We are Family .'"
"If there is anything you wish to share or offer the sim please let Maitre Rene know .. by dropping a note card in his Red mail box outside his office. Please remember to check our website so you will stay up to date on all the happenings of VdO http://www.roissy-vdo.com/ "
"Maitre Thomas, that concludes the ceremony, as the House of Samois is proud to see another of its Demoiselles take her place in the wider community. May I respectfully invite you to please close the proceedings witnessed here today?"
Dismiss summarization Thomas Xue

Maitre Thomas stood and walked to the champagne table and grabs a glass of 1949, Dom Pérignon.
He turned to the newest Sister, smiling... "This is your day Sister Ginger!!!" Cheers !!
Everyone stood and applauded as we made our way to the ballroom.
Respectfully submitted, Sadie, Roissy Journaliste
Xanadu, Photos