Graduation to Sisterhood amayabelle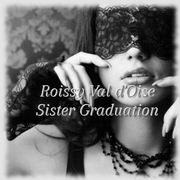 May 10, 2014
A large gathering of Roissy Val d'Oise family and friends assembled in the gardens in front of Chateau Roissy to celebrate the graduation of maya (amayabelle) from VdO Courtisane Demoiselle to VdO Courtisane Sister.
The Chateau gardens were decorated beautifully for the occasion with the family leaders, Proprietaire Rene, Dominant Supervisor Chronos and Samois Supervisor Vette seated on a raised dais facing family and friends who were seated on chairs arranged in the garden. Formality and splendor were added by the red carpet covering the dais, extending down the dais stairs and covering the stone path to the entrance to the garden.
There was excitement and happiness in the air as greetings and conversation were shared while everyone found their seats and awaited the arrival of the guest of honor. All went quiet as everyone turned to watch maya arrive led on her leash by her Master Loki and accompanied by Courtisane Sister (and Samois assistant) khloe.
Consistent with Roissy Val d'Oise tradition khloe removed maya's top, uncovering her breasts and emoted richly with:
khloe turns stepping behind the lovely demoiselle, the satin touch of my fingers curl inside the bodice of your dress as i loose the buttons pushing them through each loop, one by one until i slip it from around you leaving your breasts to flow in the natural curve of your body, smiles leaning in whispering "serve with passion"
Master Loki unleashed his maya and they both took their places on the dais with maya kneeling on a cushion beside her Master. Samois Supervisor Vette opened the ceremony with "Honored guests; welcome all to this joyous event; for today we come together to witness the Graduation of Courtisane Demoiselle maya, who will join the exclusive ranks of the Roissy Val d'Oise Courtisane Sisterhood."
Vette finished her speech and invited Maitre Chronos to say a few words of welcome. Maitre Chronos took the opportunity to make everyone aware of the uniqueness of this ceremony when he said:
"I have a great opportunity today….a unique opportunity that is a first for Roissy VDO. You might be asking what opportunity, or maybe you already know."
"For the first time, that I am aware of, we welcome a submissive that started her journey with her Master at the same time. maya became a Debutante, then a Courtisane Demoiselle, and now will graduation as a Courtisane Sister."
Maitre Chronos continued with congratulating maya on her accomplishments and welcoming her as she starts her new journey with her Master and within the VdO community.
Maitre Thomas who leads the Courtisane path couldn't be at the ceremony and requested Maitre Chronos to speak on his behalf the highlight being "She has the awesome distinction of being the first girl to graduate the Courtisane Demoiselle program."
Vette then invited Courtisane Sister khloe to speak. Khloe spoke eloquently about the challenges of being a Courtisane Sister with no task log to help you understand what you should be doing or how you should fit within the VdO community. Khloe challenged all Courtisane Sisters and Sisters " ask, offer, and be open to give your time, your gift, your knowledge, your talents, spend time with visitors, attend events, begin to reach out and offer a helping hand a listening ear" She finished her speech with stating how proud she was to call maya her Sister.
After a thank you to khloe from maya and tears from Vette, Vette invited Sister punkin to speak.
Sister punkin, maya's mentoring Sister then spoke with warm heart filled recollections of her memories of her experiences with maya. Initially punkin thought maya was very shy, hiding behind her Master but soon realized "it was not shyness at all, it was pure and utter submission. She was not hiding in his shadow, she was basking in his dominance." Sister punkin highly recommended maya for Sisterhood and stated how honored she was to have maya as a friend and Sister.
punkin's thoughts and feelings struck maya emotionally as she responded with:
Maya dabs her eyes with her handkerchief, touched by the heartfelt words from her sister mentor and a treasured friend... "thank you so much punkin".
After invitation from Samois Supervisor Vette to provide his recommendation, maya's Master Loki spoke, stating:
"And, so it is that as maya's Master and her mentor and coach I have the honor and privilege to address friends and family and tell you unequivocally that I recommend that my maya graduate today to become a Courtisane Sister of Roissy Val d'Oise."
Master Loki spoke of maya's entire time at Roissy Val d'Oise from debutante through to the ceremony. He shared his personal experiences, thoughts and feelings about maya in support of his recommendation and additionally he provided positive quotes from others who had participated or watched maya's final task. Master Loki closed his speech with "Please join me in my unreserved recommendation that my maya graduate to Courtisane Sister today."
Vette then asked Maitre Rene to confer on Courtisane Demoiselle maya the title and the ring of Sisterhood and requested maya to kneel in front of her and Maitre Rene.
As maya kneeled facing Maitre Rene, Maitre Rene stated that " her commitment that has brought her here a true inspiration for those who still have to complete their journey" He placed the ring of Sisterhood on maya's finger and said "Congratulations maya you will inspire many"
As maya received her ring from Maitre Rene and then her tag from Samois Supervisor Vette the congratulations and applause began with everyone gathered feeling the joy and excitement of the moment.
Vette spoke of the paths that maya has completed and congratulated maya on her workshop, her Sister event and welcomed her to the ranks of Sisterhood.
VdO Courtisane Sister maya then spoke sharing memories and anecdotes of her time at Roissy Val d'Oise. Maya spoke fondly of her time from first finding VdO to the present day. She's focusing mainly on the fun she has had and recognizing individually with anecdotes in support, those that helped her and those that made it fun to be at VdO. Special thanks were given to maya's Mentoring Sister punkin as well as love and thanks to her Master Loki.
Throughout the ceremony, each of the speakers thanked Maitre Rene in there own words for giving us the Roissy Val d'Oise sim and for his ongoing commitment and leadership.
After invitation from Vette, Maitre Rene closed the ceremony with:
Rene raises his glass ' come everyone and raise your glass with me in congratulating and welcoming her into sisterhood here at Roissy Val d'Oise
"It's time to live up to your success, smile and take a bow ! "
"Congratulations Courtisane Sister maya"
The newest VdO Courtisane Sister maya thanked Maitre Rene and all of the family and friends gave heartfelt congratulations to maya.
The ceremony was followed by a dance that was enjoyed by many.