Ju's Sister Graduation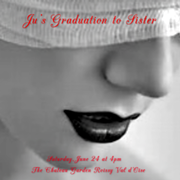 Who Ju (juelle Robbiani)
When Saturday, June 24, 2017
Where Chateau Gardens
Menor Emma Rose Shaw
Xanadu opens the ceremony, "Sister Emma please bring forward Demoiselle Ju and place her on the cushion near Maitresse Ayita .
Emma smiles, prepares Ju by removing her breast coverings, and leads her to kneel on a cushion.
"Honored guests, Welcome all to this joyous event for today we come together to witness the Graduation of Demoiselle Ju, who will join the exclusive ranks of the Roissy Val d'Oise Sisterhood. It is with some sadness that we bid farewell to this Demoiselle as she leaves her path here in Samois to rejoin the wider Roissy community. Her path does not end here it is ever evolving. But, this is a happy occasion that brings us here today as I am able to announce that as Samois loses a Demoiselle today, Roissy Val d'Oise gains a welcome Sister. As a Sister she will continue to be active with Samois as it is Sisters who will be the Mentors to the young and striving Debutantes and Demoiselles. Sisters will always be welcomed at Samois, it is their home and comfort center, if they should ever feel the desire or need. Myself and the Samois Sisters will always be available if you ever need a shoulder to lean on or just a friendly chat."
Ju miles softly and looks to Maitresse Ayita behind her, then to Xanu, listening to her words, though mostly to the sound of her own heart beat.
"Maitre Thomas I respectfully invite you to welcome everyone."
Welcoming Dominant - Maitre Thomas
Thomas smiles and stretches my limbs , "Honored guests, Welcome all to this joyous event for today we come together to witness the Graduation of Demoiselle Ju, who will join the exclusive ranks of the Roissy Val d'Oise Sisterhood. It is with some sadness that we bid farewell to this Demoiselle as she leaves her path here in Samois to rejoin the wider Roissy community. Her path does not end here it is ever evolving. Putting my arms to my sides and in my suit pockets, "The sister graduation is the cumulation of hard work and patience. Our Ju's graduation means quite a lot to her and to all of our family who watched her grow in her mission as a result of her training here. Today is a very special day for her as she graduates from Demoiselle Ju to Sister Ju, a significant milestone indeed."
He walks to her and smiles...and says with pride and warmth.."Well done, Ju, and you set a great example for those who have not finished their path,""
She smiles softly, fidgeting again, eyes lifting up as Thomas moves near. "Thank you, Maitre Thomas."
"The path of a submissive is never an easy one, but if it were easy anyone could and would do it. The sisters of our sim earn the right to be called 'sister" and are not granted a tag on admission like some sims do. Our submissives are not just 'anyone', they have graduated from the most complete submissive training path in second life." He turns and smiles to Ju, then back to the crowd..pumps my fist in the air, "Our Sisters are the truly the best!" and cheers erupt from everyone. "Our path has been historically by far the best submissive training on Second Life. This is evident in how many people copy our path. The phrase "often copied, never duplicated" comes to mind."
Walking further across the stage, smiling..."Ju, has emerged from our training path, as a strong submissive that can still give herself freely and without reservation to a Dominant." He turns, and says "Please continue, Xanadu."
"Yes Maître Thomas and thank you for your kind and encouraging words." She turns and smiles to Venna...."Venna would you please welcome everyone on behalf of the House of Samois."
House of Samois Welcome - Venna Althouse
Gives a smile to Xanadu and stands to give the House of Samois Welcome to those attending and to the lovely Sister graduating today. "Thank you Xanadu".
Ju follows Venna's path, appreciating her beauty as she steps forward.
With a shake of the paper holding my speech, I look to my right and smile to Ju. A smile filled with encouragement and congratulations before looking to those on stage and then turning to the audience. "Thank you Xanadu and welcome Maitres, Maitresses, Masters, Mistresses, Sirs Misses, sisters, Demoiselles and Debutantes. Each time I stand here to give this welcome on behalf of the House of Samois, the more I am honoured and proud to do so. As I look out upon a sea of faces and see so many lovely Submissive's who have already reached this point in their paths thereby adding to the great Sisterhood of Samois. I am humbled that I stand here before you all ".
Smiles down at everyone, "To become a sister of Roisy Val d' Oise we as Submissives travel a path that many have travelled before us. It is not an easy path to follow, and it can be as long or as short as our other lives (rl does tend to get in the way sometimes) can make it". and Ju smiles thoughtfully as she listens to Venna's words, and squirms against the cushion again
" It can be filled with twists and turns, mountains and valleys and great big rivers that seem impossible to cross. But we do it. Why?" And she looks at everybody again. "Because we are submissive's and our Goal is to become a Sister of Roissy Val d'Oise..... or even .... Turns and smiles to Xanadu.....'O. On her journey, a submissive works to bring out all the qualities required to become a Sister. Qualities that are there, but may have been deep within her and hidden for a long time. Obedience. But also of giving her service unstintingly to all the Dominants of Roissy Val d'Oise even when it is difficult to do so. Although our paths have not crossed a great deal I know that Ju has been one such Submissive. Working hard and diligently on her path to finally reach her goal. She wore Rollers skates to do so on one part of her path, but as you can see she traversed it unscathed".
[23:20] Ju (juelle Robbiani): /me lifts up a little straighter." Whispers to the Audience...! "Me thinks she wore lots of padding" chuckles. and looks to Ju, with a number of smiles in response. "Throughout her journey Ju has remained a strong, witty, pleasurable submissive whom I know will continue to please, share her service and add her strong creative spirit to the house of Samois".
Ju smiles and winks back, then focuses on Dex, lips curled, cheeks flushed.
"Long years spent in Gor taught Ju many things that has helped her to find her way in Roissy and here, Roissy has helped her to continue to learn and grow and to experience her submission that for her has always been real. As a sister she will continue to grow and learn and to be active and participate within Samois as her other sisters do, serving our Wonderful Dominants as well as being a guide and mentor to those who come to take up the Submissive journey here at Roisy Val d'Oise. Once again, my heart sings for the beautiful , submissive who kneels before us, and who joins the growing bouquet that fills Roissy Community with beauty, elegance, Grace and enduring submission. Let us congratulate her on all her hard work and future endeavours as she joins the 'Sisterhood' " and Ju mouths a 'thank you' towards Venna, eyes glittering. "Well done and congratulations Ju you have done it". Smiles to her and turns to the gathered dignitaries on stage smiling. "Thank you once more for allowing me to be a part of this wonderful community". and Venna returns to her cushion and kneels tucking the paper underneath so it wont blow away.
"Thank you Venna for your gracious welcome from the House of Samois and your encouraging words to Ju. Maitresse Ayita, will you please speak in support of Ju and let us know your recommendation?"
Ju takes a little breath, heart skipping a few beats as she looks to Maitresse Ayita.
Recommending Dominant - Maitresse Ayita
Ayita slides to her feet, wandering toward the middle of the stage and giving Ju's blond locks a playful tug en route. "Hello everyone, always a treat to see many gathered in celebration of one of our members."
The submissive releases that held breath at the hair tug... watching her step forward, and Ayita taps a finger against her lips, clearly thinking for a moment. "Well, ok so I didn't actually know Ju very well at all when she approached me for her final. They say opposites attract, and in this case they certainly did! What to say about Ju's final. Well, it certainly was eventful! It took us a while, a month in fact, of back and forward roleplay fun before we hit the climax so to speak. I mean, just ask Xanadu the poor woman took weeks to read the logs .. and for that I thank you Ms. O," shoots her a smile, and Xanadu grins, while Ju gives Xana an apologetic look.
"Ju worked incredibly hard to be pleasing, though I am fairly certain there were moments she wanted to claw my eyes out. Week one, she was instructed to dress in layers and take daily pictures of herself. The next week she was instructed to serve anyone and everyone whilst keeping her sex appeal under control. No sex was permitted either, and she had to complete chores and drink serves like any other deb." She grins at Ju, "Just for a bit more fun, the following week saw her cleaning every room of the chateau and of course, she sent pictures! Naughty half dressed pictures of her in a teeny tiny maid costume. Finally though, we made it to the final test where she was teased and taunted mercilessly. I have not done many finals, but I can say that I was astounded by her willingness to extend the roleplay to the length and depths it ended up. She never complained, and I found her to be extremely pleasing and willing to learn more about herself, submission and what that could mean to her. I truly hope that she will offer me more chances to spend time with her in the future, as I have no doubt she has depths that I long to learn more of." The Maitresse raises her voice loud and clear across the large audience, "I whole heartedly recommend Ju to the role of Sister." Grins at Ju, bending to place the sweetest of kisses on her lips along with a playful nip before heading back to her chair.
Ju's heart skips a quick beat, following her with her eyes, lips tingling from the warmth of the kiss. Blush warm and remaining. A squirm into the cushion, her eyes avoiding the crowd.
"Thank you Maitresse Ayita for your wonderful recommendation." and Xanadu,turns to "Sister Emma please add your thoughts on the training of Demoiselle Ju as her Mentoring Sister " ..... smiles warmly to Emma"
Mentoring Sister
Emma Rose Shaw stands up "thank you Xanadu", taking her normal deep breath and holding it for a few seconds before letting it out. "Welcome Maitres/Maitresses, Masters/Mistresses, Sirs/Misses, Sisters, Demoiselles, Debutantes and Visitors. I am so happy to be here to speak on behave of my lovely mentee Ju. " Turns and blows her a kiss "By the way Ju, you look beautiful." then twirls slowly back to the audience.
"I've done a few of these speeches, now, you would think that they get easier." smiles to everyone. When Xanadu told me that I would be Ju's mentor, I was ecstatic. Ju and I had spoken a few times and she was so enchanting and intelligent. Her personality was as large as Mt. Everest. I remember it was one of our own dominants that introduced us and that was the beginning of our friendship." takes another breath letting it out slowly, closing her eyes for a moment before looking over her shoulder to Ju and winking before she continues. "I could use a lot of colorful words to describe Ju, but if any of you know her, you will know that she is intelligent, gracious, humble and most of all, a true friend. I really mean it when I say that it humbles me that she allows me to be her friend. There were times, through her time here, that I was not sure who was mentor or mentee. Ju has been there for me when I have been at my worse and my best." Ignoring everyone else for a few seconds, she turns to Ju. "Ju thank you from the bottom of my heart and soul for giving me your shoulder so many times. I am not sure who guided who on our journey during your path. I truly mean this when I say, you are one of the most honest woman I have ever had the privilege of knowing. You hold your friends so closely to your heart and you never say no to them. Thank you." and Ju takes the opportunity to blow a kiss right back to Emma now.
Emma turns back to everyone. "Ju presented her workshop on "Humiliation" on 3/21/2017. She executed with a strong force of knowledge of the subject. It was well written and definitely not boring. Wow, her sister event, 'Rockin n Rollin in the 80s' on 4/19/2017, was amazing. Not sure if you are all aware of this but she did that build herself from top to bottom. Personally, I was in awe, as a builder myself, of her skills. The crowd that attended were dancing and roller skating to the sounds of that era, it was a thrilling success and a tribute to her skills. Ju, congratulations for reaching this point in your journey and believe me when I say it doesn't stop here. I know that you will continue to grow here, as a sister of Roissy VdO, and you will be gracious and stay the person you are. Maitre Thomas and all, I highly, and with great love and enthusiasm, recommended Ju to be a Sister." and blows Ju another kiss as she turns wiping her cheek kneeling down slowly, with Ju sighing softly, taking the kiss that had been offered, and blinking away adoration and emotion for Emma, gives her a smile back.
Xanadu smiled to Emma .. "Thank you for your recommendation as her Mentoring Sister . Maitre Thomas, you have heard the recommendations of Maitresse Ayita and the warm support given to that recommendation of her mentoring Sister Emma. I respectfully invite you to confer to Demoiselle Ju the title and the ring of Sisterhood?"

The Conferment - Maitre Thomas
Thomas sits back in my chair thinking and reflects on the comments and recommendations offered today before confirming and takes a breath as he reflects, and releases it with a smile at Xana, then smiles to the group and says, "I am impressed by all the honest and genuine commendations." Then indicates to Xanadu to continue with the proceedings with a nod.
Seeing his gesture.. " Demoiselle Ju, Please come forward and kneel before Maitre Thomas."
She smiles towards them, "Thank you, Xanu." and rises up, palms lowering as she stands to move where indicated, kneeling quietly down at the Superviseur's feet, eyes lifting to Maitre Thomas, still flushed pink in blush.
The Maitre sees the pink blush and wonders what Ayita did to this one, and smiles with a wink to Ayita and Ju, recalling all of their supportive words. He reaches into his pocket searching for the piece of neatly folded stationary, where I have taken notes on different occasions along her journey. Smiles looking toward all the Debutantes and Demoiselles and says, " Notes, and memories never forgotten."
He begins to speak; "You see here before you .... a submissive woman, one that has honored her path. She was accepted into the house of Samois as a Debutante September 17, 2016. She then progressed quickly and moved on to the time of her Initiation on November 3, 2016. She served and was opened by the Dominants of the Chateau Roissy Val D' Oise and became known as Demoiselle Ju. Her journey continued as she traveled along wanting to learn and absorb knowledge. On March 21, 2017, Ju presented an amazing workshop on "Humiliation Good and Bad". This sparked the interest of many. She continued along next with her well planned Sister Event as she presented the amazing dance party "Rockin & Rollin: 1980s style" on April 19, 2017. " I never thought I needed parachute pants again. Her Final task was a test of her Submission based upon her strengths and weaknesses. The House of Samois received a notice of recommendation from Maitresse Ayita that all was completed and she was worthy of Sisterhood. Today she has knelt before us on Saturday June 24, 2017, to receive what she had committed herself too, the giving of her submission, today she will have bestowed upon her the VDO ring and title of Sister."
He smiles to the ones in the crowd that have not yet graduated yet, "Let Ju's example of dedication be your inspiration to be up here just as she is today." and slips my hand in my suit pocket, rummaging around, pushing my 300ZX keys aside and with a confident smile he finds the ring. As he inspects it closely seeing the gleaming golden ring sparkle and places it onto Demoiselle Ju's finger crouching forward as he speaks softly to her, "Congratulations Ju you will inspire many."
Hand trembles a little, small hand offered up and taken, brow lifting curiously as he searches his pockets. Shifting in the kneel, feeling the softness of the cushion beneath her, heart racing. Smiling to the ring, and to Thomas at the whisper, blue eyes shimmer. "Thank you very much, Maitre Thomas."
He sits back... So very proud, turning to Xanadu, "please Xanadu, give our newest Sister her rightful tag and let's welcome her into our Sisterhood here at Roissy Val d'Oise"
Confering the Title - Xanadu Xue
Ju smiles appreciatively towards the ring, and looks between Thomas and Xana, rather grateful she is looking at much fewer people currently, breath steadying as she listens to the Adjointe de Samois.
Xanadu smiles to our kneeling Ju as she stood " yes Maitre" then looks round towards the assembled guests drawing their attention. "To become a Sister of Roissy Val d' Oise a submissive has to have many qualities, some are as follows: To be Trustworthy, Graceful, Loyal, Humble, Obedient, Enduring, Patient ..... and remain submissive no matter how hard that may be...."smiles to her .. "You have shown these qualities. Demoiselle Ju.....No more will you carry that title........Cast it aside and wear this one that I give you at this time...... "
At this point, all the jubliant people in the crowd cheer for Ju loudly.
"Wear the mark of Sisterhood with pride as you go out to a new and exciting future in Roissy Val d'Oise. I remind you to always serve with passion and fire .. and always from your heart. Sister Ju....." Congratulations Sister Ju and welcome our honored Roissy Val d'Oise Sisterhood . "Sister Ju, please stand and take a moment to speak to all your friends assembled here today."
Sister Speech
Pressing up, Ju begins, "Thank you Maitre, Maitresse, Xanu, Venna and Em." turning to face those gathered. "I thought maybe i could escape a speech and in proper ju fashion just run off." chuckles, "But then I started to prepare it, and it turned wordy, which I suppose is also ju fashion.
"Thank you everyone for coming to this ceremony today. It means a lot to see your faces out there, even though it's also making me incredibly anxious. Speeches are not my forte. Especially when not blindfolded and half naked...." takes a slow breath to calm. I have taken my sweet time getting here, not including the deb path that was so rushed it was a blur of anxiety and impatience." takes another, calmer breath. "My journey to this new beginning has had a few twists.... maybe more than a few. I came here with reluctance as a courtesan deb, perhaps there was a few band during that time i found the strength to remove the previous collar i wore, and because of the friendships and connections I had made, I also continued to return here, and stop running so much.... and eventually committed to this family and community fully.. A few of you helped me to stop running." smiles
"When it came time, I struggled with the decision on what would happen with my final, as I really wanted to challenge my limits, and 'conquer' some fears. I assumed in choosing the recommended Maitresse Ayita that I would be met with a challenge, and it would be like ripping a bandaid off. Quick and efficient at getting the task I wanted while proving to others, and to myself I could do it. I think she may have sensed that." gives her a quick little grin. "Uh... so... the saying that goes about assumptions never fails to confirm. I think my words to Emma were that I had just fallen down the rabbit hole. The finals were not only lessons in serving all the dominants of Roissy in ways that were desired, but also lessons in how far beyond my limitations I am capable of going. And how rewarding surrender is when I do not run. More than one limit was tested during those three weeks, and I shocked myself in discovering my desire to serve and please trumps my fears. I am so very grateful not only for the lessons from the amazing Maitresse Ayita, and the friendship and desire to please her that has become an extension of that. But for making it something that I will carry forward now forever. Thank you Maitresse." smiles softly towards her" and Ayita returns the smile, inclining her head in acknowledgment, knowing what she said was true for her also
"I also want to thank Xana," Eyes shift to her, "Who I have known a long time, and though we may differ in our ways of thinking is a wonderful person, submissive, and friend. She keeps things in line here, and she does it with a steadiness and patience." takes a little breath. "Thank you Xanadu, for all you do, and Xanadu smiles to her "my pleasure"
"Emma," smiles towards her, "I cannot say much more than I sincerely am so grateful, and look forward to many more adventures our friendship will take me on. You were the best thing I could have expected from my first days here, and definitely my kindred spirit. Thank you... I will simply say... I love you." and Emma looks up smiling to her whispers "love you too"
"Those that know me know how much I value my friendships, and I will always consider the relationships that I've built on honesty here like my family. That said, I've learned a lot here, and I have had to let some connections go during my time here, and have done so with peace and support from others. I am so very grateful for those who have helped support me through both good and bad that I've had." blinks away the emotion, looking to those people with a full heart. And giggles at Emma's love word. I have built connections that I have no doubt will carry forward in my life, both in this immersive environment here and with the real me. Those that have gotten to know me, or given me the pleasure of kneeling to them, I hope know how much I have valued those times, and am grateful for the experiences and connections that have taught me so much. So no matter what happens in the future, I thank you for acceptance, kindness, and guidance."
As the cheers erupt again, Ju smiles gratefully, and Maitre Thomas offers champagne, while a dance for her follows.
Blue Ronsein, Roissy Journaliste
Dexter Howley, Photographer
Additional Photography by Xanadu Xue, Roissy Photographer