Mira Sister Graduation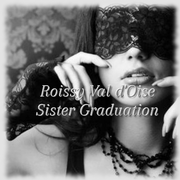 June 24, 2016
Jaymelie smiles warmly at Mira, knowing this is the last act as her Mentor, reaching out and unhooking the bra part of her lovely dress, and sliding it off her, mouthing to her discretely *just breathe, smiling wide.
Mira smiles at Jay as she gently removes her top, watching how Jay tucks it into her pocket. She must remember where to find it after the graduation.
On the stage, Gillian stands and says, "Sister Jaymelie please bring forward Demoiselle Mira and place her on the cushion to the left of the stage as you approach"..smiles warmly at both girls.
" Yes Gillian," says Jaymelie.
Mira smiles warmly at Jay as she removes the leash and kneels down on the cushion. Gillian smiles at MIra, gives her a wink, to which Mira smiles back to Gillian grateful for her reassurance.
"Maitres, honored guests, welcome all to this joyous event," Gillian announces, "for today we come together to witness the Graduation of Demoiselle Mira, who will join the exclusive ranks of the Roissy Val d'Oise Sisterhood.
"It is with some sadness that we bid farewell to this Demoiselle as she leaves her path and joins the ranks of Sisters. Her path does not end here it is ever evolving. As a sister she will continue to be active within Samois, serve as mentor and guide to the Demoiselles and Debutantes and continue to serve the Dominants of Roissy." Gillian smiles warmly at Mira.. who beams back.
The Sister Graduation for Mira begins... the following are the words spoken on her behalf.
"Maitre Jonathon would you please welcome E/everyone"
Jonathon Carbenell rose gracefully from his chair to stand up before everyone coughing to clear his voice and looked out over the crowd, "Honored Members of our great community, the Prestigious Maitres, Masters, Dominants, and Interns. Our lovely gathering of submissives, Sisters, Demoiselles, and Debutants. Finally, to all of our Famille members and fellow guests who have all gathered today to witness the Graduation of the Lovely Demoiselle Mira, as she leaves her path and joins the ranks of Sisterhood. Her journey however is not ending, it is ever evolving.
As a sister, she will continue to be an active participant within Samios, serving our collection of Great Dominants, as well as serving as a guide and mentor to the Debutantes and Demoiselles who are making their own journey on their own personal paths.
Today we gather to witness a special moment for Mira. We come together as a community to celebrate her tremendous accomplishments she has completed and great milestone. It is always a great pleasure to see all of us gathered together in support of any of our community patrons or for any of our events which we have happening here at Val d'Oise. Today is not only the confirmation of the great accomplishments of one of our finest submissives, but also a celebration. " he turns and smiles towards Mira, she looks up at him as a bright smile lightens my face
"It is really incredible pleasure to watch each and every one of our submissives who come to us and start their journey as Debutantes, stay with us throughout their paths and finally blossom and grow into beautiful Sisters. As they grow in their submission to the community, they contribute to us all as individuals. The path of a submissive is not an easy path to follow. It contains many challenges and hurdles which must be faced. It makes each and every girl look deep inside themselves to see just what is in there.
"If it was an easy path to follow, everyone would be doing it. Our submissives here at Val d'Oise are not just 'anyone', they are special. They are, as we like to say, 'a cut above.' Today we gather together, to celebrate one of our finest in reaching her goal of becoming a sister. So with that said, let is all sit back and let this girl have her special day. Again, thank you everyone for being here. "
"Xan would you please welcome E/everyone on behalf of the House of Samois"
Thank you Gi, Maitre Taylor , Distinguished Members on the stage and those present in the audience. It is indeed my pleasure to represent the House of Samois as i welcome everyone. Today we celebrate the accomplishments Demoiselle Mira has made on her path to becoming a Roissy Val D'Oise Honored Sister.... I say honored .. as each submissive must work to obtain this as level in her path .. as it is not given freely.
Unfortunately due to our different times we haven't fully had the opportunity to spend a lot of time to get to know each other .. as i would have liked .. I will say to my knowledge she is very detail orientated and has a strong mind set .. which i admire .. and ... as we witnessed not only in her " Jealousy in a Polyamorous Environment" work shop but also in her presentation of "A new story of O - on the background of 1001 nights" Sisters event .. enabling us to see the story in a new vision .
In my opinion Mira has been responsive to all .. both through her submission and her commitment to Roissy VdO. I seriously cant think of any time i have asked for her assistance that she has not been eager to assist.. and for that i thank you Mira.
Many of us on the Dominant and submissive paths do experience times where we slow and question why we are here .. but in the end we open our minds .. learn and then move forward finally to obtain the acknowledgment.. of a path well traveled.
We thank every one for supporting Roissy Val D'Oise with your presence .. as we celebrate these memories shared on Mira's Special Day ... We invite every one to join us in the Ballroom as Sister Sadie Djs playing your favorites in honor of our newest Sister Mira .. following the ceremony ."

"Maitre Taylor please share with us your thoughts and recommendations of Demoiselle Mira"
Taylor Smitty leans to his left and sets his bourbon and water on the stage floor next to the chair leg. He stands, straightening his coat tail, takes a deep breath and moves toward Mira.
"I have the honor of speaking to you all today about Mira and give my recommendation as to whether" he looks over to Mira, "or not," he grins pausing, "she should join the ranks of Roissy Val du Oise Sisters."
Mira notices his grin after her heart skipped a beat
" I met Mira several months ago and have kept an eye on her growth as I do many girls. While her growth as a submissive has been evident, she has remained consistent and true to the type of person she is. We all see individuals that sometimes put their best foot forward in the beginning of a relationship, putting on heirs if you will, but not Mira.
Mira, throughout her path has simply remained Mira. I say that is an admirable trait.
I spoke with Jaymelie, her Mentor, about this girl and we both agree she is a girl that is honest and true. She also has a big heart, is intelligent, focused and loyal." He bends down placing his fingers under her chin forcing her to look up at him, "And she is kinda hot too."
Mira's breath quickens, blushing all over as I look at him with a steady gaze feeling his fingers lifting my chin
"Mira offered me the honor to work with her as her Maitre for the Sister Final. I accepted. We planned the time frame, discussed specifics and what I expected from her using the outline created by Gillian that was drawn up from her strengths and weaknesses."
"It would be very inappropriate for me to speak publicly about what transpired during the time we spent together, but Mira was pushed, and I mean pushed hard, both publicly and privately. She never wavered outwardly. We explored new kinks, she was not only accepting but immersed herself fully. We hear the term "serve" very often in BDSM, well, Mira lived it in the hours we shared. She served and gave of her body, mind and heart in a fashion that I would wish for all our submissives."
"Mira can think on her feet yet remain totally obedient. She is strong yet feminine. She will have no problem in striking that delicate balance between serving our Dominants and mentoring our girls. She is exactly what we want from a sister submissive in our community.
Mira places her hand on that spot where she can feel her heart pounding while listening to his words -- not only well formulated, but also heartfelt
"Members of the admin staff, Dominants, submissives, famille members, "This girl," he points downward to the blond haired girl to his right while still looking out to the audience, "I say again, this one is exactly what we want in a Sister submissive, loyal, intelligent, obedient, what more could we ask for."

"Sister Jaymelie please share with us your thoughts on Demoiselle MIra"
Jaymelie nods and gets on her feet, inhales, smiling down at Mira.....
"Dearest Mira... My cinderella... Today is your day - and I am so proud to stand here, to congratulate you and see you recieving the tag you have earned.
Mira swallows, but smiles bravely to her beloved friend
Jaymelie looks out over the crowd.... "You know when you open your chat history.... You can learn much about a relationship with a person....." Smiles softly, looking down at my paper to the get numbers right. I first met Mira in early November 2015..... The date isnt clear as we spoke in local chat the first few times.... But we friended on the 11th, and since then it has added up to.... 236 pages of chit chat in our IM's"
Mira gasps hearing the number of pages
"(actually that number has changed to 243 since I wrote the speech!!) I think that speaks volumes in itself of the friendship we have grown since that first time we met I was the one that brought you to VdO the first time - gave you a tour. I knew you were a Kajira - So I had no expectations of you applying... But I wanted to show you my home... Where I came from, and the place that had taught me so much.
To my big surprise and joy, you applied, and I was so lucky to be your mentor! From the very start, you went to the tasks at hand with great eager, dedication and an optimism... I know many dominants here will agree with me that you are a valuable submissive, pleasing - but also quick witted - a fast learner..... And so very sexy!! Am I right???"
"You have had your ups and downs.... And I know you have been close to giving up - but luckilly, you kept on.... And you have impressed us all over and over again. You are a very dedicated soul, and you showed us all just how much, especially in the way you presented your Event. I remember thinking about your Event.... It took you forever!!! And I just thought "why doesnt she just get it over with, set a date and move on with your path?"
When I finally got a date, it was 2 months away..... But.... when I realised what your plans was..... That you wanted to do something never seen before.... Ahhh.... I finally understood why you wanted to take your time, be thourough, creating something so special. Your event was one of those things that almost made you want to quit.... I know it was hard - and I myself was on the verge of break down when we suddenly needed a stand in for our leading role...
Jaymelie: smiles and takes a deep breath..... But it went so good - everyone was swept off their feet..... And you could breathe again! Anyway my dear Mira.... I love you, your german quirky ways..... you have been such a great support to me in our friendship, a daily inspiration, and I look forward to having you as my Sister here at Roissy Val D'oise as you already have been a Sister in my heart for a very long time. Congratulations!
Mira looks up and does not hide any longer that her best friend ever has moved her to tears. A wonderful warmth spreads all over her body and deep into her heart
THE CONFIRMENT OF SISTER TITLE
"Maitre Taylor, We have heard your recommendation and the warm support given to that recommendation of her sister Jaymelie. May I invite you now, to confer on Demoiselle Mira the title and the ring of Sisterhood?"
Jaymelie kneels on her cushion sending Mira a smile, her eyes misty but happy
Maitre Taylor stands, looking over the crowd, "Rene could not be with us today, but I think from what we all have heard and by Mira's dedication, Gillian we should proceed."
Thank you Maitre Taylor. Demoiselle Mira, come forward please and kneel before Maitre Taylor"
[09:38] Mira (tahamira) stands up slowly, legs trembling but she manages the few steps over to Maitre Taylor where she kneels down in a submissive position, that is so natural to her.
Maitre Taylor looks at the Demoiselle before me then along the platform. Recalling all of their supportive words as we often do. I look out towards the gathered community, friends and family feeling very proud to be a part of this wonderful famille of Roissy Val d' Oise.
"I didn't have time to gather all the specifics of Mira's accomplishments as Rene usually does, but I feel that you all get a feel from myself, Xanadu and Jaymelie, that Mira is very deserving of this, "he begins to fumble though his coat pocket, then turns to Gilli holding out his hand, "Gilli, I hope you have the ring."
Gillian fumbles in my skirts searching for the secret pocket sewn into the lining...gives a sigh of relief as my fingers close over the cold metal ring..draws my hand out and passes it to Maitre Taylor, "Here it is Maitre Taylor"..smiles
Maitre Taylor takes is from Gilli, while unfolding a small piece of paper, "Somebody did their homework and slipped this into my jacket pocket." He reads: "Demoiselle Mira was accepted into the House of Samois on the 22nd Novemer 2015 . She progressed and moved on to the time of her initiation on the 27th December 2015 where she served and was opened by the Dominates of the Chateau and became known as Demoiselle Mira."
Mira presented her workshop Jealousy in a Polyamorous Environment on the 30th March 2015.
[09:48] Taylor Smitty (taylorsmitty): Her event Story of O in the background of 1001 nights , was well planned and despite a few dramas very well presented and one of the best events so far ...smiles at Mira.
She smiles brightly admiring Maitre's accurate notes
He reads word for word "Her final task was given to her based on her strengths and weaknesses. After receiving a notice of recommendation from Maitre Taylor'" He points to himself "Thats me......." that all was completed and she was worthy of Sisterhood."
Now today she kneels before us to receive what she had committed herself to, the giving of her submission and her servitude to the Dominates of Chateau Roissy Val d' Oise, today she is awarded the VDO ring and title of Sister. You have heard about her journey that brings her here today, her day. Her commitment that has brought her here is a true inspiration for those who still have to complete their journey.
He takes Demoiselles Mira's hand.
Today is your day Mira, you have reached the stars that you once only saw as a faraway twinkle.
Mira places her trembling hand into his, glad he holds it tightly, eyes sparkle with deep joy
Maitre Taylor smiles, as I inspect the gleaming golden ring as it sparkles and shines, like the submissive before me as I crouch forward as I speak softly to her "Congratulations Mira", as I slip the ring upon her finger.
She holds up her hand, admiring how the ring sparkles in the sunlight. She is so incredible proud now!
Maitre Taylor turns to Gillian, "Gillian, enroll Mira as a Sister and let her show off her new tag."
Gillian smiles at Maitre Taylor, "it will be my pleasure Matire Taylor"..rises to my feet. She smiles at Mira with pride shining in my eyes, then looks round at the assembled guests drawing their attention.
To become a sister of Roissy Val d' Oise a submissive has to have many qualities, some are as follows. To be Trustworthy, Graceful, Loyal, Humble, Obedient, Enduring, and Patient. ........and remain submissive no matter how hard that may be......... You have shown these qualities Mira.
Demoiselle Mira .... No more will you carry this title. Cast it aside and wear the one that i give you now...... Wear the mark of Sisterhood with pride as you go out to a new and exciting future in Roissy Val d'Oise. Always serve with passion and fire. Sister Mira .....congratulations ! leand down and hugs you tightly
---
[10:00] χ????? (xanadu.xue): Congratulations Sister Mira
[10:01] Sophie Stormwalker (sophiestormwalker): yay Mira :)
[10:01] Sadie (sadiejonessmith): Congratulations Sister Mira
[10:01] MissDiana Exonar: COngratulations Mira ?
[10:01] Hantur: Congratulations for Sisterhood, Mira
[10:01] MissDiana Exonar: ?
[10:01] fae de Smitty (facaade): Congratulations Mira , well done :)
[10:01] ???z????? (suzettemeatgirl): Yay Sister Mira Congratulations
[10:01] leilani Kane (leilani.wardark): Congratulations Sister Mira
[10:01] Llarik (llarik.quinnell): loudly slaps his right hand against his chest. in applause "Ahleen Kajira"
[10:01] Chip Althouse: Congratulations to you, Mira!
[10:01] Em (em.belfire): congrats Mira
[10:01] PattyJ McMillan: Congrats Mira !!
[10:01] freelanderII: Congrats Mira!!
[10:01] Juliette (surrealdreaming): Congratulations Sister MIRA!!!! WOOT!
[10:01] Hana (callalillieblack): Congratulations Sister Mira!!
[10:01] Jonathon Carbenell nods "Congradulations to you Mira, well earned and well done."
[10:01] Gavain: look at her title and smile
[10:01] Raevene: Congratulations Mira!!
[10:01] sý? (meandust): congratulatiosn Mira ;)
[10:01] Sweet (sweetbabyblues): Congratulations Sister Mira
[10:01] Mitia Messmer . AMM Design (mitia.messmer) claps his hand. congratulation Mira!
[10:01] Harley Wytchwood: Congratulations Mira!
[10:01] Mira (tahamira) closes her eyes has she hears all the congratulations and feels like drunk
[10:01] Wile Drezelan (wiledrezelan): Congratulations Sister Mira
[10:01] ori (orianevillette): Congratulations, Sister Mira!
[10:01] Amazon Lily (nuttylolo): Congratulations my Daisy ^_^
*photos courtesy of Juliette