Norma's Sister Graduation-2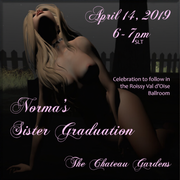 "To our Submissives, we personally thank each of you for your continued support. Please, remember we never have to pursue anything here by ourselves for we are a team. Each of you are special to me and above all very important to the success of VdO." Xanadu stated.
"Many of our Members do things for the community and I'd like to say thank you to a few: Sana, for setting up for the graduations, Julie, for decorating the Ballroom, and Sadie, for setting the music for our various ceremonies," Xanadu said with a smile. "I again ask you to consider what you would like to do in our community and speak to either Maitre Thomas or myself. YOU are what makes Roissy work."
"In closing, please, remember to hold high the principals of Roissy ValD'Oise that Maitre Rene has provided. We have the Best of the Best here. Positive support offered to each other will only insure to reinforce our strength and continued growth, proving once again, 'We are Family'." Xanadu concluded, "If there is anything you wish to share or offer the sim, please, let Maitre Rene know by dropping a notecard in his Red mail box out side his office. Please, remember to check our website so you will stay up to date on all the happenings of VdO http://www.roissy-vdo.com/ "

T O A S T & D I S M i S S A L
"Maitre Thomas," said Xanadu, "That concludes the graduation ceremony. The House of Samois is proud to see another of its Demoiselles taking her place in the wider Roissy community under your direction. I respectfully invite you to please close the proceedings witnessed by those present today."
"Thank you, Xanadu. It's my pleasure," said Maitre Thomas.
"Do we have enough champagne, Thomas?" asked Maitre Chip.
Maitre Thomas poured a flute full while Norma watched. "I reckon so, Chip. I ordered extra." He handed the newest Sister a flute full of the best Champagne we have.
Norma took the glass offered and raised it to meet Maitre Thomas' glass with a softly spoken, "Thank you, Maitre."
Maitre Thomas clinked the glass with hers, "Congratulations, Norma..I mean Norma this time."
Norma grinned at the joke and tooka sip of her drink.
Maitre Thomas raised his glass to the crowd and invited, "Come, everyone, and raise your glass with me in congratulating and welcoming her into sisterhood here at Roissy Val d'Oise."
The crowd erupted with congratulations and applause for Roissy's newest Sister, Norma.
Completely overwhelmed, Norma said, "I can't thank you all enough!"
Once the cheering died down, Maitre Thomas said, "I thank you for sharing in your time and showing support today as Norma became a Sister of VdO. The closer we bond the stronger we become. No matter what obstacles or challenges we face, if we face them together, we have the strength to succeed." He downed the flute, and pumped his hand for Norma. "Please, join us in the Ballroom for Sister Norma's Graduation party with Lark singing for us, for a celebration dance immediately following."