Rosa's Sister Graduation-2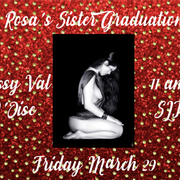 Continued from "Rosa's Sister Graduation-1"
corating the Ballroom today in red for Rosa, Sadie for setting the music for our various ceremonies and also Blue for her work on the website where people get a peek into what Roissy VdO is about."
Xanadu invited, "I would ask for y'all to please consider what you would like to do in our community to help make Roissy even better. Speak to either Maitre Thomas or myself, and please know, y'all are what makes Roissy work. If there is anything you wish to share or offer the sim, please let Maitre Rene know by dropping a note card in the Red mail box outside his office. Please, remember to check our website so you will stay up to date on all the happenings of VdO http://www.roissy-vdo.com/ "

"In closing, please remember, hold high the principals of Roissy ValD'Oise that Maitre Rene has provided. We have the Best of the Best here, and with positive support offered to each other, will only insure to reinforce our strength and continued growth, proving once again 'We are Family'." Xanadu reminded everyone.
Xanadu concluded by saying, "Maitre Thomas, that concludes the graduation ceremony. The House of Samois is proud to see another of it's Demoiselles taking her place in the wider Roissy community under your direction. I respectfully invite you to please close the proceedings witnessed by those present today."

T O A S T & D I S M i S S A L
"Thank you, Xanadu, for a well orchestrated ceremony and wonderful experience for us all," Maitre Thomas stood and opened the Dom Perignon, watching it spray a little on the carpet.
Maitre Thomas raised his glass and spoke, "Come, everyone, and raise your glass with me in congratulating and welcoming Rosa into the sisterhood here at Roissy Val d'Oise."
Rosa smiled at Maitre Thomas when he handed her a glass. Clinking her glass, Maitre Thomas said, "Rosa, congratulations and thank you for your dedication."
Those on the stage were the first to raise their glasses in toasts for the new Sister, Rosa. "To Rosa!" the cheers and congratulations followed, accompanied by the sound of clinking glasses.
When things quieted down, Maitre Thomas concluded the ceremony. "I thank you for sharing your time and showing support today as Rosa became a Sister of VdO. The closer we bond, the stronger we become. No matter what obstacles or challenges we face, if we face them together, we have the strength to succeed, if we respect each other and work together as a community. Please join us in the Ballroom for Sister Rosa's Graduation party with vocalist Miss Rose."