Sadie Sister Graduation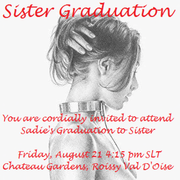 August 21, 2015
Somehow, the hypnotic Pierre Bachelet melodies in "The Story of O" began evoking in those assembled, the soft, misty images of her days in 1950s Paris, and especially her training in the Chateau. In the moonlight that graced the entrance to the Chateau Garden, personifying O's beautiful transformation, stands the lovely Sadie Jones Smith -- about to wear the ring of Sisterhood at Roissy Val d'Oise.
Xanadu speaks first. "Sister Gillian please bring forward Demoiselle Sadie and place her on the cushion to the left of the stage as you approach" ..smiles warmly at both girls and turns to Sadie.. leans forward and kisses her cheek.. "so proud of you .." She reaches behind Sadie and unclasps her lacey bra, removing it.
Sadie feels the cool breezes of Roissy upon her breasts as her coverings are removed and feels the excitement build within as she takes a deep breath, looks around her, and follows Gillian.
Xanadu smiles as she watched
Gillian smiles at Sadie and leads her to her cushion, "Maitre Rene, Honored guests, welcome all to this joyous event, for today we come together to witness the Graduation of Demoiselle Sadie, who will join the exclusive ranks of the Roissy Val d'Oise Sisterhood. It is with some sadness that we bid farewell to this Demoiselle as she leaves her path and joins the ranks of Sisters. Her path does not end here it is ever evolving. As a sister she will continue to be active within Samois, serve as mentor and guide to the Demoiselles and Debutantes. Maitre Marcus would you please welcome E/everyone?"
Marcus BlueSky stands and smiles proudly seeing Sadie knelt in submission, takes his place on the platform and scans the gathering with a welcoming glance, clears my throat, wishing I had a Dalmore.
"Honored Members and Guests, your presence here supporting Sadie in her graduation means the world to her I know, and to all of us who watched her grow in her submission through her path here.
"Today is a very special day for her as she graduates from Demoiselle to Sister, a significant milestone indeed. But I enjoyed answering each one and helping her on her path as she tackled it with enthusiasm and open arms, determined to overcome any difficulties standing in her way. I remember first meeting her when she came to me with an issue that was troubling her. I found her to be very smart, respectful and open to suggestions and guidance. I never knew anyone who could ask so many questions!" Sadie has proven herself worthy for this title through many acts of service, submission and self growth. It has not come without its share of pain and turmoil. But in the end she succeeded and conquered all obstacles and has earned the privilege to sit on this platform and be honored today.
"We call graduation from college commencement, to signify a beginning of the next part of their journey. Becoming a sister is also a commencement, as our learning on the D/s path never ends for any of us, but continues to grow and flourish."
Marcus turns to address my friend Rene "It is with the greatest of pride and enthusiasm that i recommend Sadie to this esteemed group of submissives, the Sisterhood of Roissy Val d'Oise."
Sadie smiles "Thank you Maitre."
Gillian: "Thank you Maitre Marcus for those kind and insightful words." She turns and smiles at Xan...."Xan would you please welcome E/everyone on behalf of the House of Samois?"
Xanadu responds, rising from the cushion ,"Thank you Gi" .. then turned facing those on the stage .. then turned to face the audience, "Maitre Rene, Distinguished Members on the stage and those present in the audience.
"Sadie and i met in April of this year .. i immediately noticed her desire to help in the community as she started djing and participating very quickly . It was very apparent that she would be and has become be a true asset to the community.
"It is indeed my pleasure to represent the House of Samois as i welcome everyone. Today we celebrate the accomplishments of Demoiselle Sadie has made on her path to becoming a Roissy Val D'Oise Honored Sister.... i say 'Honored'.. as each submissive must work to obtain this as level in her path .. as it is not given freely. Many of us on the Dominant and submissive paths do experience times where we slow and question why we are here .. but in the end we open our minds .. learn and then move forward finally to obtain the acknowledgment.. of a path well traveled. We thank every one for supporting Roissy Val D'Oise with your presence .. as we celebrate these memories shared on Sadie's Special Day ... At 7 Pm this evening we invite you to join us as Miss Khiron Ametza, provides our entertainment in the Ballroom ... as we celebrate Sadie's advancement as an honored Roissy Val D'Oise Graduated Sister ..Congratulations to you my Sister Sadie" With that, Xanadu returned to her cushion and knelt
Sadie: Thank you Xan
Gillian: Thank you Xan ..smiles and turns to Maitre Brenton, "Maitre Brenton please share with us your thoughts and recommendations of Demoiselle Sadie." ...smiles
Brenton Darkwatch stands and moves next to sadie and smiles down at her, "There is a lot I would love to say about Sadie, She holds many of the attributes that we hold dear here at VDO. She is loving, caring, Obedient. She is a good friend, easy to talk to. For the time I have known her she has worked on her path not just with a goal of sisterhood in mind but a goal of serving and helping those here at VDO. meet Sadie at a dance.
"If I remember right she was actually waiting for another dom and did not really want to talk to me but still we talked and got to become friends. She was easy to talk too. That friendship is what I hold dear above anything else. We had many different talks and flirted with each other, but did not really play for a while for reasons out of both of our control. Just as we teach here in the workshops. as we get to know each other better the closer we become and the easier it is for us to know each other and to be able to form a closer bound with the Dom/sub play. That is no different for us. I have enjoyed scening with her many times doing different tasks for her dem log. I was greatly honored when she asked if I would do her final. It was a task that I threw myself into and wanted it to be the best experience for her, because in my mind that is what she deserved.
Sadie grins at that.
"I have done several of the finals here at my time and that notecard that I got for hers was the longest and most detailed I had read. It took us a good week to plan and figure out the different aspects of the final, but I have to say it was a good week and one that I feel ended with a great final log that both sadie and I can be proud of. WIth the help of Matire Hadaway and Maitre Taylor we were able to complete ever aspect of the notecard and believe me the hardest part was getting three Maitres to do a scene at the same time.
"I want all the those here to hear, that Sadie is one of the best candidates for sisterhood that I have seen. That is really saying something, as there are so many good sisters here at VDO. She has been tested in so many ways and has come out on top each time. She is an asset to to our VDO family. She has a desire to help, to serve, to bring all closer together. I look forward to see her in that role because I know that like all other things that have been assisted to her she will take it and make it great. That is a sign of a sister of VDO. That is how it should be and I know she will make all the lives our family stronger by her presence. Last I want to talk directly to Sadie. I know how much time and effort you have had to go through to get this far. You even had to put up with rping with me for a week. Believe me when I tell you that you have earned this. You are someone that I can truthfully say that is a Sister of VDO.
"You have all the talents, the mindset and even the drive to do what it takes to be a sister at Vdo. I know you will wear it with pride, but I also want you to know that it does not stop here. You are always on your path, the path just changes. You need to be here for the doms as well as for the other girls here. I am sure you will be asked to mentor and I think you will be a great mentor. Remember your path and the things you have learned when you help them on theirs. Keep Drama out of everything you do. I know you are not one to cause drama, but I just wanted to make sure that stays the same. One think to remember, it is the sisters here that keep the doms here. Myself was not going to stay here, I was not sure if it was for me, it was a sister that listened to me, helped me to understand my role here and what it meant. I was a dom then, now almost three years later I am a Matire here. It really is the sisters that have the ability to make this sim great or not so great, so please wield that power well.
"If any of you have not gotten to know this girl. Then you have missed out. Whether she is djing a dance and entertaining us or serving in the dungeon she gives her all in so many ways" he smiles at sadie then turns and sits down
Sadie smiles and wipes a happy tear
Gillian: "thank you Maitre Brenton for that wonderful recommendation." She smiles proudly at Sadie, then turns to the guests." I had the honor of interviewing Sadie when she sent in her application, one of my questions to her was..'what do you expect to get out of VdO?'-- her answer was...'Knowledge, friendship, support, a sense of belonging'"
She turns to Sadie. "Sadie you have made many friends here including myself you've progressed on your path, learned things about yourself about being a submissve, you have had support from Dominants and submissives. I hope you gained everything and more that you expected to find here."
She smiles, remembering that day. "Sadie is a warm wonderful lady , always willing to help, started djing her Wednesday name that tune events that everyone loves. She embraced everything she became involved in,hosting many events as well, always willing to lend a helping hand on the sim. Sadie you are compassionate, loyal, respectful, graceful, you tackle each task with enthusiasm and enjoyment, you will make a wonderful sister and i was honored to share your journey with you and a pleasure to be your mentoring sister. I highly recommend Sadie to Sister of Roissy Val D'Oise, she will make a wonderful Sister."
Sadie: Thanks for everything Gillian - hugs
Gillian blows her a kiss, turns to Maitre Rene, "Maitre Rene, You have heard the recommendations of Maître Brenton and the warm support given to that recommendation of me as her mentoring sister. May I invite you now, to confer on Demoiselle Sadie the title and the ring of Sisterhood?"
Rene drums his fingers on the arm rest of his chair. He looks at the Demoiselle, kneeling on the cushion to his right and considers the recommendations he has heard. He smiles.
"The recommendations given on Demoiselle Sadie's behalf are accepted."
He looks at Gillian. "Let the proceedings continue."
Gillian looks at Maitre Rene and smiles, "Demoiselle Sadie, come forward please and kneel before Maitre Rene"
Sadie silently rises and moves across the stage to kneel before.
René smiles at Demoiselle Sadie, kneeling before him.
He glances out at the gathering of the community.
"It is good to see you all here in support of this Sister Graduation. Thank you for coming."
His hand slides into a jacket pocket and pulls from it his worn leather journal, flipping it open and finding the page with SADIE written at the top.
Marcus hopes it is not his black book.
Glancing down at the page, he reads a moment then looks up.
"Sadie began her submissive path with House of Samois on February 27, 2015.
"Her journey swiftly took her to Initiation on May 4, 2015, when she was opened by our Dominants of Chateau Roissy Val d'Oise, earning her the title of Demoiselle.
"Demoiselle Sadie swiftly moved forward in her training, eager to learn, make mistakes, absorb and grow.
"She gave her Sister Workshop on June 8th, entitled 'Surviving in a Polyamorous Environment,' presenting an interesting perspective on this subject.
"July 21, 2015, a little over a month later, she gave her Sister Event: 'Name that Tune, Prime Time Edition,' a more elaborate rendition of her weekly DJ event of the same name."
He looks down at the journal one more time before snapping it shut and returning it to his jacket pocket.
"Brenton conducted Sadie's Sister Final with her, giving his recommendation for acceptance on August 6, 2015.
"Demoiselle Sadie was up for the challenge of this Final Task, a test of her strengths and weaknesses, a task that is not easy, but challenges each submissive, pushing her into the core of her surrender."
Rene looks down at Demoiselle Sadie. He smiles and gently runs his hand over the top of her head.
"Demoiselle Sadie, I am happy to say that you have proved the depth of your submission. You have shown committment on your path. You have honored me and all Dominants of our community by demonstrating loyalty, devotion to Roissy, our rules and our tradition.
"On this day of August 22, 2015, you know kneel before me eeking acceptance and the right to wear the title of Roissy Val d'Oise Sister."
He studies her face, smiles at her.
"I accept you as such."
"Thank you Maitre Rene," she replies.
He continues, "And so it will be a pleasure to bestow upon you the Val d'Oise Ring and Title of Sister."
Looking up to the audience, his fingers slip into the small vest pocket in search of the correct ring.
"You have heard about Demoiselle Sadie's journey that brings her here today, a day long awaited and hoped for.
"Her commitment that has brought her here is a true inspiration for those who still have to complete their journey."
Pausing, as he finds the ring, he smiles and pulls it from his pocket. He holds it before her eyes so she can see it. The late afternoon sunlight illuminates the gold ring.
Sadie smiles, admiring the ring.
Leaning forward, he reaches for her hand and slides the ring into place on her finger; he holds her hand in both of his and smiles at her.
"Sister Sadie, be as sparkling as the sunlight reflecting off this ring."
Sadie feels a tear run down her cheek as the ring slides onto her finger
"Be a golden light of inspiration for other submissives who come to our community in search of the same journey you've just completed.
"May you continue to grow and learn and, in doing so, nurture others along your way."
Letting go her hand, Rene turns and looks at Gillian.
"Gillian it is now time to give our newest Sister her earned Title and welcome her into the Sisterhood of Roissy Val d'Oise."
Smiling at Gillian, he takes his seat, settling back.
Gillian then looks round at the assembled guests drawing their attention. "To become a sister of Roissy Val d' Oise, a submissive has to have many qualities, some are as follows: To be Trustworthy, Graceful, Loyal, Humble, Obedient, Enduring, and Patient. ........and remain submissive no matter how hard that may be.........You have shown these qualities. Demoiselle Sadie ....
Sadie smiles at the name
Gillian: "No more will you carry this title. Cast it aside and wear the one that i give you now......Wear the mark of Sisterhood with pride as you go out to a new and exciting future in Roissy Val d'Oise. Always serve with passion and fire. Sister Sadie.... "
Sadie smiles and nods, "I will. and thank you."
Gillian smiles..."congratulations Sister Sadie: Sister Sadie, please stand and take a moment to speak to all your friends assembled here today."
Sadie stands and turns to face so many here today "What a ride it's been. Like many 'Sadie' is not my first avatar and because of past experiences, I've bounced from sim to sim never really committing to anything. I came to VDO long ago with a Master. We shopped; he bought me a dress. We went in the chateau and chatted with a few. I had no clue what was going on here at all. Who the heck was O? After this, I read the book and understood a little better. One day I came back shopping and for the most part I haven't left.
"I bounced around here too for a few weeks until I met Maitre Kurt. He asked how I was getting on with my log and I sheepishly replied - "Ummm, not very well." He said come with me. I was panicked - - do a chore? what's involved? do I need stuff? We role played out the scene and I had the best time! I quickly proclaimed Julie the luckiest girl in sl I had so much fun!
"Then I met Maitre Marcus. After an hour and a half of cleaning the pouf in the chateau, I was finally released to deal with an real life issue. I sincerely think that he and Annie would still have me holding ping pong balls to the wall by the firepllace if I had not had to go. And all my rp experiences have been just as wonderful.. Real Doms and great rp? Now I was hooked - I loved it here."
"To all the doms who helped me with my log or other rps, Thank you. Their names are withheld to protect the innocent and the not so innocent -- you know who you are and just which category that you fall into.
Marcus grins, and Annie smiles up at Sadie. Gillian chuckles
"Gillian, my mentor....poor Gillian getting my messages -'Gillian I need..... or can I......or what do I do?' Always supportive.... thank you.
Gillian: "always a pleasure Sadie .." grins
"Juliette....I had a conversation with Juliette at the Royal Market and the next thing I knew, I had a DJ show. I love Juliette's enthusiasm and find it infectious. Thank you for supporting my ideas and being a friend.
Juliette smiles warmly at Sadie... "my pleasure Sadie. thank you for the friendship."
"Fae, Sheri, Jaymelie, Diamond, Forest, and Di - we all started together - we've laughed, we've cried, we've fought, we've made up, but most importantly we've supported each other. I watch with a pang of sisterly pride as each of us takes these steps and can't wait to see the rest of you stand where I am today.
"Maitre Brenton...One day you rezzed next to a dem on the docks whom you friended and kindly asked to dance. Little did you know that you'd be stuck doing her final task. I know it wasn't easy for you either but every moment you spent with me is appreciated. Thank you for your help, your support, and your guidance through my final, knowing when I needed a private word of support, and being brave enough to take on the task.
Brenton: it was my honor sadie
Sheri sends silent kisses to sadie. Hadaway: "it would be a pleasure." Fae applauds quietly for Sadie
"To the Admin team - from cleaning up my dresses on the docks to listening to us whine with great patience and compassion, thank you
"To Maitre Rene, we always say thank you for the sim and your vision. But think about it. If not for the sim, we wouldn't be here today, I would not have completed this journey, or I wouldn't I know any of you! So Maitre thanks for the vision and the sim but also for all the wonderful things that went along with it. I can't believe another leg of my journey is complete. I feel I've learned so much. I feel I have so much yet to learn. I thought that submission was about not having a voice but I feel I found my voice at VDO. Thank you all for being here today. It means more to me than I can say."
At this point, Miriam and Mykal smile, Blue sheds a tear
Gillian smiles warmly at Sadie ... "thank you for that beautiful heartfelt speech, Sadie, please take your place on the cushion near Matire Breton ."
Shadie turns and returns to her concussion --" hahah Like I can type right now!
Gillian chuckles and blows a kiss to Sadie -- smiles...."what a wonderful graduation this has been.
Sadie, congratulations on your new role as Sister of Roissy Val D'Oise, your loyalty and dedication to our sim is an example to all the other Debs and Dems following in your footsteps. I've known Sadie for a while now, a wonderful lady who never hesitates to jump in and help at a moments notice! Sadie you are going to be an amazing sister, helpful patient, kind...smiles it's an honor to know you and have you join our ranks.
"Are we there yet, are we there yet? How many of us remember this from our childhood on long road trips. It's not not about the destination -- it's about the journey to getting there. Relax take your time, breath and live everything, don't rush, we all learn so much about ourselves as we move along our paths here. Have fun on your paths, get to know people, think, reflect and learn, even as Sisters we are continually learning new things, patience, tolerance, respect, comes to mind at the top of my head. Embrace your paths and enjoy every minute of the journey. turns and smiles to Maitre Rene..Maitre Rene thank you sharing your dream with us, you have provided us with a wonderful sim, a place we laugh, cry, get frustrated in , roleplay and meet people from all over the world, a place where we have formed wonderful lasting friendships with people we would never have met in our daily lives. Thank you ..blows you a kiss. Thank you Maitre JC, Xan and for all the hours you put in here everyday, for your unending support, help, advice and guidance. To Annie and Lisbeth a wonderful warm official welcome as assistants in the House of Samois!

"A special thanks to all the Dominants who help the girls, help guide each and everyone of us, we appreciate you all, to our sisters who give up hours of their rl time to help their mentees
Sadie: "YAY Annie and Lisbeth!"
Gillian smiles at Lisbeth and hugs her too. "Our doors are always open to each and everyone, whether you seek guidance, have a problem, or just wish to have a cup of tea/coffee and have a chat or if you would like to contribute to the sim with a talent or bring something new forth, please don't hesitate to contact Maitre Rene, Matire JC or myself!. We are family, we play, laugh r, pull together in times of need, help and support each other.

"Master Rene, that concludes the ceremony, as the House of Samois is proud to see another of its Demoiselles take her place in the wider community. May I now invite you to close the proceedings witnessed here today?"
Rene stands.
"turned cartwheels cross the floor
I was feeling kinda seasick
but the crowd called out for more."
Looks at Sadie, "Im sure you as an DJ know where that from?"
He takes a glass of champagne.
"Whiter shade of pale," says Marcus.
"Right my friend."
"This is your special day, Sister Sadie."
He raises his glass and proclaims, "Come everyone and raise your glass with me in congratulating and welcoming Sister Sadie into Our Roissy Val d'Oise Sisterhood! Congratulations Sister Sadie, it's time to live up to your success, smile and take a bow!
"Sister Sadie, is a time for you to reflect and celebrate on your past, present and future. May your path at Roissy Val d'Oise always be remembered as something precious and dear to you. Now it's time for you to move on to what's next. But you must not let anything deter you from taking those first steps.
"Don't spend so much time trying to choose the perfect opportunity, that you miss the right opportunity. Recognize that there will be failures, and acknowledge that there will be obstacles. But trust that you will learn from your mistakes and the mistakes of others, for there is very little learning in success, for learning comes through doing."
Sadie nods.
Rene smiles happy at her.
"Consider our home, Roissy Val d'Oise, to be like a school. And our life, the classrooms, and sometimes on this home school, the lessons often come dressed up as detours, or roadblocks, and sometimes, as full blown crises.
"And the secret I've learned to getting ahead, is being open to the lessons, essons from the grandest universe of all, that is.
"Why am focused on learning?
"Because we never stop...and that is my message to you Sister Sadie, don't stop--"
"Never Maitre," said Sadie.
"--Continue to explore, experience, and grow in your submission."
Rene smiles at her again, goes to the center of the stage and smiles at everyone.
"I ask each one of you to evaluate what is in your heart? What is it that you value most about your life here?
"As your home, I ask you to take care of it. Protect it, make it secure, keep it clean, be a hospital to our family, guest and visitors and treat every visitors as if he or she is a potential new member of our wonderful famille. Keep your arms open to receiving them and doing your part to make them feel comfortable, welcomed, wanted, and valued.
"I have said before, we are only as strong as our weakest link...so it is all our duties to always ensure our weakest link is strengthened.
"In closing, I invite your participation in our community, let me know your ideas, put them on a notecard and place in the red mailbox outside my office or IM me." He smiles.
" Often visit our website in support of our activities to keep up-to-date on events, and to see our daily calendar.
"We now have a wonderful video on the front page... I hope you have seen by now....
"Support our Roissy Radio station by sending in requests, or playing it in real life as well as sharing it with others here in second life to play on their land.
"Please join us in the Ballroom following Sister Sadie's Graduation to enjoy Khiron Ametza for a celebration dance.
"Thank you for sharing your time and showing support today as Sadie became a Sister of Roissy Val d' Oise."
René smiles happy.
"Thanks again and congratulations again Sister Sadie."
Blue Ronsein
Roissy Journaliste
Cristal
Roissy Photographer