Wendi Sister Graduation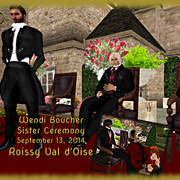 September 13, 2014
What a happy day it was for Wendi. A day filled with smiles and tears and warm words of congratulations. Here are some highlights of her ceremony.
Maitre Marcus gave recommendation for her acceptance as Sister. Here is what he said:
" Thank you all for joining us to celebrate this special day for our lovely Wendi. I was extremely honored that Demoiselle Wendi asked me to mentor her through her final task on her long and blossoming journey to sisterhood.
"After much consideration and thought,
" This was not a decision that was made lightly but one that was carefully weighed over the entire course of wendi's path here at Roissy Val d'Oise: encompassing her contributions to our community, her submission in roleplay and serving the Dominants, and her success in performing her final task.
"I was happy for the opportunity to guide and evaluate wendi in her final task. After spending time with her and delving into her strengths and weaknesses, I designed a scene to test her submission and stretch her limits (and her limbs....just a bit).
"Without going into all of the sordid details, let me just say that wendi passed her examination with flying colors, submitting with complete obedience and serving with fire.
"Myself and two other Dominants (thank you NH and Tony), all gave her a glowing recommendation based on her performance in that scene, where we pushed her limits and found a willing, obedient, passionate submissive at each step in the scene.
"I have known wendi since I first joined Roissy Val d'Oise. She has always served with passion, obedience and a strong hunger to be used. Her pleasure lies in giving the Dominants pleasure, and she is always eager to serve.
"On a long and deep path such as the one to sisterhood here at Roissy Val d'Oise, there are bound to be ups and downs, good times and bad. Conflict and disagreements can cause rifts in relationships. I for one value those who stick it out to the end despite the hard times.
"As we work together to serve and support the community we all desire to be a part of, my hope is we can rise above petty differences and acknowledge our common ground of Dominance and submission.
" Wendi is committed to our home here at Roissy Val d'Oise and I believe that as a member of the elite band of Sisters will strive to serve and support us all to the best of her ability.
" I treasure her beautiful gift of submission and service to Roissy Val d'Oise and am proud to recommend her to join the select band of Sisters."
Khloe's thoughts on the training of Demoiselle Wendi as a Sister Mentor:
"Greetings, Distinguished and Honored Maitre, Masters and Guests, hello to all my Sisters, and those yet to complete their paths, it is with great anticipation and much joy that i stand here tonight to offer a recommendation for Wendi Boucher, aka wendi, my "sunshine" as i nicknamed her long ago.
"With each dawn we welcome the sun, as it warms our faces we look up into the sky and feel its rays of warmth and light, bringing color and vibrancy to our world. It is the morning blessing that we receive each morning as wendi logs on that came to be the reason i nicknamed her "sunshine". To see her bright shiny greeting, " hello my beloved VdO family, i dreamed of you last night".. always makes me smile and wonder just how cruppled are those sheets?
"You have brought me tears of joy, laughter, smiles, warmed my heart, made me furious, and yet i loved each moment of every day because with the sunshine comes a thunderstorm and with it the tears shed that cleanse and renew us, and the sun returns to light our path. This community of VdO the one i call the Greater Community has witnessed the growth of this demoiselle. She has touched all of us, and continues too, each day.
"I am very proud of her. Her skills are much needed in our home, and i am sure she will continue forth to bring much joy and happiness to each of us. January 15th she slipped a nc into the yellow Mail box and soon was announced as a new Debutante, then came her Initiation, and now we stand here ready to congratulate her on a path a journey that touched each of us.
"As a Sister we are called upon to stretch ourselves to serve the community as a whole, and not just individually. We help to train, to guide, to mentor, and promote growth within our home.through events, and through support skills we have learned. To nurture others as they find their journey becoming difficult. To teach and offer assistance.
"As Debutantes we learn social skills, build trusting relationships and begin to seek within us our submission. The Demoiselle is perhaps the hardest part of the journey. with it comes many trials and tribulations, much happiness and joy, a new found freedom. Finding our strengths and weaknesses , many of us hide those weaknesses behind the banner submissive. Only to find that we have to embrace them they are part of us, the part that makes us whole.
"The day we receive the notecard with our final scene we open it with trembling fingers, and butterflies in our bellies. This final scene is built around our weaknesses, we are challenged to examine them even more closely and to submit to them. The Maitre are challenged with guiding us through this part of the journey and it is frequently a learning process for both The submissive will embrace that final and in it she will then find herself whole once more. No longer hidden these so called weaknesses are integrated into ourselves as a strength. Braided now into the fabric of our being.
"Wendi you have worked very hard, long diligent hours spent here on VdO, in service to each of our Dominants, and in helping newcomers, embracing the rules and laws of VdO. It is with great pride in not only you, but in our Programs, and in the Our Founders, and the Wise Ones of the past that you are more than deserving of the title of Sister. And i can only hope more will come forth to step into the footsteps that each of us have left behind. We are a growing and thriving community and one that has NO equal.
"Thank you my Master for allowing me the privilege to bear Your collar, and Thank You Maitre Rene for creating this wonderful Sim that has brought so many together. It is your vision and your caring for each of us that has allowed so many submissives to walk this path, to learn devotion, and the freedom to be totally submissive. I thank You for all you have given me. And it is with much joy and happiness i welcome "wendi as a Full VdO Sister".
Wendi's words to us:
"Thank you Maitre Marcus, Rene, Maitre Chronos, Maitre Marcus, khloe Nara and Vette. Thank you all so much for being here today…You make me feel special.
"from deep inside me…..Many months ago.. when I first encountered Roissy VdO, my heart was captivated. I knew nothing about VdO but the memories of the Story of O grabbed me. Nervously…. I submitted my application wondering what I was in for.
"I really didn't think I would be able to do all that was required of me but, task by task, page after page, I plugged away.... with your help. The friends I made here made me feel at home. I truly felt and feel that, thanks to all of you, that I belong here. Every Dominant, each and everyone without exception that I have met has been as wonderful as I could ask for, thanks in part to the character of the type of people we have here, the structure and the selection process that keeps VdO what it is. My sisters traveling the same path with me have been very sweet. The common desire we share has brought us closer together.
"At my initiation I promised to obey and serve all the Dominants of the Chateau. I have kept that promise without question. My heart and my mind belong to each and every Dominant I have been honored to be with, every time. I shall continue to do so. You have all allowed me to live my dream, the very same dream my sisters have.
"As a Sister at Roissy VdO I will continue to help everyone I can, to the best of my ability, serving , caring for, sharing things of concern, helping dominants and sisters along their path, as I have needed help.. as we all needed. We are all here for the same reason. It lives deep inside us and it will grow. Each of us has a responsibility to help others… we are family.
"For the Miatres, Masters and Dominants of Roissy VdO... You are amazing.!! Everyone one of you have made my experience here better and more fulfilling than I ever imagined. Your kindness, understanding and patience is beyond compare. It's my honor to know each of you.
"For my sisters, It may seem a bit overwhelming at times, walking your path. It is, but there are times ahead for you that will make it truly a wonderful experience.
"Our words are our touch as I have said for so long.. A kind word can put a smile on someone's face. A kind word can push us onward when things are tough, when we are down. Each of us here has that responsibility to help, encourage and make our VdO family a better one. We never know what battles others may be fighting in real life. Bringing new friends, Dominants, Sisters into VdO is what it is all about, sharing the VdO experience as you have given to me.
"You have all made my journey wonderful. I have grown and changed as I was told I would. I am a better person because of all of you. You are a part of me.
"Thank you Maitre Rene for all you do for us, more than we know, thank you Maitres, Masters, Dominants of the Chateau, and my beautiful sisters. Each an everyone one of you have made my journey wonderful.
"I am strong when I am standing on your shoulders.. you raise me up to more than I can be".. You can stand on my shoulders too…I love you Mama and my sister Brooke for all you instilled in me to help make my journey at Roissy VdO possible.
"I love you my VdO family."
Juliette Surrealdreaming
Roissy Journaliste