Addison Summerwind-Graves' Steamy Submissives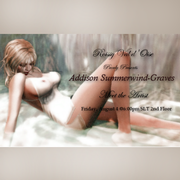 Who: Addison Summerwind-Graves
When August 4, 2017
Where: Roissy Val d'Oise Gallery
At a champagne reception on the Gallery's 2nd Level, guests met with Addison Summerwind-Graves, whose erotic images included the following:
"at His feet" a master with His sub in black lingerie (on bottom) in front of a roaring fire...the silent exchange of power as she kneels before Him and He runs His hands through her hair.
"anticipation" the girl (in lingerie as well) seen through the legs of Master as her wooden cross awaits, empty
Shibari 4 - naked submissive hog-tied on a table in beautiful knots, the ropes vicariously woven into her crotch, preventing movement without some delightful sensations
"her punishment or pleasure" Submissive naked on Master's lap, her arse already reddened, as one arm holds her in place and the other shadows her body. No face of the submissive to help us answer the question in the title
"red silk ribbon" a porcelain submissive with perfect proportions faced away from the camera with a bright red ribbon draped about her wrists
"caged heart" a lone submissive in a round cage suspended from the ceiling ; her and the cage illuminated behind the bars of a cell and a wooden cross to the corner. The naked submissive awaits patiently with her heeled legs sticking through. Powerful balance of dark and light, guiding your eyes to her lonely predicament.
Shibari 2: a submissive bound and raised , her back arched as her legs and arms hang in the balance. Her perky breasts jut out about the ropes as she dare not move... a sculpture of her Master's artwork.
Annie Weirman, Roissy Journaliste