Azu M's "Spring"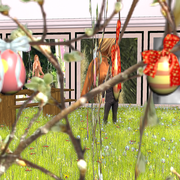 WHO Azu M
WHEN Apr. 10, 2019
WHERE Art Gallery Level 1
HOST Rebecca
by Blue Ronsein, Roissy Journaliste
The art gallery's first floor smelled of sweet flower and fresh green grass as picnic tables and Easter decorations popped up here and there to set the mood.
Hanging on the walls a Azu M's fourth exhibit here are dozens of colorful, imaginative images — some with Easter bunnies, some with flowers and decorated eggs, some with gorgeous Spring greenery in the background.
A writer and a singer in SL, Azu M's quest for her female essence brought her on the D/s path, shifting the focus in her pictures to the theme of dominance and submissiveness. Her SL Master encourages her experimentation, giving the Dutch artist great leeway in bringing out her best.
To see more of her work, visit https://eroticpixelpics.wordpress.com/ Erotic fairytales: https://eroticfairytalesblog.wordpress.com/ You can listen to a sample of my songs here: https://soundcloud.com/user-395512722