Broderick Logan's "Righteous Lust (Un)Bound"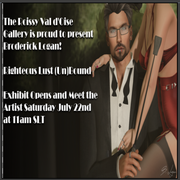 Who Broderick Logan (BroderickLogan Resident)
When Saturday, July 22, 2017
Where Roissy Art Gallery
Principal Model Leylah (leylahjourney Resident)
All 13 erotic photos exhibited by Broderick Logan at Roissy Val d'Oise have a delicacy, as if shot through sheer gauze by a perfectionist.
"I am meticulous about a plant or a shadow even if it's off one hair. I believe objects and shadows are all used strategically and can be beneficial in implementing what I need the photo to 'say.'" explained Broderick at the official opening of the exhibit.
His sense of detail is evident, but the overriding beauty is what awed the crowd of onlookers. Our own Leylah (leylahjourney Resident), his model in much of the work, appears dusting bookshelves in Missed a Spot. "Getting those shadows was a labor of love that day."
When asked whether he doctors his images, the artist shook his head, "Most of my photography is raw from SL only. I rarely use post-edit."
Broderick Logan runs my own studio and blog (https://agentlemansgamesl.wordpress.com/2017/06/25/where-i-am/) and is sponsored by some of SL's great creators. And as Leylah is quick to add, "He also mentors and inspires a host of new SL photographers."
His Flikr page is https://www.flickr.com/photos/brodericklogan

Blue Ronsein, Roissy Journaliste