Dex's "Kinky Lichtenstein"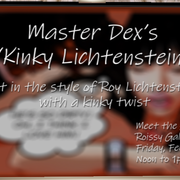 WHO Dex Howley
WHEN Friday, Feb 22, 2019
WHERE Roissy 2nd Floor Gallery
HOST Norma Underwood

By Siahnn, Roissy Journaliste
Master Dex has grown quite a following, and the second floor gallery was full of people admiring his work. For his newest exhibit, Master Dex did his images in the style of Roy Lichtenstein. He gave a visual presentation at the opening, showing slides of Lichtenstein's most famous works as well as the ones Dex did his own version of.
Lichtenstein gained renown in the early 1960s as a Pop artist for his works sourced from comic books. He did not copy the images, but used a technique involving cropping them to create something new and dramatic. He also condensed the text of the panels, using language as another visual element. Lichtenstein's use of commercial art in new ways for his paintings helped change the existing view about what 'high' art truly was.
Lichtenstein, himself, was quoted as saying, "I'm interested in portraying a sort of anti-sensibility that pervades society."
In capturing the style and feel of Lichtenstein's work, the talented Master Dex does not disappoint. He does it brilliantly, with each piece being a satirical look at the D/s lifestyle we practice here at Roissy Val D'Oise.
Congratulations to Master Dex for yet another stunning exhibition. Well done!

(Quote taken from an article about Roy Lichtenstein in The Art Story, Modern Art Insight. https://www.theartstory.org/artist-lichtenstein-roy.htm)