Juelle's, "The Story of Ju"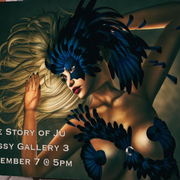 WHO Ju (juelle Robbiani)
WHEN Friday, Sept. 7, 2018
WHERE Art Gallery, 3rd Floor
CURAOR juelle Robbiani
HOST Alyss Inanna Baenafin
by Blue Ronsein, Roissy Journaliste
Principle photography by Brianna Marie
On the top floor of the Roissy Art Gallery, the Curator herself, a submissive not previously known for particular artistic talent, surprised dozens of visitors by exhibiting a stunning and diverse collection of work she created in Second Life.
Many of her images reflected Ju's own D/s sexuality, showing her in bondage. But the collection as a whole brought worlds of styles together into one room.
Hung in extra-large unframed formats were elegant frontal portraits; bleached, monochromatic sexual poses that cast soft shadows against light backgrounds; creepily attractive masked models against black, and artistic landscape compositions using light, shadow, and balance as mind-blowing tools.
Congratulations, Ju, on a striking and fresh exhibit. You can see Ju's work on Flickr at: https://www.flickr.com/photos/147108435@N07/