Kotori Amakura's "Private Collection"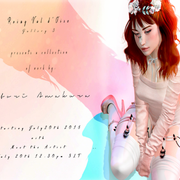 WHO Kotori Amakura (oomiyuoo)
WHEN Friday, July 20, 2018
WHERE 3rd Floor, Art Gallery
CURATORS Juelle & Brianna
HOSTS Dee


by Sadie Xue, Roissy Journaliste
Photography by Blue Ronsein

Art Lovers from across the grid gathered at the reception welcoming to Roissy, Kotori Amakura, the latest artist to open in the Roissy Gallery.
The pure -vitality- of Kotori's work brings tears to the eyes. Vibrant colors, shades of grey, rough, soft, light, dark - it's all there. Her artistry runs a breadth of emotion and heart, and the shivers come right after the tears. This display is a must-see.
To view more of this exceptional artist's work, please check out her Flickr page: https://www.flickr.com/photos/133999452@N07/
Congratulations Kotori on a wonderful opening at Roissy Val d'Oise.